Steve Harvey's Youngest Grandbaby Celebrates Her 1-Month Birthday — Check Out Her Cute Photo
Media mogul, Steve Harvey is the proud grandfather of Marley Jean, the undeniably adorable daughter of DJ Bruckup and Morgan Harvey-Hawthorne. The little girl recently turned a month old and the occasion was marked with charming photos.
Kareem Hawthorne, popularly known as DJ Bruckup, became a part of the famous Harvey family with his marriage to Morgan Harvey, the daughter of the comedian, Steve Harvey.
The father-of-two recently celebrated his youngest daughter's one-month birthday with a series of precious photos on Instagram. The first image captured Marley in a cute pose while rocking a yellow polka-dot outfit that had the words "1 month" engraved on it.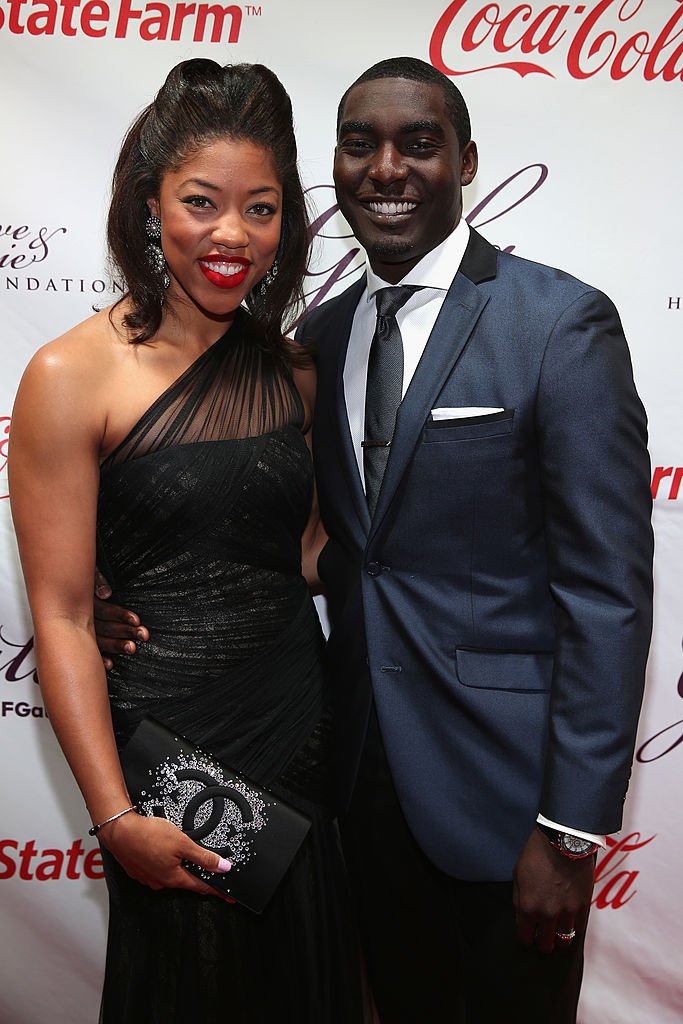 The little girl's curly black hair was on full display with a twinkle in her eyes as she smiled at the camera. The rest of the images were similarly adorable pictures of Marley posing with a large grey stuffed elephant behind her. The sweet post was captioned with the words: 
"Baby Marley is 1 Month old...Who is she looking like so far? Mummy or Daddy?"
Fans couldn't help but gush over the cute baby and a few agreed that she resembled her mother while others claimed she looked like her dad.
Before [Steve Harvey] met his third wife and current partner, Marjorie Harvey, she had been dealing with her own share of love troubles.
It was understandable why many fans favored the gorgeous Morgan Harvey-Hawthorne but there is more to the mother-of-two than just her good looks.
The 33-year-old has a degree in Baking and Pastry and has worked for many well-known bakeries and companies. She also hosted cooking classes on "The Steve Harvey Show."  The food blogger created the brand "I Need Some Mo" where she shares her passion and knowledge of pastries with the world.
Morgan is one of the three children of Steve's third wife, Marjorie, who were adopted by the "Family Feud" host making the TV star a father of a total of seven children.
Earlier this year, the doting grandfather shared two pictures on Instagram that showed his wife and five of his grandchildren - Benjamin, Noah, Elle, Rose, and Ezra having fun on their ski trip to Aspen.
The author of the book, "Act Like A Lady, Think Like A Man" captioned the post with an emotional message where he expressed his love for his wife.
The "Miss Universe" host's affection for Marjorie was understandable as the 63-year-old found his perfect match after two marriages that blessed him with four children.
The father-of-seven shares three children with his first wife, Marcia Harvey - twin daughters Karli and Brandi Harvey plus a son, Broderick Harvey Jr. Steve's second marriage was to Mary Lee Harvey which lasted from 1996 to 2005, and the couple share one son, Wynton Harvey.
Before the host of "The Steve Harvey Show" met his third wife and current partner, Marjorie, she had been dealing with her own share of love troubles.
The 55-year-old was married in the 90s to her first husband, Jim Townsend who served 26 years in prison for attempting to purchase cocaine.
Her second marriage was to Darnell Woods, the father of her three children - Lori, Morgan, and Jason. Marjorie married Steve in 2007 and the comedian not only adopted her kids but the couple raised their blended family together.