Joy-Anna Duggar Responds to Fan Who Was Concerned about the Way She Holds Her Baby
"Counting On" star Joy Duggar has cleared the air after an Internet user expressed agitation over how she held her newborn baby, Evelyn, in recently shared photos.
Joy Duggar is setting the record straight after a fan shared concern about how the reality star held her six-week-old baby in her recent Instagram photos. Last weekend, Duggar shared new photos taken by her family after a church service.
The reality star was flanked by her husband, Austin Forsyth, and their two-year-old son Gideon in the first image. Posing for the picture, Gideon sweetly held his mother's hand while she carried her newborn daughter Evelyn Mae.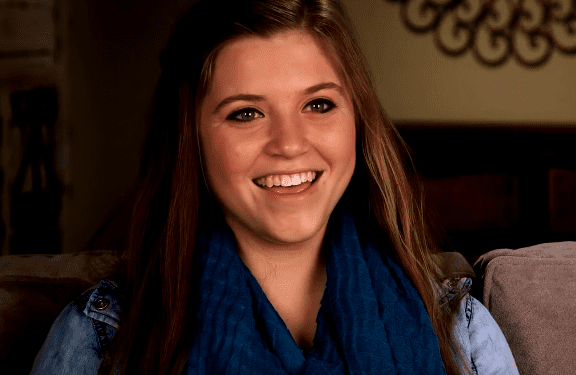 The second snap showed the proud mom posing with only her kids. Though the post garnered several sweet comments, one user called out Duggar for how she carried her newborn daughter. The user wrote:
"Why is she carrying that baby like that looks like she fixing to drop her!"
Shortly after the comment was made, the reality star was quick to clear the user's doubt. Thankful for showing concern, Duggar explained what was happening at the time the pictures were shot.
The proud mom noted that Gideon wanted to hold her while she carried Evelyn. While trying to reciprocate her son's gesture, it seemed like the baby would drop, but the reality star stated that she could not have let that happen.
Weeks after her birth, Duggar shared the special emotional moment she first held Evelyn.
This was, however, not the only backlash Duggar received concerning her recent photos. After sharing the post, many fans were quick to label her as reckless and irresponsible. According to them, Duggar should not have taken her newborn baby to church in Arkansas, where the novel coronavirus cases are on the rise.
Users explained that the couple didn't have to go for a physical service since there are still online live streams. Duggar and her husband, however, left no response in respect to this.
Duggar and Forsyth welcomed Evelyn on August 21, and the proud mom was quick to announce the arrival of their baby in an Instagram post. Duggar described her newborn, Evelyn as an easy going baby.
Weeks after her birth, Duggar shared the special emotional moment she first held Evelyn. The proud mom was seen tearfully embracing her newborn shortly after delivery. 
Evelyn might only be a few weeks old, but the tiny tot is already enjoying an immense amount of love from her parents. Without doubt, Duggar and Forsyth will always be there for their kids.