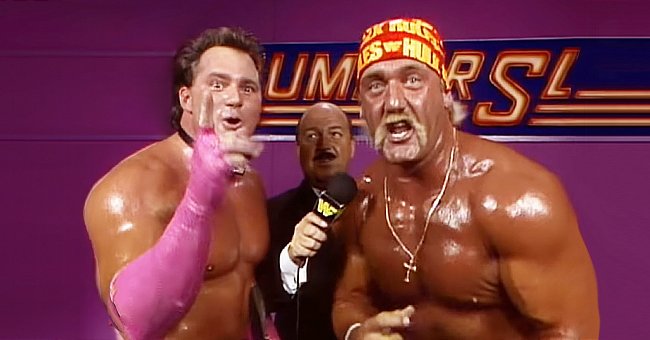 youtube.com/WWE
Meet on-Screen WWE Family Members — From the Boulder Brothers to Edge and Christian
When we are talking about American professional wrestling and the WWE, we must always remember that a great deal of what we see is staged, and it is hard to tell which alleged relatives are actually related.
The WWE and its predecessors have always had attracted members of dynasties with a historical legacy in televised professional wrestling, but among the authentic wrestling families there are also several that are made up for branding reasons.
The practice is part of the business, with the WWE wrestlers commonly maintaining some grade of fiction around their own lives and biographies both on and off the ring.
Coming up next there is a list of some of the most famous fictional wrestling families that have played with the minds of millions of fans of this popular and very theatrical sport over the years.
67-year-old Terry Bollea is best known as the iconic wrestler Hulk Hogan, remembered as one of the biggest wrestlers of the 1980s, but before he made it big in the sport, he was part of a fake family tag team.
Before adopting the name of Hulk Hogan, Bollea and his then-best friend, 63-year-old Ed Leslie, performed together as the Boulder Brothers, also working as a tag team under different personas.
The Godwinns were a tag team duo consisting of 51-year-old Dennis Knight (Phinas I. Godwinn) and 56-year-old Mark Canterbury (Henry O Godwinn), who were first said to be cousins and later brothers, although they weren't actually related.
The Godwinns were part of a larger fictional hillbilly extended family that included their manager Hillbilly Jim, their uncle Cletus, Cousin Luke, and Uncle Elmer, none of which were related either.
35-year-old Brian Myers (AKA Curt Hawkins) and 35-year-old Matthew Cardona (AKA Zack Ryder) were tag team partners for about 16 years, and while they have portrayed different personas in their career, they performed as "brothers" for six months once.
Early in their career, Myers and Cardona assumed the ring identities of Brian Major and Brett Major, known as the Major Brothers, and while the title didn't last long, the two continued to be part of fictional wrestling families such as the Familia Guerrero.
49-year-old Lyle Douglas "Doug" Basham Jr. and 43-year-old Daniel Hollie were part of a tag team for years before re-branding themselves as the Basham Brothers, under which they performed with great success for six years.
Not only they were billed as brothers but also as identical twins, even though they weren't related in any way, and the public reportedly couldn't tell them apart.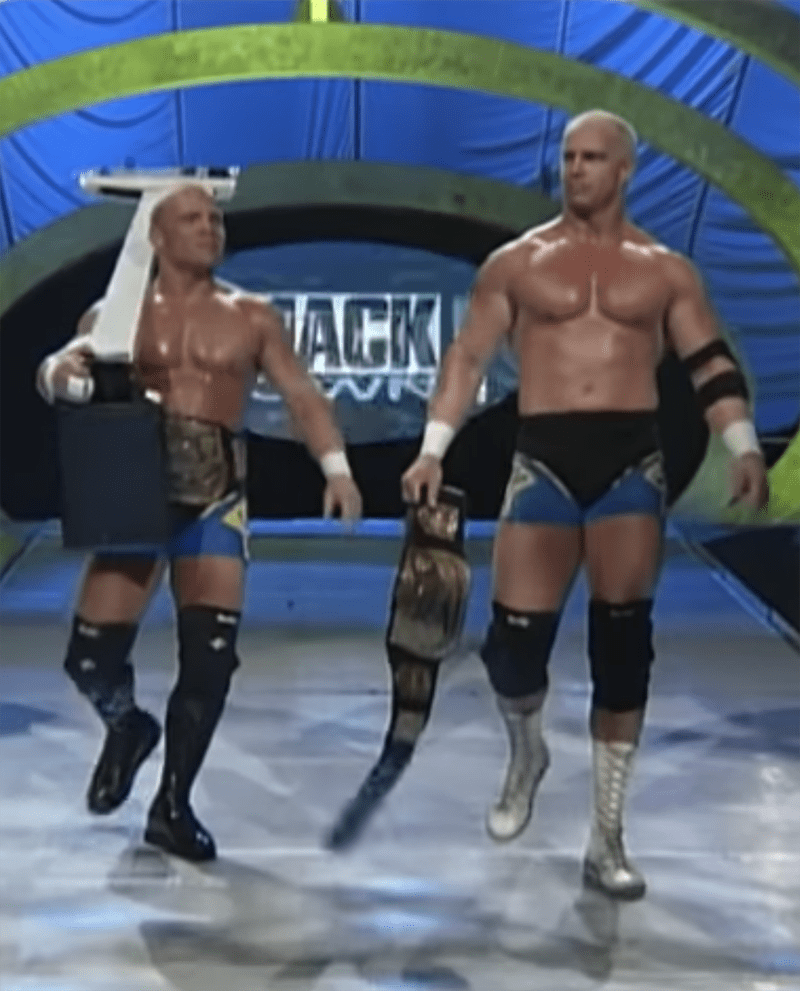 On-stage wrestling cousins Hardcore and Crash Holly walking toward the ring for a match with mankind and Al Snow in November 1999. I Image: YouTube/ WWE.
The Holly Cousins, also known as The Hollys, were a fictional family and a professional wrestling tag team consisting of "cousins" Crash, Hardcore, and Molly Holly.
Hardcore (real name Robert Howard) was the first to debut as a wrestler, later introducing his "cousin" Crash, followed by his other cousin Molly. The three performed as a team for only a couple of years but continued to use their personas separately after disbanding.
Edge and Christian (E&G), were a professional wrestling tag team consisting of on-screen brothers Edge (Adam Copeland) and Christian (Jason Reso), starting of in the WWF, later renamed the WWE.
Besides beam professional associates, Copeland and Reso were childhood friends and shared long blonde hair, and they had great chemistry between them both on and off the stage, which made them a great team.
Please fill in your e-mail so we can share with you our top stories!