Jimmy Butler's Mom Kicked Him Out at 13 — inside the Miami Heat Star's Tough Upbringing
NBA player Jimmy Butler, currently playing for the Miami Heat, had a very tough childhood, especially because his mother kicked him out of their home when he was 13 years old.
Born in September 1989, Jimmy Butler was one of the most successful players in the NBA 2019-2020 season, leading his team to the finals after beating the Boston Celtics in six games.
Unfortunately for the Heat, LeBron James and his Los Angeles Lakers defeated them in six games, shattering their dreams of winning an NBA championship for the first time in seven years.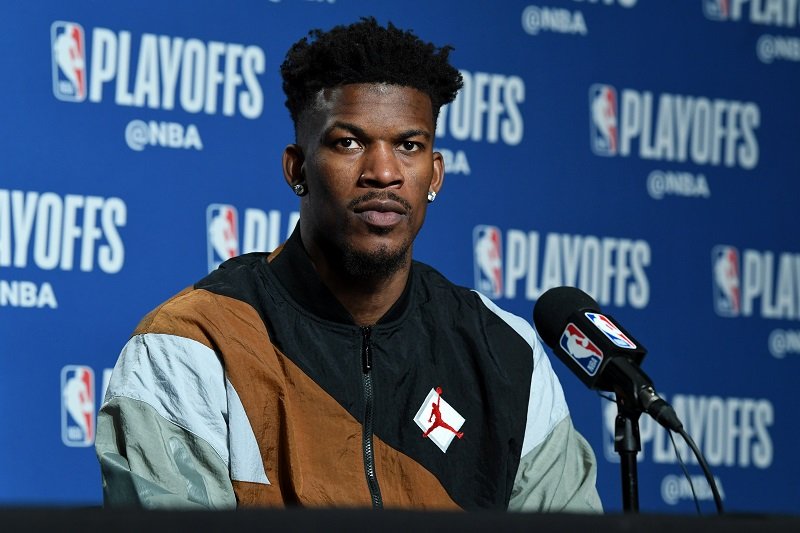 JIMMY BUTLER'S PERFORMANCE IN THE NBA FINALS
Although his team lost the finals, Butler was one of the best players of the entire series. In Game 3 alone, he scored 40 points, made 13 assists, got 11 rebounds, stole two balls, and blocked two shots.
Bleacher Report described Jimmy Butler's individual performance as one of the "greatest" in the history of the NBA Finals, only compared with Jerry West in 1969 and LeBron James in 2015.
It is important to point out that the Miami Heat didn't have two of their key players -- Bam Adebayo and Goran Dragic -- available for some of the games in the finals.
JIMMY BUTLER'S TOUGH CHILDHOOD
It is fair to say that Jimmy Butler's professional career has been nothing short of amazing and that he has a bright future ahead (he is only 31, and most players retire in the mid- or late-30s).
Unfortunately, his upbringing was very challenging, to say the least. To begin with, Butler's dad was out of the picture since he was just an infant, so he was raised by his mother. That was until his teenage years, though.
During a 2011 interview with ESPN, the NBA player revealed that she kicked him out of the home when he was 13 years old. The last words Butler heard coming out of his mother's mouth were, "I don't like the look of you. You gotta go."
With no family to run to, Jimmy Butler had to stay with some of his friends for as long as he could. He eventually met Jordan Leslie, also a promising basketball and football player, while in high school, and his life changed forever.
JIMMY BUTLER'S ROAD TO THE NBA
Leslie's family was kind enough to, basically, adopt Butler. Michelle, the matriarch, noticed that her children looked up to Butler, so she told him he had to be a role model by staying out of trouble, getting good grades, and doing chores around the house.
In the meantime, Butler focused on basketball. Since his high school stats were not above average, he failed to get noticed by college coaches.
He loves [his biological family], and they love him back.
Fortunately, after an impressive freshman year with Tyler Junior College, he received offers from several universities, including Marquette University, where he ended up being transferred to.
Butler's first year with his new college team was not as good as expected, mainly because he spent a lot of time on the bench.
Eventually, he got rid of the "scorer" label and became a more versatile player, drawing attention from NBA scouts.
All of his hard work paid off, luckily, as the Chicago Bulls drafted him with the 30th overall pick in the 2011 NBA Draft. Today, Jimmy "Buckets" is the role model that Michelle asked him to be.
JIMMY BUTLER STILL TALKS TO HIS PARENTS
Most people would believe that the relationship between Jimmy Butler and his mom is, at least, estranged. The truth is that he still considers her part of his family. He once said:
"You learn everybody makes mistakes. I make mistakes. That means you don't hold a grudge against anybody."
Apart from that, Butler has made clear that he doesn't want his past to define him as it is his hard work and the people around him that make him a great basketball player. He still talks to both of his parents, too. He loves them, and they love him back.
At the moment, Jimmy Butler and his girlfriend, Kaitlin Nowak, share a daughter named Rylee, born in October 2019. We cannot wait to see him play the next season!