Watch as a Grandma Can't Stop Laughing as Her Grandson Tries to Eat the Cookie Mix Ingredients
A three-minute clip of an American toddler sabotaging his grandmother while she tries to make cookie dough went viral early in September, and we can tell that this charismatic boy has a future as a TV chef.
2-year-old Cade Hagedorn, from Indiana, has been catching the attention of the Internet since early in July 2020, when his cooking account on Instagram, created and run by his mother Christy, was launched.
But nothing prepared Christy, or Cade, for that matter, for the success the account was going to have after one of Cade's videos became a viral sensation across different social media.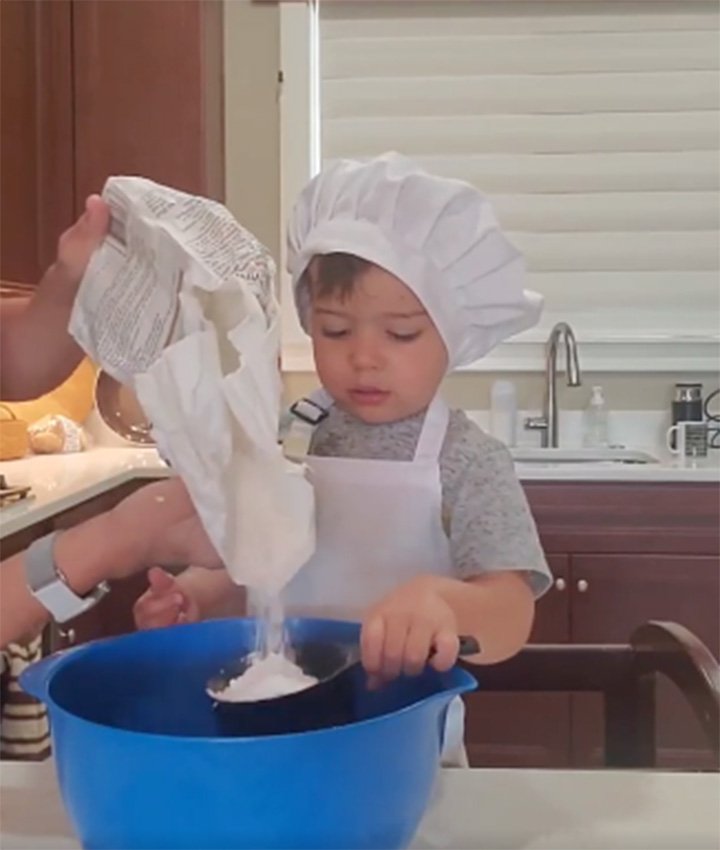 The video in question, posted on September 2, 2020, pictures Cade as he "helps" his grandmother make cookies, with the toddler wearing miniature chef attire, complete with a chef hat, and impatiently trying the raw ingredients of the cookie dough.
As "Nana" attempts to make the mix, starting with the raw eggs, Cade keeps getting his hands inside the bowl to put whatever he can get his hands to into his mouth, with his grandmother laughing as she struggles with him.
Finally, the persistent grandmother manages to finish the mix, and a little calmer Cade goes on to help her giving it cookie shape before they are baked and tasted by the impatient baker, whose face indicates that he approves them.
"Cooking with Cade. Special Guest Edition," the clip was captioned, and it has been reproduced nearly four million times on Instagram only. The video has since made viral and shared on Twitter and YouTube, and it has reached more than 16 million views.
 The popularity of the clip starring the toddler and his "Nana" prompted Cade's mother to create a Facebook fan page for the toddler, in order to capitalize on his recently found fame and continue reaching their growing, captive audience.
KOBE EATS
Internet cannot have enough of baby chefs, or so it seems, and earlier in 2020, another miniature chef, in this case, a 1-year-old by the name of Kobe, reached viral status with his Instagram cooking show.
His Instagram account, named Kobe Eats, was created in February 2020, and it has since earned 2,5 million followers, turning the little child with the adorable and contagious smile into a viral phenomenon.
CELEBRITY BABY COOKS
This trend of baby cooks going viral might have been inspired by celebrity parents who have been gracing social media with pictures and videos of their own babies making their first steps in the kitchen for the last couple of years.
Celebrities like "Thor" star Chris Hemsworth, the model Chrissy Teigen (married to singer John Legend), and the Australian comedian Hamish Blake are among those whose social media posts about their children cooking enjoy great popularity.
And when you are a world-famous celebrity chef such as the British-born Jamie Oliver, it is not surprising that you would get your children involved in the cooking process from a young age, and his children look adorable as they make delicious recipes with him.