Stevie Nicks Chose a Career over Motherhood — inside Her Decision to Not Have Kids
Stevie Nicks, the American singer, has a blossoming music career spanning over five decades. Remarkably, her music success came at the expense of motherhood.
At 72, singer and songwriter Stevie Nicks has never experienced motherhood. Her decision to not have kids resulted from a burning passion for building a successful music empire.
True to her desire, Nicks achieved her musical dreams and became an award-winning songstress. Some of her accomplishments include transforming a collapsing music band into one of the best in the industry, establishing her music company, Welsh Witch Music, and earning a name for herself as a semi-music goddess.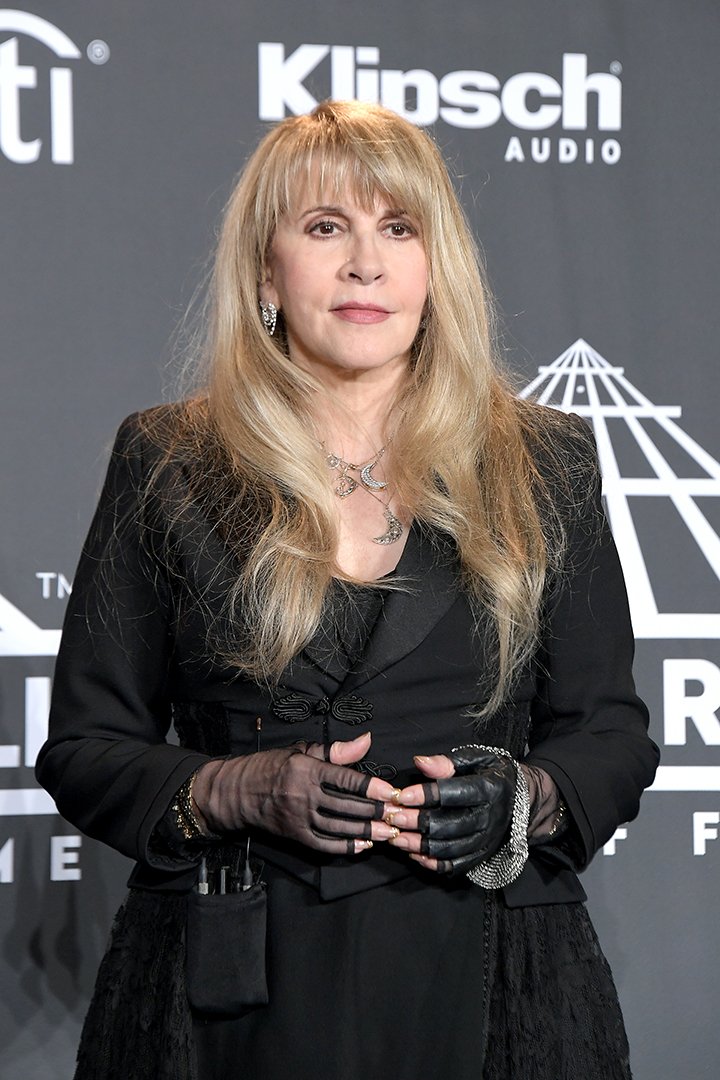 Stevie Nicks achieved all these while battling other life travails and became the best version of herself. Amid her numerous accomplishments, the 72-year-old seemed to be lagging in one aspect of her life ꟷ motherhood.
WHY STEVIE NICKS NEVER HAD CHILDREN
The songstress has been open about her decision never to become a mother. She noted that her desire to satiate her demanding career and follow the art wherever it led prompted her not to have children.
In a later interview, Stevie Nicks also noted that her mission on earth was never to be a mom, but to write songs that would make moms and wives feel better. Despite not having babies of her own, Nicks never lacked having a full house, thanks to her numerous nephews and nieces.
Additionally, her drug addiction in her 40s also contributed to some of her choices. The Fleetwood Mac band member once disclosed that becoming a Klonopin addict shortly after beating coke stole away eight years from her life. As a result, it ruined any chance of her marrying or having kids should she have chosen to.
DOES STEVIE NICKS REGRET HER DECISION?
Although Nicks is rocking her life as a single woman with no kids to the fullest, life's harsh realities sometimes dawn on her. Those times, she truly regrets not being a parent and never shies away from admitting it.
In a revealing interview session in 2005, Stevie Nicks divulged that her one regret in life was not having a baby, even an adopted one, to share her experiences with.
Despite her regrets, the singer maintains that she was perfectly happy and does not feet alone even without a partner or child.
SHOCKING CONFESSION ABOUT HER LOST PREGNANCY
Interestingly, life once threw the entertainment icon the opportunity to become a mother, but she declined. In 2013, Stevie Nicks opened up about becoming pregnant for her ex-boyfriend, Don Henley.
Prior to her revelation, Henley disclosed the news, revealing they'd planned to name the child Sara. He also claimed the Fleetwood Mac song, "Sara," was a nod to the intended name. 
Although Nicks denied wanting to call the baby "Sara," she agreed with her ex's claims of getting her pregnant, and subsequently, aborting the baby.
STEVIE NICKS' PERSONAL LIFE
Nicks has been married just once in her lifetime, to Kim Anderson, the widower of her friend, Robin Anderson. They married in 1983, a few months after Robin passed away from leukemia. 
Stevie Nicks later admitted that they were both grieving Robin's loss, and getting married seemed the only way out of their grief at the time. Plus, it made her closer to Robin's baby, availing her the opportunity to care for the child.
However, Kim Anderson and Stevie Nicks' union only lasted three months before their divorce. Decades later, the singer has maintained her relationship with her stepson.
NICKS' PAST RELATIONSHIPS
Aside from her failed marriage and her near-motherhood encounter with Don Henley, Stevie Nicks has lived through several relationships.
In 1966, Lindsey Buckingham and Stevie Nicks became romantically involved. They sustained their relationship for many years before breaking up. 
By 1977, fellow Fleetwood Mac member Mick Fleetwood was Nicks' love interest. Her fling with Henley happened in the late '70s before she moved on to music producer Jimmy Lovine in 1980.
The 72-year-old had a stint in rehab for coke addiction in the early 80s. After her recovery, she began dating Joe Walsh, who introduced her to Klonopin. The relationship ended in a breakup due to their mutual drug abuse.
STEVIE NICKS' CAREER
The singer began her music pursuit in the 60s after meeting Lindsey Buckingham. The duo attended San Jose State University and eventually dropped out to pursue music. They made music together and secured deals with major records.
Nicks and Buckingham soon joined Fleetwood Mac, leading the music band to global success within a year. As a band, they released trailblazing songs like "Rhiannon," "Dreams," and "Silver Springs," among others.
Her career successes progressed seamlessly, with most of her tracks becoming hits. Gradually, she attained the career feat she always dreamt of and built her music empire. 
Decades later, Stevie Nicks now focuses on living her best life and inspiring other women to be independent and self-fulfilled.