Fans Gush over 'Soul Food' Star Nia Long's Eldest Son in a Video She Shared of Him Sleeping
Nia Long's fans could not get enough of her grown son, Massai, after she goofily shared a heart-melting clip of the sleeping youngster on her social media page.
"Soul Food" actress Nia Long got her Instagram timeline buzzing as fans could not help fawning after she gave them a glimpse of her young adult son and fellow star, Massai. 
Long's hilarious clip had her channeling her naughty side as she videoed and zoomed in on Massai who was totally unaware and deep in sleep.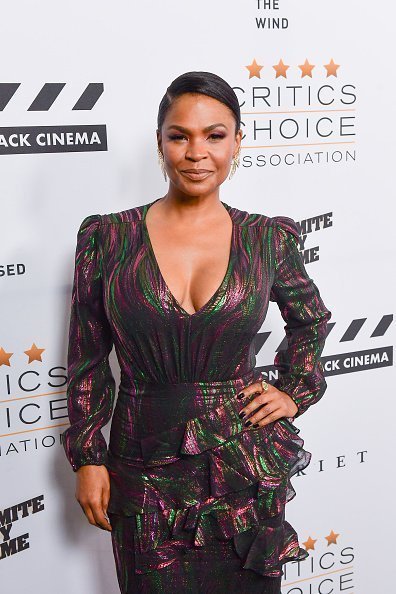 The clip seemed to have been taken in Long's sitting where Massai reckoned on a striped light green and white sofa. The youngster looked radiant in a black T-shirt with purple designs as he enjoyed his sleep. 
While his mom's caption indicated that she was having a lot of fun videoing him, many fans were enthralled by his attractive features as they gushed in the comments.
Some goofy followers joined Long in poking fun as they heartily noted that Massai would be livid when he finds out. Others made sure to let her know that he is a handsome young chap.
In 2014, fans got to see Long and her son show off their onscreen chemistry in Tyler Perry's "The Single Mom's Club." While many watched the mom-son duo show expertise, they had some backstage warm-ups to get them prepared.
The "Soul Food" star mentioned that most gigs stop coming once moviemakers realize that the actress was pregnant. 
Speaking to Mom.Com, Long and her then preteen son opened up on how it felt playing their real-life roles with a twist. Long shared that Massai earned his role in the movie.
Massai worked with his mom's acting coach, Betty Bridges, to hone his skills. His grandma videoed him showing his acting talent and then sent the clip to the production team that approved it. Massai said about his experience:
"I was nervous a little bit. At the beginning, I was nervous because I've never done it before. I started getting used to it. It was really helpful the fact that my mom was in the room with me."

In another interview about motherhood, Long, 49, who is already a mom to two boys, shared how she gets by with being a single mom and staying at the top of her acting game.
The actress noted that before she launched into juggling things, she takes a deep breath, attends to pressing issues, relaxes, then moves on to her other concerns.

Speaking about maternity and her acting job, the "Soul Food" star mentioned that most gigs stop coming once moviemakers realize that the actress was pregnant, and things get back on track after childbirth.