Nia Long's 8-Year-Old Son Poses with Braids in Close-up Photo Showing He Has Mom's Brown Eyes
American actress, Nia Long of "Fresh Prince of Bel-Air" fame shared an adorable picture of her 8-year-old son, Kez Sunday Udoka showing off his braids and the striking resemblance between them. 
Actress Nia Long took to her Instagram page to share a cute picture of her son, Kez Sunday Udoka, 8, who she shares with her fiance, former NBA star, Ime Udoka.
The adorable Kez posed in front of plants in the photo, smiling sweetly as he stared at the camera. He wore a blue T-shirt and flaunted his braided hairstyle.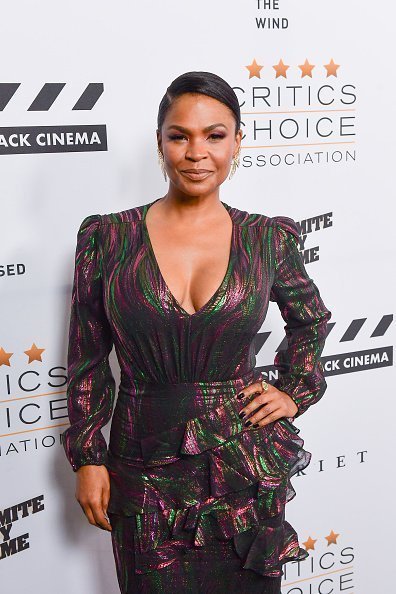 The picture showed the close resemblance Long, 49, has with her son. The adorable 8-year-old also possesses his mom's beautiful brown eyes. 
Kez's proud mom did not hold back in showering him with love in her caption to the post. The 49-year-old actress wrote: 
"That's my baby boy all day everyday. The adventure begins‼️"
Long's fans did not hold back in showing love to her and her son. Some of them also remarked that the mother-son duo closely resembled each other. 
One fan said Kez was his mother's twin while a second fan said the adorable boy had all of his mom's face. A third person added that Kez is the light-skinned version of his mother. 
Long was raised by a single mother and had to bring her first son, Massai up as a single mom following her separation from his father.
WELCOMING KEZ
Long welcomed her son on Monday, November 7, 2011. Her representative, Priscilla Moralez, confirmed Kez's birth to the media, saying the mother and child were healthy and happy. 
A year after giving birth to Kez, the proud mom revealed motherhood gave her an energy surge and she felt reborn because she could look at life through his eyes. 
Kez is Long's second child and son as she also has a son, Massai, who she shares with her ex, Massai Dorsey. Massai was born in 2000. 
RAISING MASSAI AS A SINGLE MOTHER
Long was raised by a single mother and had to bring her first son, Massai up as a single mom following her separation from his father. However, she found inspiration from her mother, who raised her despite dire circumstances, ensuring she lacked nothing.
The actress channeled those lessons to raising Massai and said it was important for single moms to be patient and not feel guilty about their situation when balancing work with nurturing their kids. 
LONG AND UDOKA'S RELATIONSHIP
Long and Udoka have been engaged since 2015 and while their fans are anticipating their wedding, Long explained during an exclusive chat with Essence that she is not a fan of marriage. The actress revealed that she was not planning on getting married anytime soon, saying love was complicated. 
Long also said she has never been married because she did not see the need to say "I do" to prove her love for someone. That said, Long's fans will have to wait a while to see her walk down the aisle.