Here's How 'The Jamie Foxx Show' Star Garcelle Beauvais Celebrated Her Twin Sons' 13th Birthday
Over the weekend, Garcelle Beauvais of "The Jamie Foxx Show" melted hearts online as she celebrated her twin sons, Jax and Jaid's 13th birthday with adorable photos.
"The Jamie Foxx Show" star and "Real Housewives of Beverly Hills" actress Garcelle Beauvais is a doting mom whose online and offline engagements show her gushing on her kids.
Whether via interviews or posts, the TV personality often expresses her admiration for her boys'. Her twin sons, Jax and Jaid recently turned 13 and their mom went online to celebrate them.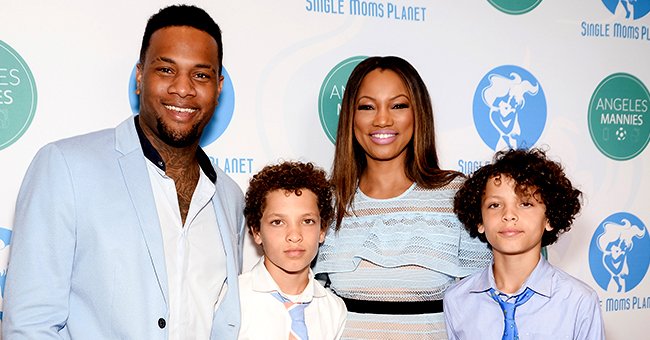 Beauvais shared a couple of slide shots that featured the celebrants, a few loved ones who were around to celebrate with the kids, as well as the unique cakes baked for the twins.
Jax, who was in a gray shirt, could be seen blowing out his candles on his game console-themed cake, while Jaid blew out his number 13 candles from a basketball-customized cake.
Despite being engrossed in a mini house party hosted for the boys, all the attendees ensured to mask their faces due to the COVID-19. This did not stop the fun and the reality star penned a lovely message to go with the adorable photos. She wrote:
"Wow, where did the time go...13 years ago today! I was blessed with 2 little angels!... Happy Birthday, boys. #jaxandjaid #boymom."
The 13-year-olds are not Beauvais' only kids. Though she shares only Jax and Jaid with her ex-husband, Mike Nilon, she is also mom to Oliver Saunders, her first son from a former partner.
The mother of three has been vocal about her experiences when it comes to raising her two youngest sons who are bi-racial. During an interview, she explained that she had come face to face with racism.
Thankfully, with Nilon's help, her twin sons have a seemingly perfect life, as the parents are co-parenting excellently well.
The actress stated that a woman mistook her for her sons' nanny. However, the stranger left when she realized that the boys were Beauvais' kids.
This type of racial prejudice may seem hurtful to the onscreen star but she said that being a mother to her boys is the best thing to have happened to her.
Her kids are very resourceful and have showcased their intelligence on several occasions. One of her sons was reported to have learned Japanese during the quarantine period. 
Not so long ago, the mother of three excitedly shared that one of the twins is great in algebra and would not be needing her help with his math.
As a single mother and a career woman, Beauvais has put in dedication towards raising the boys. Thankfully, with Nilon's help, her twin sons have a seemingly perfect life, as the parents are co-parenting excellently well!