Watch Dolly Parton Make Stephen Colbert Cry While Discussing Songs Her Late Mother Used to Sing
The "Jolene" singer touched the late-night TV show host's heart when she put her talents on display while recalling one of the beautiful songs from the old days that her mother taught her.
74-year-old businesswoman, actress, and singer Dolly Parton was recently on "The Late Show with Stephen Colbert" to promote her new book and her latest holiday album, and she graced the viewers with a sample of her beautiful singing voice.
Parton's recently released coffee table book, "Songteller: My Life in Lyrics," compiles more than a 100 of the country music legend's lyrics, and the title refers to Parton's fondness of telling stories with her songs.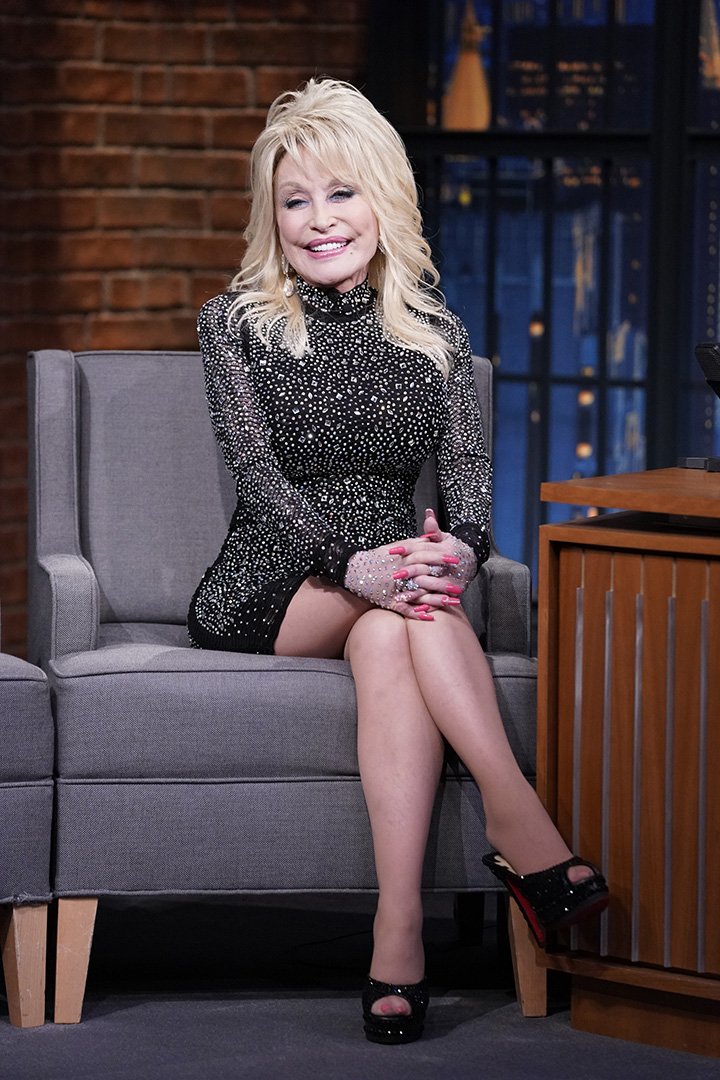 BRINGING HIM TO TEARS
At one point in the conversation, 56-year-old show host Stephen Colbert asked Parton about the songs her late mother used to sing to her as a child, prompting Parton to break into singing the folk ballad "Bury Me Beneath The Willow."
The song seems to have struck a chord on Colbert, who couldn't hold back his tears as he nervously giggled as a reacting to Parton's unexpected a capella performance.
Even though the interview was done remotely, Parton could notice the effect she was causing in Colbert, making a quick pause in her singing to tell him "Oh, you're crying?" before finishing the song line, then adding:
"I better hush before you cry yourself to death and we can't finish the show."
.@DollyParton sings "Bury Me Beneath The Willow" and I think somebody is cutting onions. 😭 #LSSC pic.twitter.com/zoUmBN77vZ

— A Late Show (@colbertlateshow) October 21, 2020
Wiping away the tears from his eyes, Colbert excused himself by admitting that "like a lot of Americans [he is] under a lot of stress right now," but he considered his to be tears of joy. "That was pretty beautiful," Colbert praised the singer.
The moment was clearly special for Colbert, who lost his mother in 2013, and he shared the fragment on Twitter on October 21, captioning it, "@DollyParton sings "Bury Me Beneath The Willow" and I think somebody is cutting onions."
A MUSICAL FAMILY
Parton's mother influence in the singer was key to her early interest in music, and as she recently recalled, it was not only her mother but also her entire family that was very much into "playing instruments and singing," as Parton told People.
In a September interview with the magazine, Parton recalled growing up surrounded by music and musical instruments, and she credited her mother Avie Lee Owens with introducing her to "the old songs."
"So that was just a part of my being and I just knew I loved it. I just continued doing that, it was just a natural thing," Parton said, adding that her mother also encouraged her to play the guitar and to let her original songs be heard.
 While Parton is the only one that became a cross-over country music icon, her numerous siblings also inherited their parents' love for music and performing, and the entire family was featured on Parton's 1970s variety show "Dolly."
Late in September, People shared an exclusive clip from the touching moment, with the Parton Family performing the religious song "in the Sweet By and By" after Parton gives a loving introduction.