Lori Harvey Sunbaths on a Yacht & Shows off Her Fit Body in a Black Swimsuit with Deep Neckline
Lori Harvey's latest Instagram post has received wild reactions from her fans following the stunning pictures she posted of herself sunbathing on a yacht.
Since her split from rapper Future, Lori Harvey has been seen spending some quality time with herself as she moves on from the breakup. 
The 23-year-old model and daughter of popular TV presenter Steve Harvey shared a series of pictures from her time on a private yacht with some close friends while vacationing in style. Fans have been left stunned by her incredibly fit body.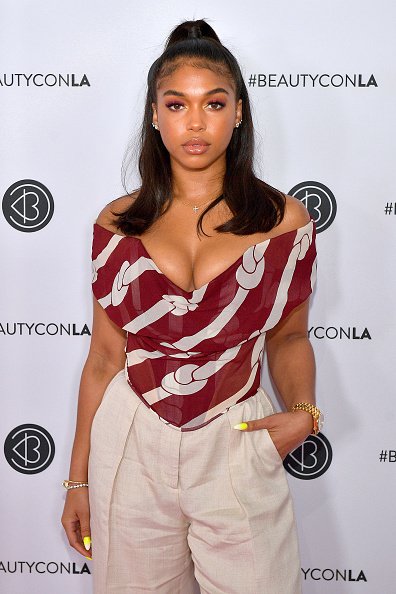 In the snaps she shared, Lori looked incredibly stunning posing in a low-cut black swimsuit with a deep neckline. The model ensured that the camera captured her killer curves. Lori's gorgeous body was the spotlight of the pictures.
From the series of pictures the model shared, Lori seemed to have had a great time with her friends. The 23-year-old posed for some photoshoot where she rocked a new Christian Dior swimwear. She captioned the post: "305."
Harvey's fans reacted to the post with comments of admiration and awe. The post has gathered over 185,000 likes and 1,000 comments. One awestruck fan remarked that the model always looked fabulous, while a second fan commented that Lori looked incredibly beautiful.
According to reports, since her breakup from Future, Lori has remained cheerful and is not bothered in the slightest way. The 23-year-old has reportedly kept herself busy with visits to family and friends and hitting the gym.
Future and Harvey have reportedly rekindled their romance away from the spotlight.
Despite her split from her famous boyfriend, Lori has found a way to remain in the spotlight. According to reports, the model has seen her Instagram following increase to a whopping 2.3 million.
The 23-year-old reportedly said that the media attention she receives is quite frustrating. Lori revealed that she had developed a thick skin for the negative perception of her portrayed by the media.
Lori and rapper Future seemed to have been bonding better after spending much of the lockdown together. Fans were surprised after the duo unfollowed each other on Instagram, with many speculating a break up had taken place. Future took it a step further by deleting pictures on his Instagram page, including Lori's. 
Future and Harvey made their relationship official on Instagram earlier this year with a photo of Future planting a kiss on Harvey. Despite the recent rumors of a breakup, they  have reportedly rekindled their romance away from the spotlight.
According to a recent report, Harvey and Future cooled things off following the massive pressure their relationship faced from fans and also the need to take time off to reassess things. 
Future was said to have cooked dinner for Lori following their return to their romance, but they are keen to keep things low profile and not have fans speculate on their every move.