Check Out DWTS Pro Witney Carson's New Stunning Photos as She Gives Update on Her Pregnancy
"Dancing With the Stars" professional dancer Witney Carson shared a stunning picture of her on her Instagram page and gave fresh updates on her pregnancy.
Witney Carson loves taking her fans along on her pregnancy journey since she made the announcement back in July. The dancer has given fresh updates on her recent post.
Carson is sitting out this DWTS season due to her pregnancy. The 27-year-old dancer looked gorgeous in a recent picture, which she shared rocking a long, white dress that had puffy, short sleeves, and a V-neckline.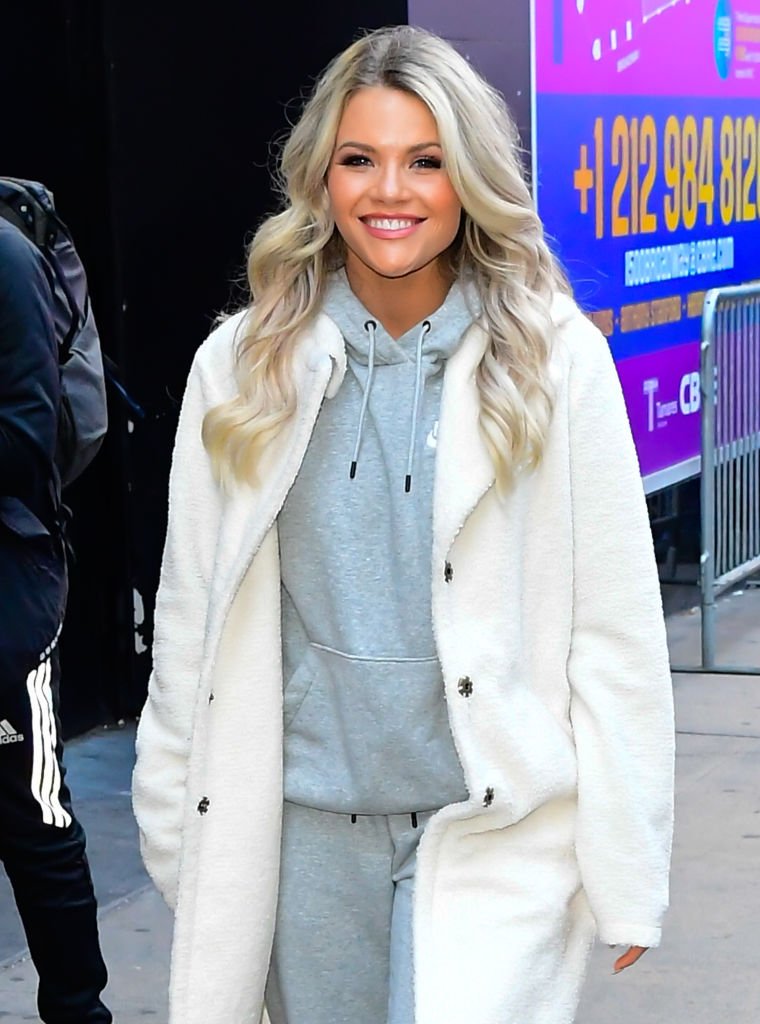 Carson could be seen cradling her growing baby bump while posing on a beach. The DWTS mirrorball winner revealed to her fans that she and her husband, Carson McAllister had just completed the second trimester of their baby bump journey. 
Witney's long blonde hair cascaded down between her shoulder blades in the series of pictures, which she shared, making her look all the more stunning.
The 27-year-old also revealed that she had entered the last three months of her pregnancy and would be expecting her baby soon. She gushed on the post:
"Saying goodbye to the second trimester&on to the last stretch of pregnancy! #28 weeks#3rdtrimestet#babymcallister"
Witney's 1.2 million Instagram followers wasted no time to dive into her comment section and express their delight. The post gathered over 78,000 likes and more than 200 comments.
One supportive fan called Witney the cutest mommy-to-be, while a second added that the dancer looked stunning. A third fan expressed her joy at the latest update and said she could not wait for the baby to arrive.
The couple said they were surprised when they found out in April.
Witney, who reportedly celebrated her birthday on October 17, once admitted that she was still in shock that she would soon be a mother in 2021. The couple revealed that they were not expecting it, and so needed some time to digest the reality.
Witney also disclosed that she and Carson had tried having a baby last August, but after the disappointment, they did not give it a further trial. The couple said they were surprised when they found out in April that they were expecting a baby.
Witney seems not to be the only DWTS pro expecting a baby after it was revealed that Lindsay Arnold was also expecting a baby girl with her husband, Sam Cusick.
Witney said she discovered she was pregnant a week after Lindsay had called her to inform her of her own pregnancy. She had received help and encouragement from fellow DWTS pro, Peta Murgatroyd, who is also a mom.
Since the revelation of her pregnancy hit the media, fans have been itching to find out more about her husband, Carson, with whom she is expecting her baby number one. Witney and Carson reportedly met in high school and got married in 2016. Carson works as a choreographer and social media influencer. 
Witney has said that she finds it comforting to know that she met her man before the Hollywood bustle and spotlight. One thing is sure for Witney as she goes through the final three months of her baby bump, she can count on the support of her fans, friends, and husband.