Wedding Officiant Went off-Script during Ceremony to Surprise Bride and Groom
A video taken during a wedding hilariously went viral, as it showed the awkward moment a bride and groom kept their composure as their wedding officiant went rogue during the ceremony. 
In celebration of her first wedding anniversary, Olivia Mancuso shared the moment her wedding became memorable for a surprising and hilarious reason; the minister decided to add her flair to the ceremony. 
The video Olivia shared on TikTok went viral, and she can laugh about it with her husband Fred now, but it's not how they felt at the time. What made the situation an instant hit among their friends and family, is that they know how much Olivia dislikes surprises. 
WHAT HAPPENED?
Olivia gave context at the beginning of the video clip that showed her exchanging vows with Fred, stating that what followed turned out to be the result of their minister's decision to spontaneously going off-script. The minister at least gave her moment of spontaneity an introduction and said:
"Hallelujah has been used for centuries to celebrate beautiful unions. From my heart to yours, here you go."
Everyone present soon found out what the minister meant, as she burst out into song. With her voice pitching a bit high, the minister sang a portion of the song "Hallelujah," much to the shock of the bride and groom.
Opted to enjoy the "otherwise perfect day" with their family and friends instead.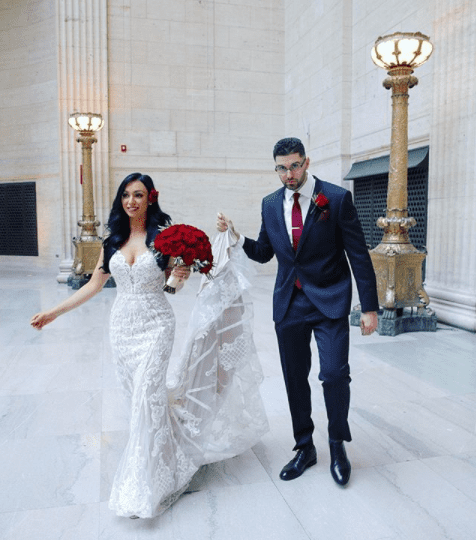 THEIR GUESTS THOUGHT IT HILARIOUS
At the time, Olivia and Fred were to busy keeping their composure to notice, but the rogue minister became a hit among their guests and for a simple reason, as Olivia told TODAY:
"Our guests thought it was hilarious, because they know I hate surprises in any form or fashion." 
THEY CHOSE TO FOCUS ON THEIR JOY
The looks exchanged between Fred and Olivia spoke volumes of their shock and horror, but in hindsight, they now see the humor in the oddly timed musical interlude as well.
The couple decided to let the minister be and opted to enjoy the "otherwise perfect day" with their family and friends instead of speaking to her about the surprise singing. 
WHEN WEDDING SURPRISES GO RIGHT
In some cases, wedding surprises can be equally shocking and memorable for all the right reasons. When a speech therapist Cíntia Bonfante Pereira married the man of her dreams, José Victor Flach in Brazil, he gave his bride the ultimate heart-melting surprise. 
The groom organized his bride's Down's syndrome students to be the ring bearers on their big day, and when she turned around and saw the little angels heading towards her, she understandably became overwhelmed with emotion. 
Weddings can also surprise in the way they take place, as another couple from New York City showed earlier this year. The couple wanted to be legally married, and they made sure that nothing stood in their way.
Eager to start their lives together as a married couple, a New York couple held a street wedding, which their friend officiated through his apartment's window, keeping to social distancing regulations put in place due to the novel coronavirus pandemic.