Gymnast Simone Biles Shows off Her Long Hair in a Snap as She Poses in a Casual Shirt-Dress
Olympic gymnast Simone Biles' beauty never fails to amaze people. In her latest social media post, she delighted her fans with her look in a casual printed dress and her wavy locks.
Simone Biles, one of the world's most decorated artistic gymnasts, proves that even in day-off looks or in simple selfies, her striking beauty will continue to dazzle fans online and in real life.
She recently shared on her Instagram Story a picture of herself showing off her latest look. Since gymnastics competitions have yet to start due to the coronavirus pandemic, Biles has been taking advantage of her days off the training bars.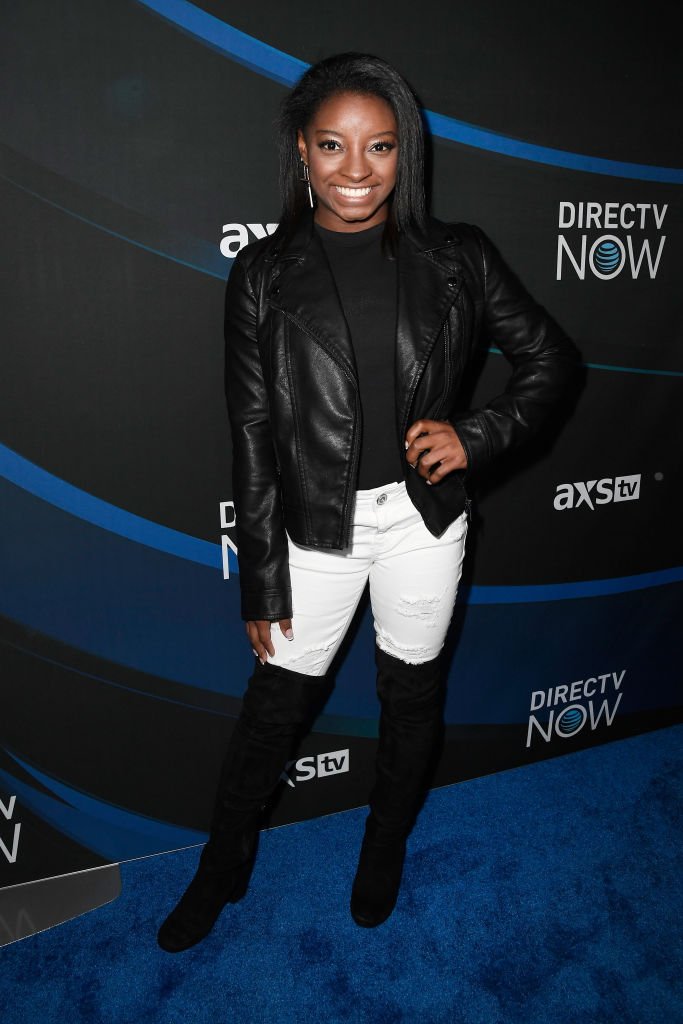 HER EFFORTLESS CHIC LOOK
Biles is shown in the picture posing in front of the camera in the living room. She tilted her head a little to the right, allowing her long black hair to fall on the side.
She wore a gray printed dress with navy blue stripes on both sleeves and a red stripe around the collar. She stylishly tied her denim jacket around her waist to highlight her lean figure.
The remarkable gymnast casually showed off her white manicured fingers. She also wore minimal accessories, but the best accessory she had in the picture was the sweet smile on her face.  
FEARLESS FASHION AND HAIRSTYLE GETTER
The 23-year-old gymnastics wonder is not afraid to update her looks as she loves to experiment with fashion and hairstyles. In June, she pulled off a major hair transformation amid the ongoing health crisis.
Biles, who availed herself of a salon service at home, chopped her long hair off and sported a shoulder-length bob cut. However, in August, she went back to having extra-long braids. 
Aside from her fearless hairstyles and fashion picks, Biles recently shared on Instagram a little piece of art in her body.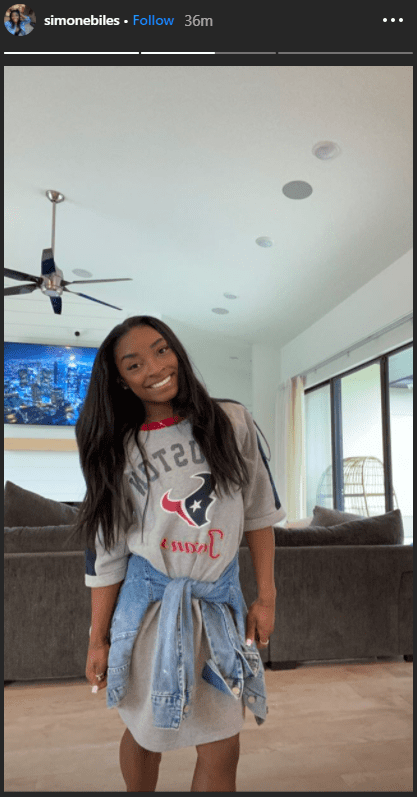 A ROLE MODEL TO THE COMMUNITY
Besides her fashion fame, Biles has become a role model in the Black community. She shared that she was once a dreamer and looked up to Gabby Douglas, an award-winning Black female gymnast. 
In her speech for Project Glimmer, a foster care community, Biles said that she never saw any Black gymnasts until Douglas came into the picture. She worked hard to become like her until she did. She added:
"To any girls listening to me now, I say you can do it. You just have to be the first. The first to share your story, your advice, your words, and people will follow."
AN INSPIRATIONAL WOMAN
As one of the prominent trailblazers in the Black community, the 30-time world and Olympic gymnastics champion will continue to show the world that an empowered woman like her can make a difference. 
Biles did not only gain admiration from the youth of the community, she also became an inspirational woman to Hollywood personalities, including "Queer Eye" star Jonathan Van Ness.
She and Jonathan, who appeared as "Van Biles," starred in a popular ad, where they shared adorable routines. Biles shared the video and her fans were amazed by the duo's hilarious acting skills.
Aside from her fearless hairstyles and fashion picks, Biles recently shared on Instagram a little piece of art in her body. It was one of the most daring jewelry piercings her fans have seen.
She flaunted her fashionable chest piercing in a green dress while in a sunflower field on a bright sunny day. Some fans were bothered by her body ornaments, but others admired her cool piercings.