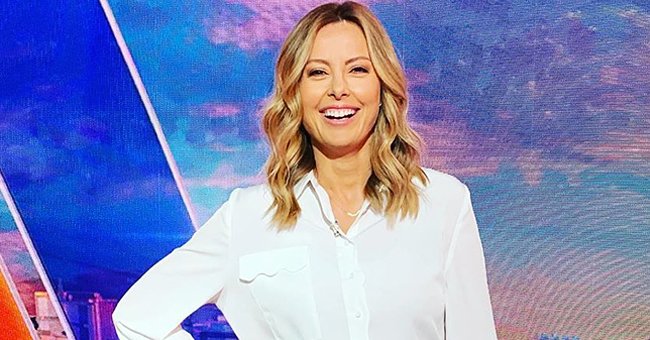 instagram.com/allisonlangdon
Allison Langdon Goes Barefoot as She Showed off What She Discovered While Spring Cleaning
The former "60 Minutes" news anchor looked back at some wonderful memories from her time volunteering at the Olympic Games, and she proudly wore a fashion item from those times on social media.
41-year-old Australian news reporter and TV-show host Allison Langdon went through her old stuff at her home in Sydney as she did a deep clean and found something worth sharing with her fans on social media.
On October 26, 2020, Langdon took to her Instagram feed to share a two-image slideshow picturing herself modeling a more than 20 years old garment that, however out of fashion, continues to make her proud.
Allison Langdom interviewed on "Show + Tell" in Sydney, Australia, October 2017. I Image: YouTube/ Show + Tell.
Langdon wore her volunteer uniform from the 2000 Olympic Games, celebrated in her home city, for the images, captured at her backyard, completing her outfit with a pair of khaki pants and a white hat, captioning the post:
"Ahh, the things you find during a spring clean. My volunteer uniform from #2000sydneyolympics"
The mother-of-two stood barefoot on the grass in both images, and she displayed a vibe of fun and lightness, donning a big smile as she teased the camera in her candid throwback look.
The post prompted different reactions among Langdon's fans and followers, from one person complimenting her for still fitting into her volunteer uniform after two decades to someone suggesting she should wear it for Halloween.
The post shows Langdon in good spirits following a troubling episode that she faced on live television when her "Today" show (Australia) co-host Karl Stefanovic pressured her into answer whether she slept in the nude or not.
After having opened up himself about his fondness for not wearing clothes, Stefanovic questioned Langdon to try to obtain a similar confession from her, and while she attempted to dodge the question, he insisted until he made her visibly uncomfortable.
The situation ended up with Langdon raising papers from the TV set's desk to shut down Stefanovic out-of-order and intrusive questions, humorously adding that nobody needed to have such an image in their head on Monday morning.
Langdon and Stefanovic have been partner's on "Today" since January 2020, and despite the awkward moment the two recently starred on, their relationship inside and outside the TV set has reportedly been the best.
In July, Stefanovic shared that he and his co-host had a great camaraderie and admitted to having a great time with Langdon between all the hard and serious work the two had to do in front of the show.
Stefanovic, who has previously co-hosted "Today" with other iconic co-hosts, further said that he had never enjoyed working on the show as he had since he teamed up with Langdon, and we hope their latest episode doesn't change that.
Please fill in your e-mail so we can share with you our top stories!