Beloved NHL Locker Room Attendant, Joey Moss, Passed Away at 57
The beloved man was a legend who always kept the spirits of the members of the organization high during the 36 years that he worked with them.
The Oilers are mourning the loss of Joey Moss, their beloved friend, and colleague, who worked with them as part of the team for nearly four decades. Moss, who was born with Down Syndrome, reportedly passed away at age 57 of complications from Alzheimer's.
The official announcement was posted on the Edmonton Oilers Twitter account a couple of days ago. Various personalities linked to the team who for years knew and enjoyed the presence of Moss expressed their sadness at his departure.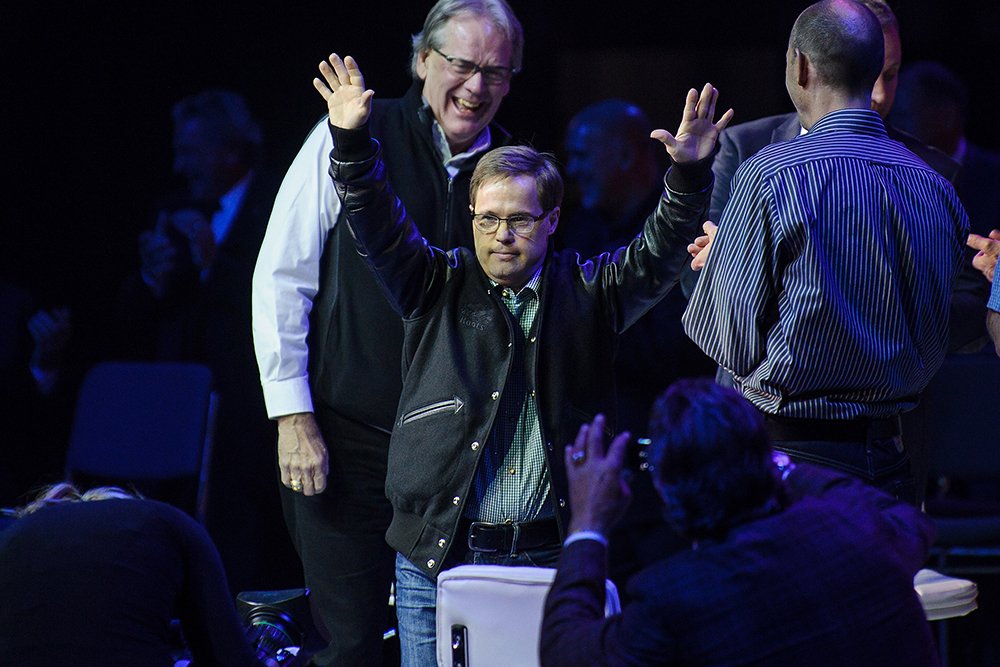 The publication has more than a thousand retweets and comments on the experiences they had with Moss throughout all these years. The words of encouragement for his family and friends are numerous.
The Edmonton Oilers wrote: "The #Oilers organization is extremely saddened by the passing of our dear friend & colleague, the legendary Joey Moss. Once an Oiler, always an Oiler. RIP, Joey."
The #Oilers organization is extremely saddened by the passing of our dear friend & colleague, the legendary Joey Moss.

Once an Oiler, always an Oiler.

RIP, Joey. 🧡💙 pic.twitter.com/KJSkN9oO9W

— x - Edmonton Oilers (@EdmontonOilers) October 27, 2020
ALWAYS REMEMBERED
Moss joined the team in the 1984-1985 season and has been a beloved presence among them ever since. His renditions of Canada's anthem, Oh Canada, before every match uplifted the players and fans, who loved him.
In the condolence notes, all can see the affection that everyone who knew him felt for Moss. Names like his friend and hockey legend Wayne Gretzky, who recommended him for the job, Connor McDavid, Ryan Nugent-Hopkins among others wrote their support.
When you think of the Edmonton Oilers... names like Gretzky, Messier, Coffey and McDavid come to mind. Joey Moss is right there with them. He is a Canadian legend and a true inspiration to all of us. My thoughts and prayers are with his family. Rest In Peace Joey. 👊🙏 pic.twitter.com/F0ASrzuvw3

— Max Domi (@maxdomi) October 27, 2020
Former Oilers Cam Talbot tweeted: "There was nothing better than getting off the ice after a great win over Joey Moss with a high-fives on the bench. His energy and passion for the game were contagious and made you want to come to the track every single day. He really was a legend and we will miss him very much. "
TRIBUTE OF FRIENDS
Another hockey legend who also paid tribute to Moss was the Detroit Red Wings center, Sam Gagner. The player said nothing compared to the time expend after the record-tying game with Moss.
Tonight, the High Level Bridge in Edmonton will shine in love and deep gratitude for the life of an Edmonton original, Joey Moss. Blue and orange, green and gold. He was a great one, too.
🏒 🏈 ❤️ pic.twitter.com/yySVtOmRRY

— City of Edmonton (@CityofEdmonton) October 27, 2020
Gagner said about that night: "My biggest memory after my eight points in a game was just sitting down with Joey, having a beer and chatting. There was a lot going on that night. I talked to Wayne Gretzky, Paul Coffey, my parents, and my soon-to-be wife."
The team's longtime dressing room attendant was a recurring guest at Gagner's home during the former player's years with the Edmonton Oilers, first in the 2007-2014 seasons and then 2019-2020.
Joey Moss was a remarkable human. His love for the rink and hockey community was unmatched. He was the epitome of Canadian values and there is no one that sang our anthem louder or prouder. We'll miss you, Joey. - Tom Renney & the Hockey Canada Family#RIPJoeyMoss pic.twitter.com/ExT7EObk8D

— Hockey Canada (@HockeyCanada) October 27, 2020
DOWN SYNDROME COMMUNITY ADVOCATE
It is not easy for families to accept the diagnosis of Down syndrome associated with their babies. As difficult as it may be, many decide to see the sunbeam in the middle of the storm.
Such is the case with Oakley Peterson, 34, a mother of three and an active member of the Down Syndrome Community. Peterson speaks first-hand, as her 7-year-old third son Welles has Down Syndrome. She is also the mother of Ames, 4, and Scarlett, 8.
Peterson has become a recognized advocate of the Down community through the posts she shares on her Instagram "NothingDownAboutIt." Through her posts, Welles' mother shares her family's ups and downs and how the world is now more accepting of their children.