Ryan Lochte's Son, Caiden Dressed like the Olympic Swimmer for Halloween & Wore His Gold Medal
Swimmer and 12-time Olympic medalist Ryan Lochte took to Instagram to share an adorable photo of his son, Caiden, wearing an Olympic gold medal as part of his Halloween costume.
On October 31, Ryan surprised his over 870,000 Instagram followers with a photo of his son, Caiden, dressed up as an Olympic swimmer. Apart from his swim cap and briefs, the boy put on Ryan's Olympic gold medal.
Caiden was flexing his arms and posing in front of the family home surrounded by carved pumpkins, a skeleton, and some other Halloween-themed decoration.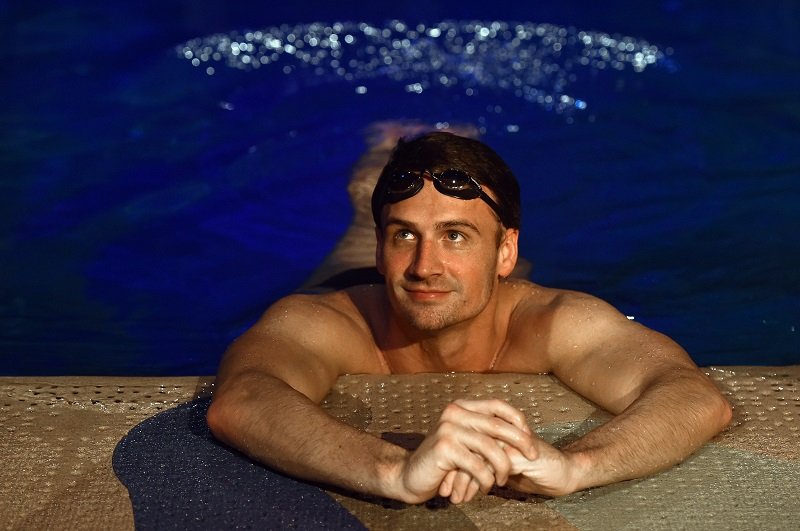 CAIDEN WILL COMPETE IN THE 2036 OLYMPICS
In the caption, Ryan joked that his son would participate in the 2036 Olympics and added that Caiden "is going to be a good underwater kicker with those legs."
Although it is uncertain if Caiden will become a professional swimmer or not, one thing is clear: he looks just like his famous dad! Some Instagram users pointed out that the boy got the "Lochte legs!"
It is not the first time that one of Ryan's Olympic medals makes headlines, though. In September 2020, the swimmer revealed that his first individual Olympic gold medal, the one he received after winning the 200m backstroke at the 2008 Beijing Games, went missing.
Winning a gold medal is a huge milestone in itself. However, this one carries added emotional weight for Ryan as he broke his own world record when he got it.
Just because [Ryan] is an Olympian, he doesn't have the easy way.
Apart from that, his dad and first swim coach, Steven, cried tears of joy. Steven had previously told Ryan that he was a good swimmer, but greatness would only come after breaking a world record and receiving a gold medal in the Olympic Games.
That's exactly what Ryan did, which is why Steven whispered, "You're great," when his son did the parade around the pool and got up on the bleachers.
RYAN LOCHTE'S BROKEN RELATIONSHIP WITH HIS MOM
Ryan thought that his mom, Ileana, or a former agent had the missing gold medal. Sadly, both of them told him they don't have it, so he has to keep looking for it.
Speaking of Ileana Lochte, Ryan revealed in September 2020 that he has an estranged relationship with her. He opened up about it to let people know that just because he is an Olympian, he doesn't have "the easy way."
The swimmer confessed that Ileana said "some very, very hurtful things" when he told her she would be a grandma, which "kind of ended" their relationship.
At the moment, Ryan is married to Kayla Rae Reid. The couple lives in Gainesville, Florida, with their two children, son Caiden and daughter Liv.