JFK's Grandniece Eunice Kennedy Shriver Honors Late Grandmother by Wearing Her Wedding Dress
The grandniece of John F. Kennedy, Eunice Kennedy Shriver, paid tribute to her paternal grandmother during her October wedding by wearing the same wedding dress that she wore over six decades ago.
On Saturday, October 17, John F. Kennedy's grandniece Eunice Kennedy Shriver walked down the aisle to exchange vows with her husband, Michael Mikey Serafin Garcia.
Rather than wear a custom-designed wedding gown made specially for her like one would expect any bride to, Shriver decided that she would use her wedding day to honor her late paternal grandmother who she was named after, Eunice Kennedy Shriver.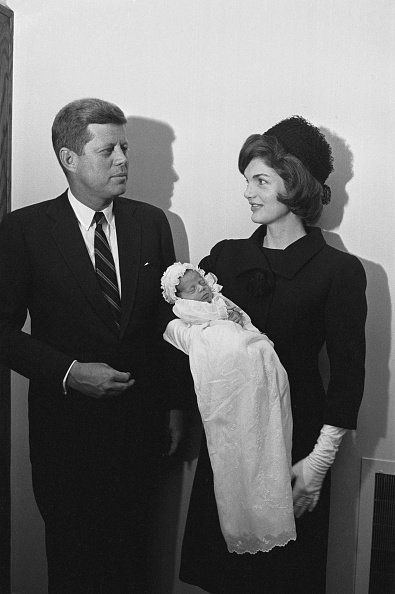 On that clear Saturday afternoon, the young Shriver walked down the aisle at St. Patrick's Catholic Church in Miami, hand-in-hand with her father, wearing her late grandmother's stunning Dior wedding dress.
The precious Dior wedding dress was worn by Shriver's late grandmother when she married her grandfather 67 years ago on May 23 in 1953. In an exclusive with Vogue, the newlywed bride gushed:
"The dress has aged into a French vanilla ivory, and there are a few holes in it, but I didn't care."
Proud that she got to honor her grandmother in such a special way, Shriver revealed that she collaborated with "Ever After Miami" to restore the old wedding dress by creating a new matching bodice and a veil for her.
With that luck in tow, all they had to do was be careful and gentle while working on the dress. Shriver joked that she was almost too afraid to sit for fear of ruining the dress. She was happy to join the century-long list of Kennedy weddings with her charming husband.
Shriver's beloved grandmother passed away after a long, impactful life on August 11 in 2009, at the age of 88.
Shriver's wedding was supposed to hold much earlier than it did. However, like many couples who hoped to tie the knot this year, the unprecedented pandemic got in their way. Not only did they have to postpone the wedding, but they also had to cut down their guest list significantly. 
A wedding that was supposed to hold in front of 200 guests was held with immediate family only. Luxury wedding photographer KT Merry who documented the wedding, wrote on Instagram:
"In an enchanting and intimate wedding with their immediate families, @ekshriver and @mikeygarcia redefined what a micro wedding can be."
The photo Merry shared was an absolutely breathtaking shot of the gorgeous bride from behind in her beautiful wedding gown and veil while she was holding on to her bouquet of white flowers. 
The luxury photographer shared another photo of Shriver sitting in a grand room wearing the surgical wedding dress. Shriver herself shared a heart-warming picture of herself with her husband on her Instagram page with the word "forever."
Shriver's beloved grandmother passed away after a long, impactful life on August 11 in 2009, at the age of 88. Just like her vow to love her new husband, her love for her sweet grandmother will last forever.