'OutDaughtered' Stars Adam & Danielle Busby Look Cute Enjoying a Quick & Casual Date
Reality stars Adam and Danielle Busby melted many hearts recently after a heartwarming picture of them having a quick coffee date surfaced on social media.
Love is in the air, and Adam and Danielle Busby have been inhaling a whole lot of it. A photo of the loved-up couple was recently shared via their joint Instagram, and it had everyone in their feelings.
In the photo, the Busbys sat opposite each other as they nursed individual cups of coffee. Judging from the number of coffee cups, it's safe to say they had been there a long time before the shot was captured.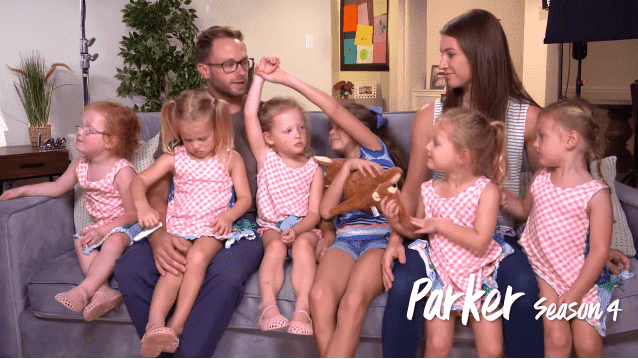 The pair was dressed casually for the "date," and they both seemed enlivened by each other's company. The top half of Adam's dressing was visible, and it included a black top with a white hat that had some letters printed boldly across it.
The top half of Danielle's clothing could also be seen — she wore a black shirt underneath a much larger plaid shirt, and she had large shades on. Not forgetting that these are indeed challenging times, she left her black face mask tucked beneath her chin. The caption that followed the post read:
"Quick coffee date....to you know... 'catch up' LOL." 
One fan declared love for Adam and Danielle's family while another commended them for making sure going on dates did not stop after their marriage. Adam and Danielle Busby have been married since 2006. The pair's fame can be tied to the show they founded, which centers on the life they live as parents to the only American all-girl quintuplets on record.
Following her arrest, her Instagram page was taken down.
The show is titled "Outdaughtered," and every member of their family, including Danielle's mother, participates in it. In October, news that Danielle's mother, Michelle "Mimi" Theriot, had been arrested for a DUI hit the internet.
According to the police, she was pulled over when it was noticed that her vehicle was swerving and straddling the shoulder. It took a while for Theriot to pull over after she was flagged down initially, and it's been speculated that it took her that long because she was trying to cover up the smell of alcohol with perfume.
The oversaturation of the car with the perfume was a dead giveaway for the experienced cops. When they asked the actress to provide her driver's license, she seemed lethargic, slurring her speech and having bloodshot eyes. 
Theriot was requested to step out of her car, and when she did, she could hardly remain on her feet. The field sobriety tests she failed sealed the deal, and she was handcuffed and driven off after she tried to get back into her car.
Following her arrest, her Instagram page was taken down in what seemed to be damage control, and though she was not particularly active, her account's disappearance was noticed. 
Some of her fans speculated that it was taken down on behalf of TLC, while others think it was done because she was trying to avoid any negative comments from people on social media.
Fans also wonder if her run-in with the law will prevent her from getting more screen time on "Outdaughtered" or if it will instead be featured as a part of the show. Hopefully, the damage control will not extend that far.