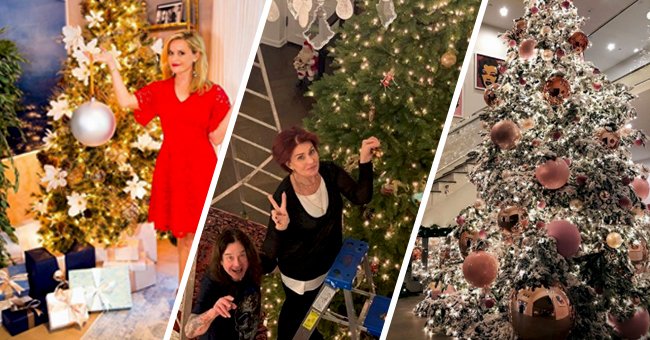 instagram.com/reesewitherspoon instagram.com/kyliejenner instagram.com/sharonosbourne/
Check Out the Most Stylish Celebrity Home Christmas Decorations of All Time
For some people, November ushers in anticipation for Christmas with gift shopping, tree hunting, and lots more. When celebrities decorate for the holidays, they do so in grand style. Take a look at some fabulous celebrity home Christmas decorations.
Those who celebrate do their best with what they have, but no one does it quite like these celebrities do when it comes to Christmas decorations.
From talk show host Rachael Ray's six Christmas trees to Kris Jenner's reality TV-famous legendary foyer, here are twelve stylish Celebrity home Christmas decorations.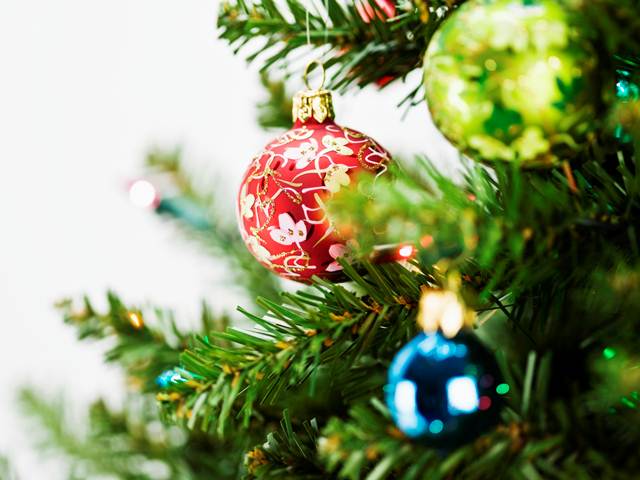 A decorated christmas tree. | Photo: Flickr
KYLIE JENNER
Never one to be outdone, cosmetics maven Kylie Jenner always blows minds with her holiday decorations. Each year, Jenner's Christmas has a decor theme, and each year, she does not disappoint.
For Christmas 2018, Jenner revealed that her theme for the year was gold. She had a gigantic gold Christmas tree so large it towers above her mezzanine landing. Complete with huge gold baubles and scary-looking Christmas elves.
Before that, she decided to keep things pretty in pink with her oversized, 20-foot tall tree and decorations that looked like they were covered in snow, and completed with pink baubles. It seems like the lip kit mogul is out to win Christmas every year.
KELLY RIPA AND MARK CONSUELOS
The "Live With Kelly and Ryan" co-host got started with the Christmas decorations a little early in 2018. The show host showed off her giant signature tree in their New York City home on her Instagram.
The gorgeous tree was covered in layers of twinkling lights and topped with a bold glowing star. Christmas magic was perfectly fine for her and her hubby, "Riverdale" actor Mark Consuelos.
STEVE HARVEY
For Christmas 2017, "Family Feud" star Steve Harvey enlisted Jeff Leathan of Four Seasons to transform his home for Christmas.
The show host opted for decorations done in pristine whites and icy cool blues and shook things up a little with geometric penguins to top it all off.
COLEEN NOLAN
In 2019, British singer and television presenter Coleen Nolan told her fans and Instagram followers how much work it took all day to get her home all festive and decorated.
Nolan shared a series of photos showing the beautiful festive display she had created in her former house. As well as putting up a tree in the living room, the "Loose Women" star had a second tree in the hallway alongside snowman and reindeer models.
ALAN HALSALL
In 2019, "Coronation Street" star Alan Halsall also pulled out all the stops for his first Christmas with his former co-star, Tisha Merry. The two started dating earlier in the year and seized the opportunity to make Christmas a memorable one.
They decorated a huge tree in their hallway with gold ribbon, red baubles, and a star placed on top. They had three lit-up reindeer models take pride of place above the front door outside the house.
TAMARA ECCLESTONE
Tamara Ecclestone can always be counted on to check all the boxes for the perfect Christmas decorations. Come 2019 Christmas; she did not disappoint.
Ecclestone put up her Christmas tree more than six weeks before December 25th, showing off her hard work on Instagram. The exterior of her lavish London home was also transformed for the festive season. Shades of red, gold, and green dominated her home.
BRITNEY SPEARS
"Toxic" singer Britney Spears made good use of her sky-high ceilings in 2017. The singer went all out with a towering and twinkling tree. She completed the look with prancing reindeer and a lush flower bouquet.
Spears' transformed space looked so heavenly that one could easily get lost in its beauty. However, her tall tree was the highlight of the decorated space.
KRIS JENNER
Kris Jenner's foyer is one of reality television's most legendary rooms, from the magnificent spiral staircase to the bold checkered floors. Whenever the holidays roll around, that foyer magically transforms.
When Christmas came in 2017, the famous "momager" went all out to make a statement. As always, she enlisted Four Seasons artistic director Jeff Leatham to make her home sparkle with a massive geometric polar bear as the centerpiece to a forest of festive trees and sweeping garland.
RACHAEL RAY
In 2016, Food Network star Rachael Ray decided that having one Christmas tree was so last century and decided to bump things up a notch — several notches, actually.
The show host had not one, not two, not even three Christmas trees, but six! All six trees were decked out with the merriest and most vibrant decorations, as they say in different parts of her gorgeous home.
MARIAH CAREY
For many people, Mariah Carey's high-pitched whistle vocals and her timeless song, "All I Want For Christmas," are closely associated with Christmas.
Whenever Christmas rolls around, the pop icon knows how to keep things classic. In 2019, Carey's gorgeous colorful tree proved that she truly is the Queen of Christmas.
ROCHELLE AND MARVIN HUMES
Rochelle Humes unveiled her beautifully-decorated Christmas tree a little bit early in late November 2019. The fantastic tree had been trimmed entirely with metallic decorations and featured two small reindeer models standing on the floor beside it.
AYDA FIELD AND ROBBIE WILLIAMS
To usher in the festive season in their incredible London home, model Ayda Field and her husband Robbie Williams went for an enormous Christmas tree with a disco ball shining on top.
Proud of their work, Field hurried to give her Instagram followers a look at the amazing tree that glittered magically with its gold, pink, and blue decorations.
Please fill in your e-mail so we can share with you our top stories!