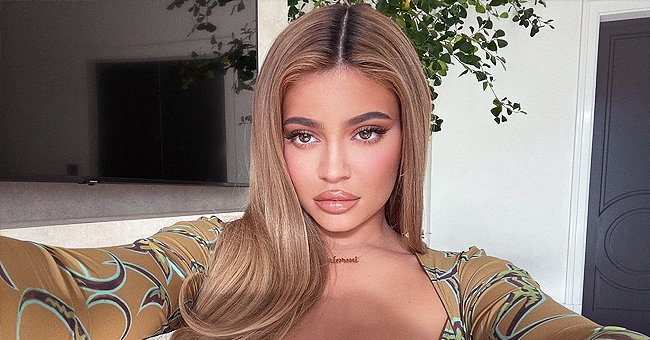 Instagram/kyliejenner
Fans Say Kylie Jenner Looks like The Grinch as She Poses in a Green Crop Top and Glitzy Skirt

Kylie Jenner stunned in a glitzy all-green ensemble as she posed a teaser for her holiday makeup collection: "Can you guess the theme of my holiday collection this year."
Kylie Jenner's successful makeup brand has been releasing several collections in the previous holidays, and Christmas is no exception. Recently, the beauty mogul hyped her fans up with a teaser for her newest release.
The "Keeping Up With The Kardashians" star took it to social media to promote her holiday collection, leaving everyone guessing what this year's theme could be.
Several fans immediately guessed her theme from the movie "How the Grinch Stole Christmas," seeing as Jenner's photo resembled that of the Grinch's famous fictional character.
In her photo, Jenner posed in a glittering green longsleeved crop top that had raised pointed shoulder pads and a low neckline design, and a matching skirt that emphasized the reality star's long legs.

Fans comment on Kylie Jenner's Instagram photo. | Source: Getty Images
The self-made billionaire, who sat on a fuzzy green chair, made sure her makeup matched her outfit and the studio's backdrop in the color green. Noticeably, her eyebrows showed similarity to the Grinch when it came to shape.
In preparation for Halloween, the mother-daughter-duo baked spooky-looking cookies.
Jenner's recent all-green ensemble was not the first time she chose the color to wear for an exciting event. Recently, the mom-of-one rocked a green bodysuit, dressing up as a cobra snake for her sister, Kendall's, birthday party.
Although looking gorgeous in her costume, Jenner really made sure everyone knew what she was, wearing a headpiece that resembled a snake's head with sharp teeth sticking out.
Her makeup was no less eye-catching, looking fierce with a solid black eyeshadow, which she complemented with face paint of a snake's skin by her temples.
It is no secret that Jenner does not hold back on celebrating holidays for her little angel, Stormi, along with all the other Kardashian-Jenner siblings with children, pandemic or not.
Recently, the famous clan celebrated Halloween lavishly and excitingly. Jenner dressed Stormi in a purple minion costume from the animated film series "Despicable Me."
On the other hand, the doting mom went as Stormi's yellow counterpart for the day. In preparation for Halloween, the mother-daughter-duo baked spooky-looking cookies and captured their sweet bonding moment in a video posted on Jenner's channel.
Please fill in your e-mail so we can share with you our top stories!