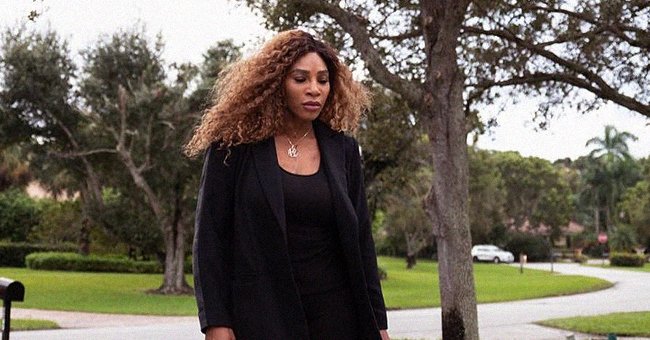 Instagram/serenawilliams
Serena Williams Rocks Black Outfit & Pink Shoes from Her Collection While Walking with a Dog
Tennis superstar Serena Williams looked stunning in a recent Instagram post. She rocked a stylish black outfit and pink shoes while walking with her pet dog.
Apart from her immensely successful career, iconic tennis player Serena Williams, 39, is known for her impeccable fashion style on and off the court.
Over the weekend, Williams wowed her fans with stunning new snaps of herself. The 39-year-old athlete paired a stylish black jacket with tight black leggings and a black tank top in the picture.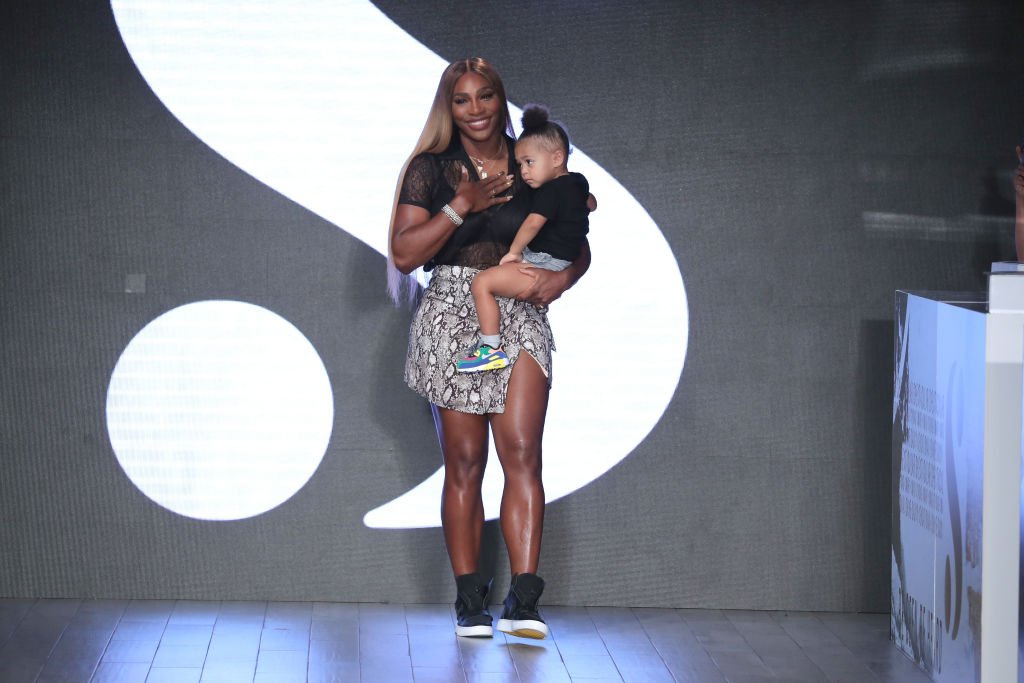 Serena Williams and her daughter Olympia on the runway of her "S by Serena Williams" fashion show in September 2019. | Photo: Getty Images
Williams glowed beautifully in light makeup, and she wore curly blonde bohemian hair. She completed the stunning look with a pair of eye-catching pink shoes from her collection.
A swipe to the left revealed a second picture, which showed the back view of her impressive outfit. The image was made even more interesting by her furry friend who tagged along.
Over the years, Williams has developed a reputation for her fashion style. From her impressive array of gameday outfits to her audacious collections of shoes, the famous tennis player continues to prove that she knows her onions.
Last month, Willams took to her Instagram page to upload a series of behind-the-scenes images for her photoshoot with Stuart Weitzman.
One significant way she has achieved this is through her size-inclusive fashion label, Serena.
In the photos, Williams showed off her impressively toned arms and legs while rocking a short, sleeveless black outfit. Still, what stuck out most about the pictures was her beautiful red high-heel, knee-high boots.
But Williams is not all about her numerous titles and expensive fashion items. Underneath her toned body and glittering career is a genuinely kind heart that is made of gold.
While she puts a smile on the faces of people with her outrageous skills in the court, she also makes a difference for many with her contributions to charity.
More importantly, Williams believes kindness is one of the ultimate lessons to teach her 3-year-old daughter, Olympia. She explained that having her daughter understand that beauty is from the inside is key, which entails giving, kindness, and humility.
Apart from her laudable charity works, Willams has also transferred her dominant form on the tennis court to front-burner issues both on the court and off.
Over the years, the mother of one has worked tirelessly to promote equality and defend the rights of the marginalized in one way or another.
One significant way she has achieved this is through her size-inclusive fashion label, Serena. Williams launched her eponymous clothing line in May 2018, and she has not looked back since then.
Williams has surely formed a habit of winning in everything she does. Through her empowering clothing line, she is helping other women find that winning inspiration through fashion.
Please fill in your e-mail so we can share with you our top stories!