Tori Spelling Shares Family Holiday Card with Her 5 Kids but Dean McDermott Is Absent
Actress and author Tori Spelling recently took to social media to share an adorable family's holiday card. However, her husband, Dean McDermott, was not around to pose with his family.
As shown in the holiday card shared on Instagram, Spelling posed with her beautiful five children — Liam, 13, Stella, 12, Hattie, 9, Finn, 8, and Beau, 3. The doting mother looked gorgeous in her long red dress.
Spelling explained in the caption that her family traditionally commences the special seasons by posing for their greeting card. She added that her husband was away because of a work commitment.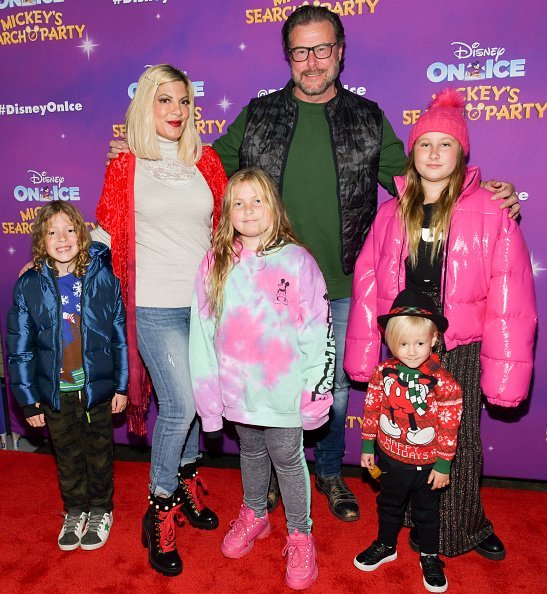 FANS WERE CONFUSED
However, according to Spelling, she made sure to make him part of the family's yearly custom. Still, a few fans were terrified by the omission of McDermott in the holiday card.
Some fans indicated they were confused by the photo taken without the presence of the patriarch. One person shared that she flew through the post of Spelling to see why Dean was not in it.
The fan added that she was worried something horrendous had happened to him. Someone else commented that she was "relieved" after reading Spelling's caption and discovering that her better half was working in Canada. 
Spelling and McDermott eloped in Fiji less than a year after they met.
REMEMBERING LUKE PERRY
Spelling is best known for her first significant role, Donna Martin, on "Beverly Hills, 90210." Recently, she and Jennie Garth, who played Kelly, remembered their late co-star Luke Perry, as reported by Daily Mail.
Perry, who portrayed angsty teenager Dylan McKay, passed away on March 4, 2019, after suffering a stroke at his home in Sherman Oaks, California.
During their iHeartRadio podcast "90210MG," Spelling confessed that Perry's death still does not feel real for her. Garth, on the other hand, said she still struggles to accept the beloved actor is gone.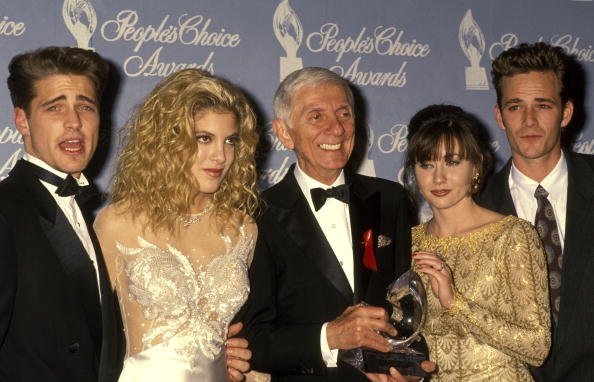 SPELLING AND MCDERMOTT'S ROMANTIC TALE
Spelling first met her future husband in 2005 on the set of Lifetime's "Mind Over Murder," as reported by US Weekly. At the time, Spelling was married to her first husband, Charlie Shanian.
For his part, McDermott had been married to Mary Jo Eustace. In her 2009 memoir, Spelling wrote that it was love at first sight and that she fells so hard.
They had an affair, and the actress said she had no regrets because, in the first place, she realized at the time that something was wrong with her marriage to Shanian.
Spelling and McDermott eloped in Fiji less than a year after they met. It did not take long for the couple to begin a family either. The same month that they became parents, they likewise became reality television stars.