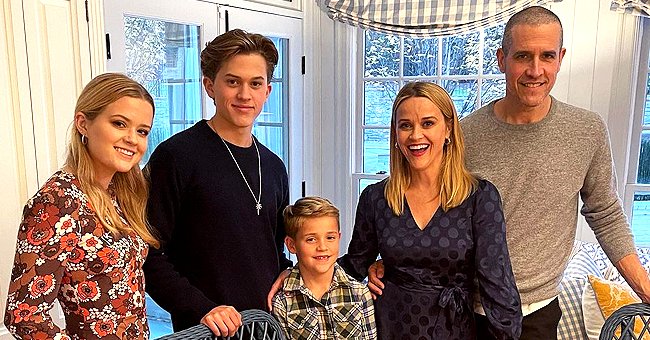 instagram.com/reesewitherspoon
Glimpse at Reese Witherspoon's Thanksgiving Day Celebration with Her Beautiful Family
Actress Reese Witherspoon recently celebrated Thanksgiving with her family as seen in social media posts that she shared with her fans. The images and video included her husband and children.
On Thursday, November 26, 2020, "Big Little Lies" actress Reese Witherspoon, 44, showed off glimpses of how she and her family celebrated Thanksgiving. The Instagram photo she shared included her husband, Jim Toth, 50, and their son Tennessee James Toth, 8.
The post also included Witherspoon's children from her previous marriage to actor Ryan Phillippe. With the star, the actress has a daughter Ava, 21, and a son Deacon Phillippe, 17.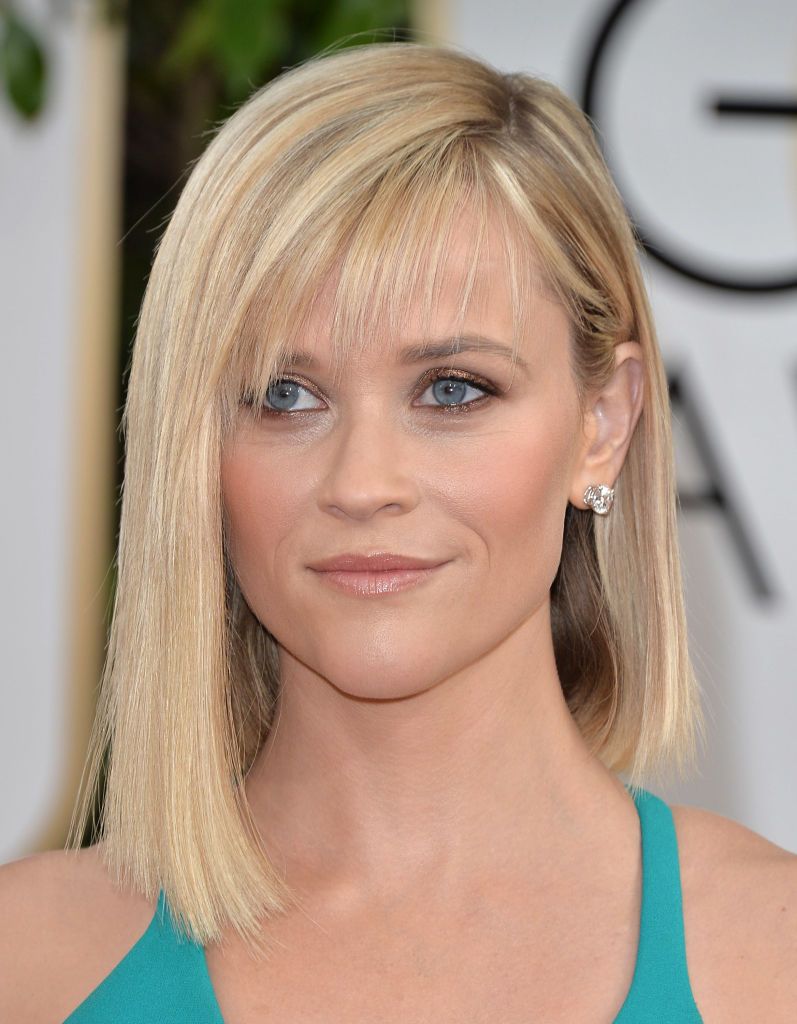 Reese Witherspoon at the 71st Annual Golden Globe Awards on January 12, 2014, in Beverly Hills, California | Photo: George Pimentel/WireImage/Getty Images
In the caption of the post, she started off by wishing her fans a Happy Thanksgiving. She continued noting the things she was grateful for including those who were fighting the novel coronavirus disease:
"All the frontline workers, medical workers and people who are caring for others today."
Witherspoon concluded the post by noting how she was also grateful for her followers and sent them her love. In her Instagram Story, the "Legally Blonde" star shared several videos showing how she and her family spent the holiday.
One of the clips showed the actress wearing a face mask as she started off her morning by taking a walk in the woods with her brown Labrador Retriever dog. The clip was set to the Johnny Cash song "Good Morning Friend."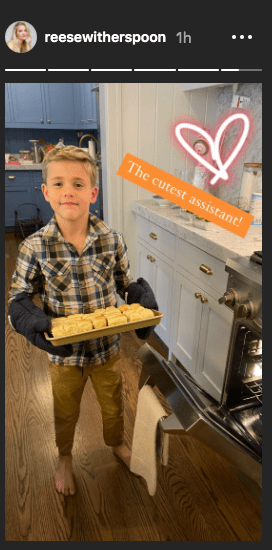 Photo of Reese Witherspoon's son Tennessee James Toth helping her in the kitchen on November 26, 2020 | Photo: Instagram Story/reesewitherspoon
The second short clip showed the pair walking slowly while the star held onto her dog's leash. She hilariously noted how they'd walked at a slow pace with the canine stopping at every tree.
Witherspoon's third video showed off the Thanksgiving dinner table decorations. The table was decked out with an orange cloth, bouquets of flowers, and some small pumpkins in various colors.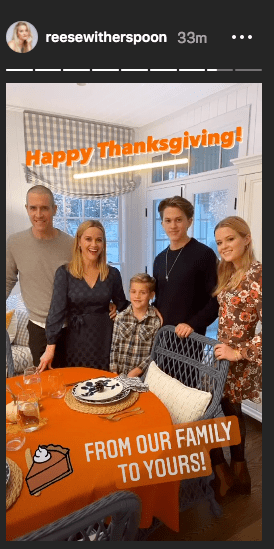 Reese Witherspoon gathered together with Jim and Tennessee James Toth, Ava and Deacon Phillippe on November 26, 2020 | Photo: Instagram Story/reesewitherspoon
The fourth Instagram Story showed the "Sweet Home Alabama" actress's cooking skills. She recorded herself as she opened the oven to reveal some pumpkins cooking away.
Witherspoon also shared a boomerang video of herself dropping some small marshmallows on a pumpkin dish. She wrote that she found the footage satisfying to watch.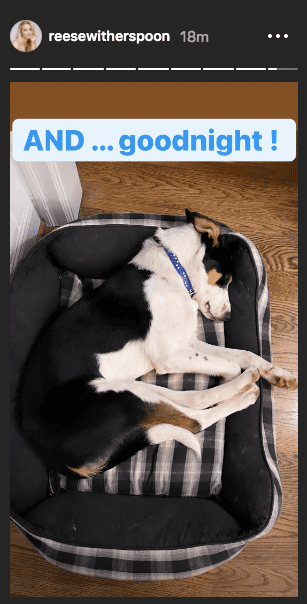 Reese Witherspoon's dog taking a nap on Thanksgiving Day on November 26, 2020 | Photo: Instagram Story/reesewitherspoon
One of the photos showed how the Academy Award winner had some help in the kitchen. Little Tennessee was photographed holding a pan filled with food while standing barefoot in the kitchen.
Two days before the holiday, Reese Witherspoon uploaded a funny short video on her Instagram.
The "Walk the Line" star also reshared her Instagram family photo to her Instagram Story. The image was exactly the same except it was full length and Witherspoon wished her fans a happy holiday again.
She concluded her post by adding another picture of a different family dog completely wiped out by the day's activities. The star simply wished her followers goodnight with a note on the photo.
Two days before the holiday, "The Morning Show" actress uploaded a funny short video on her Instagram. She was recorded while sneaking in a few bites of some pie and looking around to make sure nobody saw her.
Please fill in your e-mail so we can share with you our top stories!