Glimpse at 11 Romantic Gestures That Show Russell Wilson Is a Loving & Caring Man for Ciara
Ciara Wilson is currently married to Russell Wilson, one of the most loving men she's had in her life. In the article below, we look at a couple of romantic gestures that the athlete has done to show his love for his wife.
Singer Ciara Wilson began dating Seattle Seahawks quarterback Russell Wilson in early 2015. They were soon quite serious with each other and announced their engagement on March 11, 2016, before getting married a few months later in July.
The couple tied the knot at the Peckforton Castle in Cheshire, England. Together, they have two children, a daughter born on April 28, 2017, and a son born on July 23, 2020.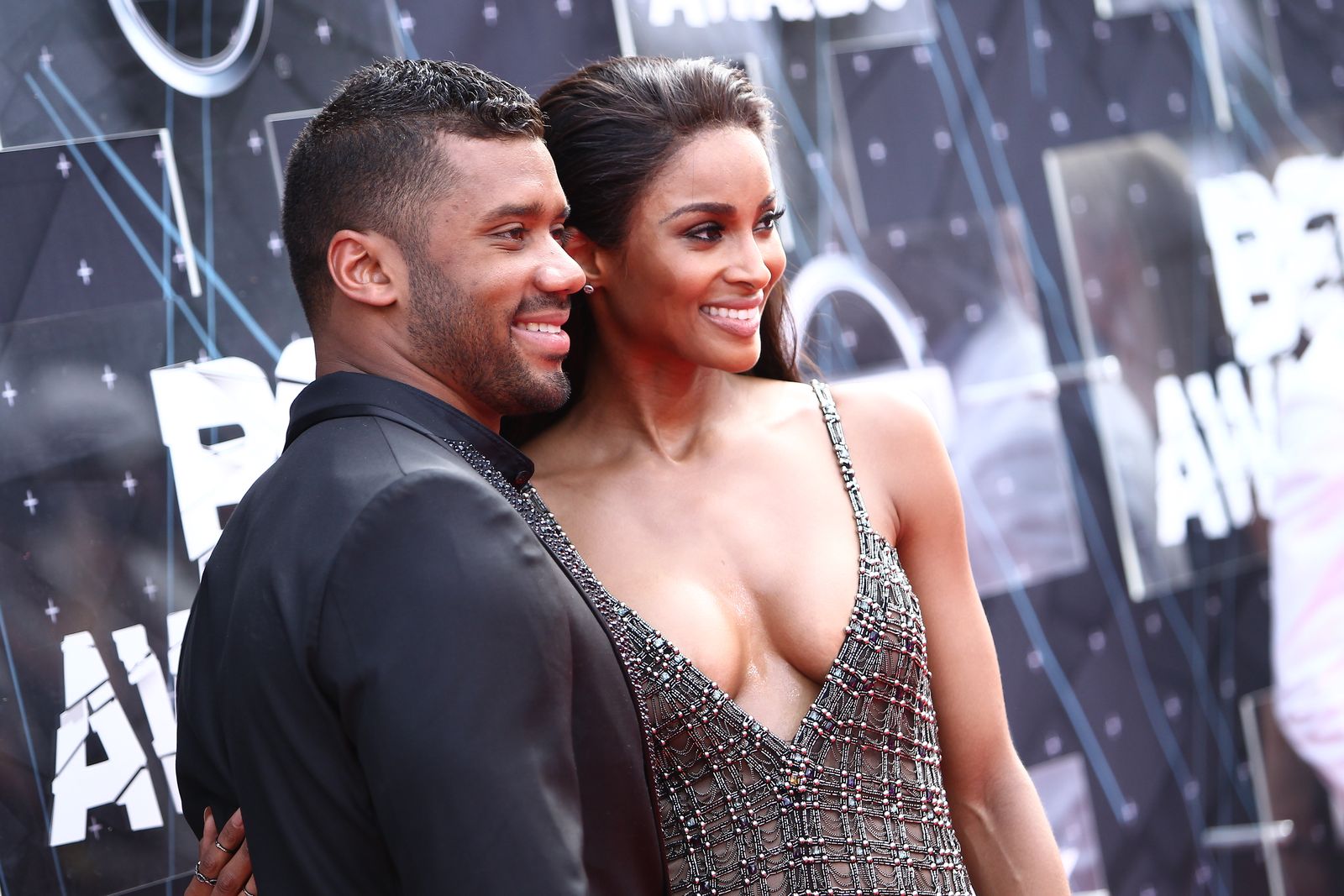 Throughout the years, Wilson has shown his love for his wife in various ways. Below we cover ten different romantic gestures that the athlete has done to pamper his wife and show that he cares for her.
However, we also added one more gesture, the first in this list, which is from Ciara to her husband. We can look at it as a special gift for the sportsman for all the many other presents and surprises he's managed to organize for the vocalist through the years.
Father like Son! Thanks Baby @Ciara for the dopest painting ever!
San Diego #Chargers #HappyFathersDay 

🧑🏼‍🎨: @tracyboydart pic.twitter.com/gqGb42XXot

— Russell Wilson (@DangeRussWilson) June 21, 2020
1. CIARA GIFTS RUSSELL
This gesture is one from Ciara to her husband. In June 2020, the singing sensation gifted the quarterback with a Father's Day painting while pregnant with their second child.
She gave him a massive painting of his father, Harrison Wilson. The athlete's late father was a lawyer and a sportsman who tried out for the San Diego Chargers in 1980, before making it to the final cut.
2. CIARA'S NEW COMPANY
In February 2019, Ciara appeared at the MAKERS Conference in Florida, where she announced that she was launching a new company, Beauty Marks Entertainment (BME). The company merged her interests in music, fashion, film, technology, and philanthropy into one.
She also revealed that she would be releasing all her new music under her BME company. This was all possible because the year before, her husband bought the rights to her music, according to reports.
3. A HELICOPTER RIDE
The athlete doesn't seem to be struggling with ideas when it comes to surprising his wife and showering her with love. In November 2018, the musician shared a video on Instagram where she was seen on a helicopter ride.
In the caption of the post, Ciara explained that her husband had taken her on a helicopter ride for date night. From up above, the city lights could be seen sparkling away in the aircraft flown by Wilson.
4. GRATEFUL FOR CIARA
For Thanksgiving in 2018, Russell appeared during a press conference where he spoke about all the things he was grateful for. In the clip, the athlete shared his gratitude for his wife and children.
He lovingly noted how he was grateful for the person Ciara was to him. She shared the footage on her Instagram page and gave all his love back by declaring:
"Thankful for you and how you love us."
5. SURPRISE ON TOUR
In October 2018, the singing sensation was in for a big surprise for her birthday that year. Ciara was on tour with singer Bruno Mars when she was suddenly surprised backstage by her husband!
Wilson stood hidden waiting with a bouquet of red roses. He lovingly greeted her with lots of kisses as she jumped into his arms straight from the stage and cradled him before getting down and hugging him further.
6. SECOND ANNIVERSARY
The couple had their second-anniversary celebration in Cape Town, South Africa. To celebrate the milestone, Ciara and Wilson decided to take part in the #DoTheShiggy and #InMyFeelings challenges.
The duo was recorded while stepping out of their car before dancing together. The singer did most of the dancing while her husband moved a bit before settling in to watch his partner from a distance.
7. BIRTHDAY SURPRISE
On October 25, 2017, Wilson once again showed off his romantic prowess during Ciara's birthday. He hired Chef Arcy from his and his wife's favorite Sushi restaurant, Umi Sushi.
In a video shared on the R&B singer's Instagram, the couple was seen making different Chinese dishes. The musician called her husband "the best" and thought the gesture was "thoughtful."
8. FIRST ANNIVERSARY
To be honest, Ciara's husband can really make you feel like your partner isn't doing enough. On July 10, 2017, the couple celebrated their one year anniversary with the athlete planning a special night for them.
The R&B singer shared an image of what appeared to be her bedroom decorated with red rose petals. She revealed in the post that she'd tried to plan things for their special day but he wouldn't let her.
9. DATE NIGHT
In October 2016, the pair spent some quality time together when the athlete took his wife out for date night. The musician uploaded an image of her and her husband snuggled in a car together as they looked at the view in front of them.
Wilson had gotten a limited edition sports car for the special evening. Ciara, who's been hosting Dick Clark's "New Year's Rockin' Eve with Ryan Seacrest" for years, revealed in the caption of the post that she loved it when her man drove her in the MG vehicle.
10. THE PROPOSAL
One of the most romantic gestures in Ciara's life must have been when Wilson proposed to her. The sportsman proposed on bended knee with a huge engagement ring at a stunning venue.
The place appeared to be a beach and judging by the photo, it seems it wasn't long after sundown. Wilson was photographed kneeling as he kissed his fiancée's ring hand.  
11. THE BOAT RIDE
Before Wilson proposed to Ciara in December 2015, he surprised her once again with a special trip. Showing what she should expect from him going forward, the athlete took the vocalist for a boat ride.
Someone took the photo of the couple sitting together on the boat in the water. The city could be seen in the background and the singer seemed quite content as she had a huge smile on her face.