50 Cent's Baby Mama Daphne Joy & Ex Vivica A Fox Flaunt Their Fit Figures in Stunning Dresses
Music executive 50 Cent's baby mama Daphne Joy showed off her stunning figure in an exquisite bespoke as she stepped out in style wowing fans. In the same vein, his ex-lover Vivian A. Fox showed out as she displayed her age-defying figure in an elegant outfit.
Iconic rapper 50 Cent's ex-partner and fellow star Vivica A. Fox looked as gorgeous as always, flaunting her youthful looks and famous curves in a chic outfit that had many fans drooling on the timeline.
Sporting a similar energy and vibe, the star rapper's baby mama, Daphne Joy has her own tasteful glam up on her Instagram page, where she stepped out in style, arresting fans' attention.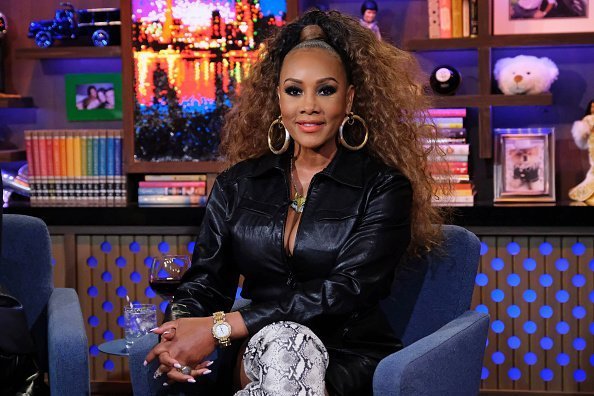 Joy's dashing ensemble was a ribbed-knit knee-length dress that featured a turtle neck. The Hollywood star teased her waistline with a gold chain while her feet were clad in knee-high boots. She left her lengthy hair to flow down her back as she was photographed sauntering in the street. 
Meanwhile, Fox's high-fashion glam showed her in a sparkly black dress that hugged her hourglass figure in the right places. Fox, who starred in 1997's "Soul Food," looked ageless as she rocked a perfect makeover, a high bun, and sparse jewelry. 
In her caption, she informed fans that she felt great after receiving Sheen Magazine's "Woman of the Year" award. Many of her admirers sweetly joined in the comment section to show some thumbs up and fire emojis. 
Being a clothier, Joy has no shortage of trendy wears, and she is never shy to flaunt them all. 
Updates on Fox revealed that she is reaching newer heights. She recently bagged a role in the AMC-produced drama series "Stuck With You." This came after her stint as "Candace" on the acclaimed TV musical drama, "Power."
While Fox and Joy are 50 Cent's exes, both are thriving women with impressive showbiz resumes and top tier fashion tastes. In one of Fox's iconic moments, she glamorously stepped out dazzling in a metallic dress that showed her ample cleavage and left admirers stroking her wake. 
 Joy owns a fashion line and never fails to flaunt her chic items on her fit figure. One of her dressy moments had her followers hooked on social media as she flaunted her figure in a backless silk dress. 
Last year, Joy, who has a preteen son with the rapper, made headlines and showed fans she was a looker during a beach trip. The fashionista displayed her perfect figure and derrière in a three-piece swimsuit that had a kimono jacket. 
While she played around with her son, literally letting her hair down, the actress did not give a care in the world to paparazzi. Being a clothier, Joy has no shortage of trendy wear, and she is never shy to flaunt them all.