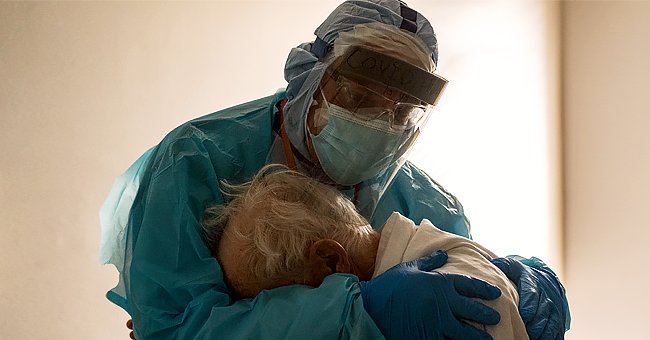 Getty Images
Doctor Who Worked 256-Days Non-stop Speaks Out after Hugging COVID-Stricken Elderly Man

The Texas doctor who went famous for hugging an elderly patient who had COVID-19 over Thanksgiving has spoken out about working 256 days nonstop and how the pandemic has affected his patients.
During the Thanksgiving holiday, a viral photo of a doctor clad in personal protective equipment hugging an elderly man strict with COVID-19 affectionately surfaced and made rounds.
Photographer Go Nakamura took the heartbreaking photo, and the doctor in the image was Joseph Varon of United Memorial Medical Care. Now, days after it had made round, Varon is speaking about how the pandemic affects his elderly patients.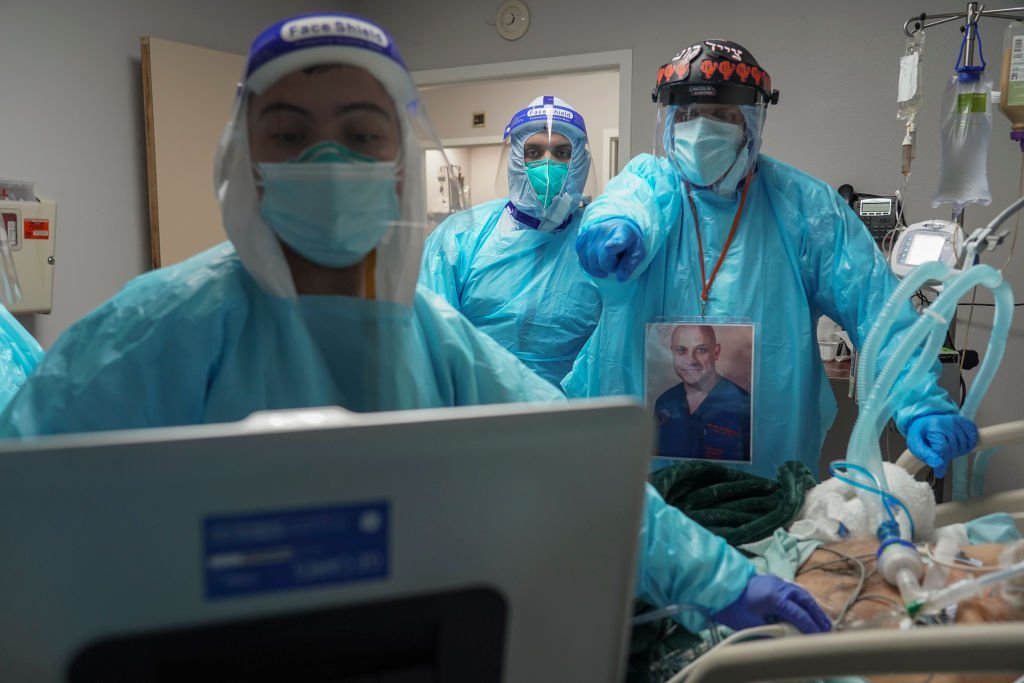 Medical staff members including Dr. Joseph Varon examine a patient in the COVID-19 intensive care unit (ICU) at the United Memorial Medical Center on December 2, 2020 in Houston, Texas. | Photo: Getty Images
In an interview with CNN, Varon, the chief of staff, revealed that he had been working for 256 days nonstop due to increasing hospitalization cases arising from the ongoing pandemic.
Nakamura, who took the photo, said in an interview that he had been to the ICU at the medical center to capture people suffering
He explained that many of his elderly patients were desperate to be with loved ones over the holiday. That was the case of the man he was hugging in the image as he was trying to console him. In Varon's words:
"As I'm going inside my Covid unit, I see that this elderly patient is out of his bed and trying to get out of the room, and he's crying. So, I get close to him, and I tell him 'why are you crying.'"
Varon continued, saying that the man wanted to be with his wife, so he reached out to hold him to console him. Although the man eventually stopped crying, he still couldn't see his wife because he was yet to test negative for the virus.
Varon described his patients as isolated with little or no communication with the outside world, making them feel alone and vulnerable. Also, the period hasn't only been tough on patients but also on doctors and nurses.
The overwhelming number of infected people never stops increasing, taking a heavy toll on the hospital staff. Varon got candid with the publication, saying:
"I don't know what keeps me going. I don't know how I haven't broken down. My nurses have broken down. My nurses cry in the middle of the day because they get so sad."
Nakamura, who took the photo, said in an interview that he had been to the ICU at the medical center to capture people suffering and was touched when he saw Varon with the patient.
With the increasing daily number of cases and overwhelmed hospital staff, Varon is urging people outside to do the right thing like wearing a mask, social distancing, and washing their hands.
He expressed his frustration at seeing people flout safety protocols and later end up at the ICU when they could have simply done the right thing.
In July, two health specialists revealed to the BBC that they still felt tired and ill despite recovering from the virus about three months ago. They attested to feeling breathless and weak even though they were fit before the disease.
Please fill in your e-mail so we can share with you our top stories!