NFL Star Lamar Jackson Was Raised by His Widowed Mom — 5 Facts about Felicia Jones
NFL star Lamar Jackson would not be the man he is today if it was not for his mother, Felicia Jones, who has been his rock. Here are 5 facts interesting facts about the strong woman who raised her son as a single mom.
She might not be a celebrity, but the NFL star Lamar Jackson's fans know his mom Felicia Jones as the ultimate momager of the sports world. The mother and son are constantly in the public eye and yet they live a super-private life. 
Sources close to the duo say that Jones has her son's best interest at heart. She famously replaced a traditional agent to become his son's representative during the NFL draft process.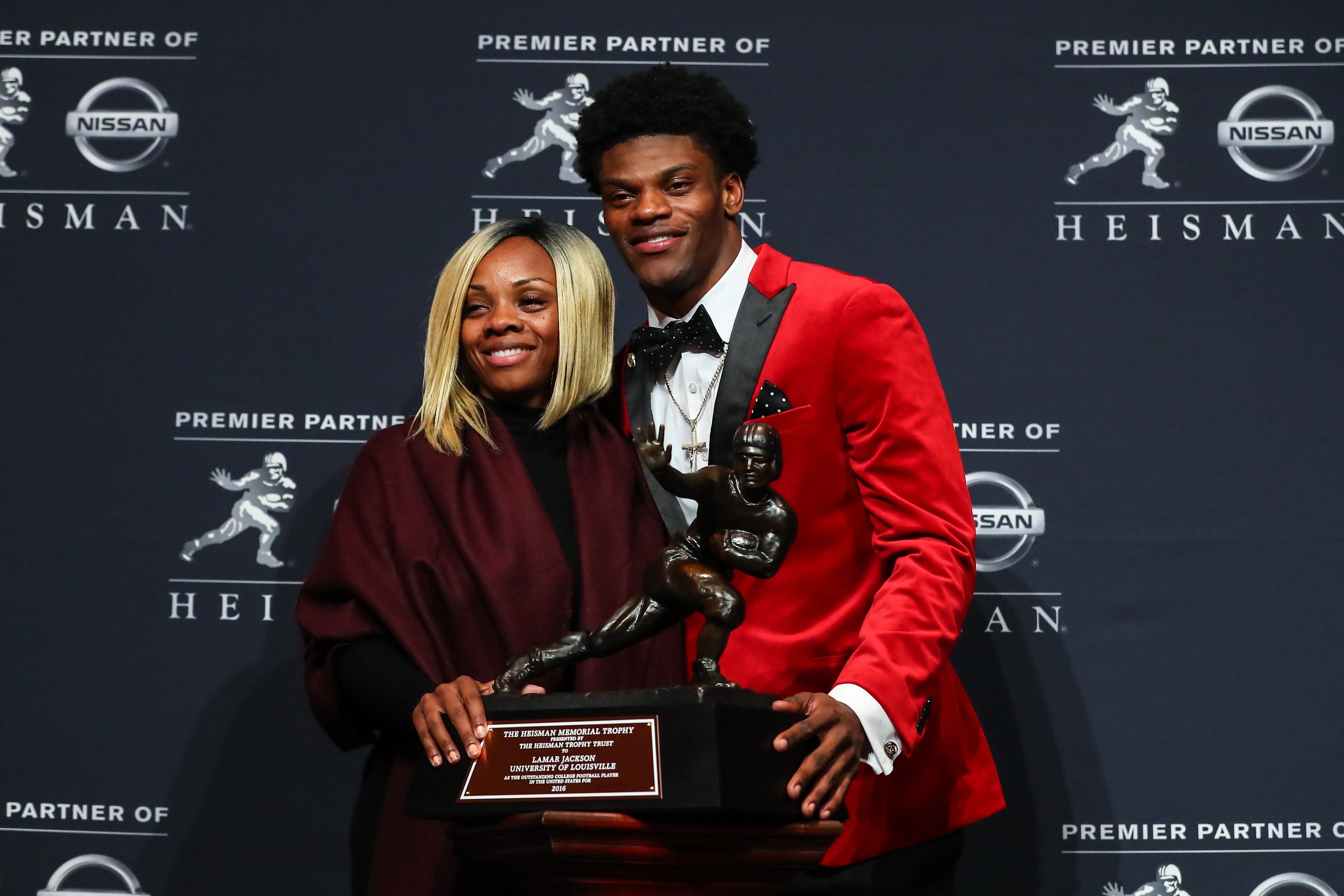 No one really knew how that would work out, but Jackson got selected in the first round by the Ravens. Jones always knew her son had what it takes to be a quarterback and she would not have it any other way.
When Jackson played for the Louisville Cardinals, someone on the coaching staff decided to ask him to field a punt. They were struggling to find a punt returner at the time and Jackson seemed to be a great fit. 
Soon the practice ended and the members of the coaching staff got a call from Jones. She was not happy to see her son as a punt returner. The team's head coach had assured her that her son would only be a quarterback. 
Jackson once told ESPN that his mother was an athlete and used to play basketball.
From that day on, Jackson did not go back as a punt return in practice. Much of the narrative is in the shadows since the mother and son duo are pretty tight-lipped about their personal life. Here, we have compiled 5 fast facts about Jones. 
SHE IS A FIERCE MOMAGER
Instead of hiring an agent for the NFL pre-draft, Jones decided to become her son's manager. At first, it was reported that she was his acting agent, but Jackson confirmed during an interview that she was his manager. 
Jackson did not want an agent because he did not want them to take a cut off his first contract. He felt like he deserved his paycheck since he had worked pretty hard to get there. 
SHE'S JACKSON'S FAVORITE COACH
In an article for The Player's Tribune, Jackson called his mother the best coach he has ever had. He did not just say that because Jones looked out for him, but because she made him a better player. 
SHE PLAYED FOOTBALL WITH HER SONS
Jackson once told ESPN that his mother was an athlete and used to play basketball. She would also play football with her sons in an effort to make them tougher by challenging them, and clearly, it worked. 
Lamar Jackson told me that his mom is not his agent, "she is my manager" and he added "I represent myself." Jackson told me he does not think an agent is necessary with the current rookie scale for initial #NFL contracts. pic.twitter.com/CfhvyCWGQ1

— IG: JosinaAnderson (@JosinaAnderson) March 2, 2018
SHE'S A SINGLE MOM
When Jackson was merely 8 years old, he reportedly lost his father to a heart attack. Previous reports said that he died in a car accident, but since Jackson does not have much memory of him, no one really knows what the truth is. 
SHE IS JACKSON'S IDOL
Jones and her son have been through some tough times in life. One might think that she is too controlling, but according to sources, that is far from the truth. She and Jackson are just used to doing things together. 
With a strong mother by his side, Jackson learned how to own up to difficult situations and stay strong. Even when things do not go his way, he remembers what it was like for his mother and carries on.