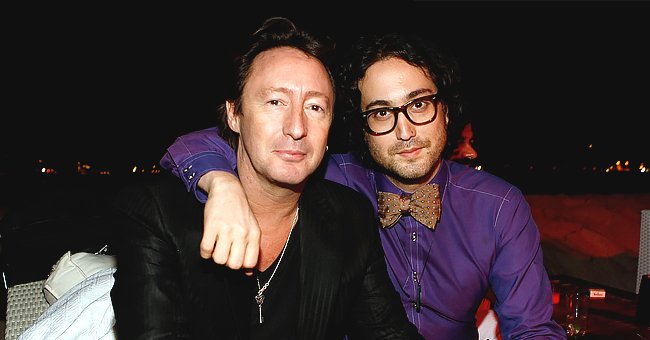 Getty Images
John Lennon's Sons Sean & Julian Pay Tribute to Their Dad on the 40th Anniversary of His Death
Late John Lennon's sons Julian and Sean paid tribute to their father on the 40th anniversary of his death with heartwarming throwback photos.
Yesterday, December 8, made it 40 years since John Lennon tragically passed away, and millions worldwide, including the beloved sons he left behind, celebrated his impactful legacy.
His first son Julian Lennon took to Instagram to share a profound photo of his father. The iconic Beatles vocalist donned his trademark round, wide-rimmed glasses and posed with his hand under his chin, looking at something far away.
John Lennon at a press conference at Heathrow airport in London on April 01, 1969 | Photo: Getty Images
In the caption, the 57-year-old quoted a lyric from his dad's song, "A Kiss is Just a Kiss," writing, "As Time Goes By...." His half-brother Sean Lennon uploaded a throwback family photo.
Following in his father's steps, Julian is a singer and has produced several albums.
The image showed John, Yoko Ono, Julian, and Sean on a boat during what seemed like a vacation. The "Imagine" crooner had his arms wrapped around Julian, and a young Sean sat on his brother's lap with his life vest on.
Ono sat on her husband's left with her hand, resting on John's thighs as she flashed her wedding band. The 45-year-old didn't attach a caption to his post, letting the image do all the speaking.
Under the comments section of both posts, fans recalled heartwarming memories of John and sent their condolences to the family. An emotional fan reminded the boys of the bond they shared with their father, writing:
"He contributed many things to this world...and of all them, you and your brother are the most important."
At the time of his death, John was survived by his two sons, Ono, and his ex-wife Cynthia Lennon. Julian was born in 1963 during the singer's first marriage to Cynthia.
Although his parents divorced when he was five, he had a close relationship with his father. According to reports, Julian was the inspiration behind some Beatles' hit tracks including, "Hey Jude," "Good Night," and "Lucy in the Sky with Diamonds."
Following in his father's steps, Julian is a singer and has produced several albums. Two of his singles, "Too Late for Goodbyes" and "Saltwater," made it to the UK's top ten singles when they were released.
He is also a skilled photographer who has hosted exhibitions and produced riveting documentaries. Sean, on the other hand, was born on his father's 35th birthday from his marriage to Ono.
He attended Columbia University but dropped out after three semesters to pursue music. John's death anniversary comes months after his killer Mark Chapman was denied parole for the 11th time and apologized to his widow, Ono.
During the parole hearing, Chapman confessed to killing Lennon because he was seeking self-glory and asked for Ono's forgiveness for the great pain he caused her.
Chapman, 25 years old at the time, shot Lennon four times outside his New York apartment in 1980. The Beatles singer was 40 years old at the time of his demise.
Please fill in your e-mail so we can share with you our top stories!