Kiefer and Donald Sutherland Also Played Father and Son in a Film — inside Their Relationship
Canadian actor Donald Sutherland's son, Kiefer Sutherland, followed in his father's footsteps, becoming a renowned actor. The father-son pair once co-starred in a movie where they reprised their real-life relationship.
Donald Sutherland and his son, Kiefer Sutherland, have more in common than their father-son relationship. The two share a similar career path, which has made their bond progress into an admirable working relationship.
While each has proven himself a talented actor in his own rights, working together on set doubles the overall output of their cinematic productions, as fans can attest to from their joint acts in the 2016 movie, "Forsaken."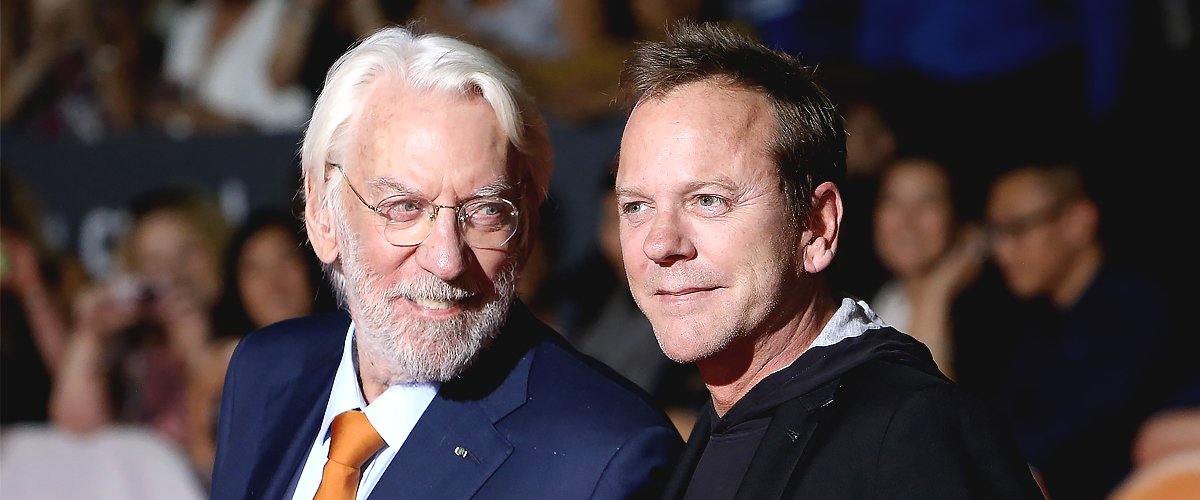 DONALD'S RELATIONSHIP WITH SON
Over the years, Kiefer and Donald Sutherland have built a successful father-son relationship between them despite their rough beginnings. 
Kiefer's parents divorced when he was five, leaving him in the custody of his mom, actress Shirley Douglas. Growing up with his mom in Toronto meant he had little or no contact with his dad until he came of age and contacted him successfully.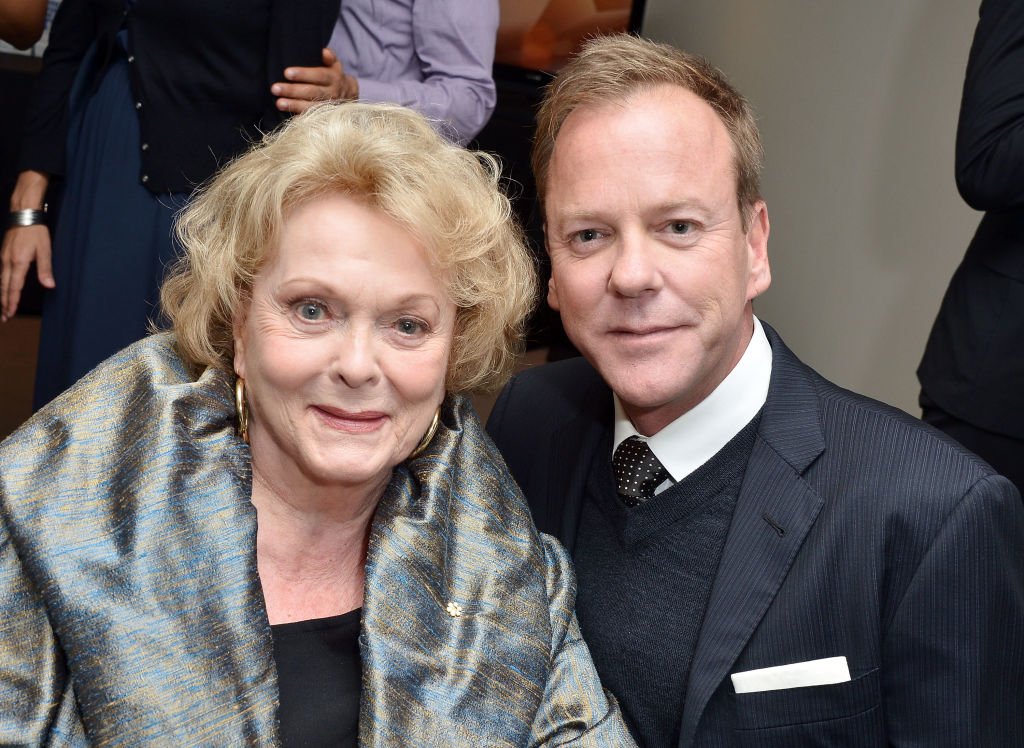 Notwithstanding, the 53-year-old Jack Bauer role-player maintains that their relationship was far from complicated. Admittedly, they've experienced their fair share of conflicts over time. 
However, rather than dwell on the dire repercussions, the duo embraced their past differences as "something to draw upon" to serve as the basis of their relationship.
THEIR FATHER-SON BOND
Kiefer grew up with the knowledge that his father was an actor. However, due to age-restrictions, he never got the opportunity to watch any of his father's movies. 
Hence, he never knew just how great an actor Donald was until he turned eighteen and binge-watched all the ones he came across. The "24" star once recalled how he found Donald's movies extraordinary, especially "Don't Look Now!"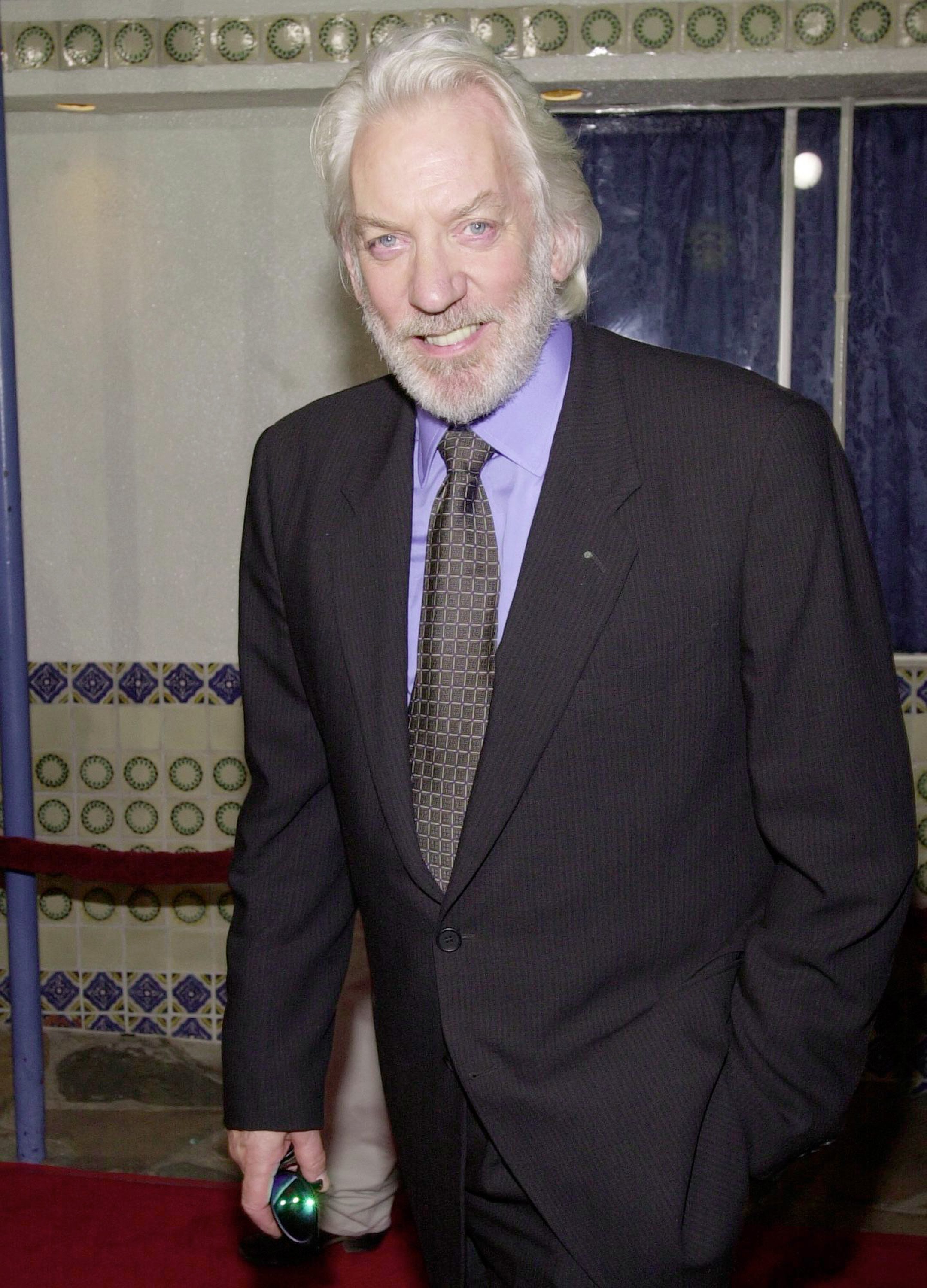 That made him realize his father's importance and also prompting him to call him up. Moved to tears, he apologized to his father for their years apart and did not acknowledge his acting talents sooner.
Following his divorce from Douglas in 1970, the Hollywood veteran married his current wife, actress Francine Racette.
His dad understood, and the pair decided to refurbish their bond thereon. Kiefer went on to follow in Donald's footsteps, uplifting their bond to a professional level.
FINALLY WORKING TOGETHER
As an actor, Kiefer Sutherland snagged several movie roles from his teenage years, making a name for himself before attaining his mid-twenties.
 For thirty years, his utmost desire was to earn the privilege to star alongside his father, whom he considered the greatest actor of all time.
He came close to achieving that when they both appeared in the 1996 film "A Time To Kill." However, they never exchanged dialogue throughout the movie to his disappointment.
Finally, the opportunity to work with his father for real came in the 2016 film "Forsaken." The duo starred as father and son, taking their enviable real-life bond to the big screens.
PORTRAYING FATHER AND SON
In the 2016 wide-screen western, Kiefer Sutherland portrayed John Henry Clayton, a traumatized civil war veteran, living in regrets of his past actions.
Donald starred as John's father, Reverend Clayton, the town's preacher, who could hardly mask his son's bitterness and disappointment.
The pair exchanged several mind-blowing dialogues as they struggled to find their way back into each other's hearts and strengthen their relationship once again.
Kiefer came up with the script idea and pitched it to the director, Jon Cassar, who embraced it. Donald ultimately welcomed the idea of playing the father alongside his real son. Admittedly, their real-life connection contributed to making the movie an instant hit.
ABOUT HIS FATHER
Speaking on working with his father, Kiefer divulged that spending fourteen hours a day and six days a week on the set together for nine weeks deepened their father-son relationship. 
According to him, that period was the most time he'd ever spent with his father in his whole life. They got to make more memories than they ever had, which was worth every moment put into the production.
HAPPINESS ABOUT KIEFER'S SUCCESS
Donald and Kiefer Sutherland also have their rough roads to career successes in common. The 84-year-old actor understood better than anyone else what it entailed to rise to fame from humble beginnings. 
Given his earlier career and the difficulties he experienced before making it in Hollywood big time, the star never shies away from appreciating anyone who scaled through the path, especially when the person in question is his son.
Kiefer has been open about his arduous journey to stardom and the daunting factors that came to play in his life. And his father was well aware of that. 
Therefore, finally witnessing the "Designated Survivor" star make it big in the industry made Donald as proud as any father could be.
In 2008, when Kiefer Sutherland received a star on the Hollywood Walk of Fame, Donald was on hand to give accolades to his son.
At the honorary event, Donald gave a fine speech in praise of his son, reflecting on how he watched him grow into a good actor. Going further, he stated how happy and proud he was of his son's success.
DONALD SUTHERLAND'S KIDS
Aside from Kiefer, Donald Sutherland has other children, some of whom also followed his career path. In total, the Canadian Hall of Fame inductee, who has been married thrice, has five children.
He had no kids from his first marriage to Lois Hardwick, which lasted from 1959 to 1966. Next, he tied the knot with Shirley Douglas. Their marriage yielded two children, including Kiefer Sutherland and his twin sister, Rachel.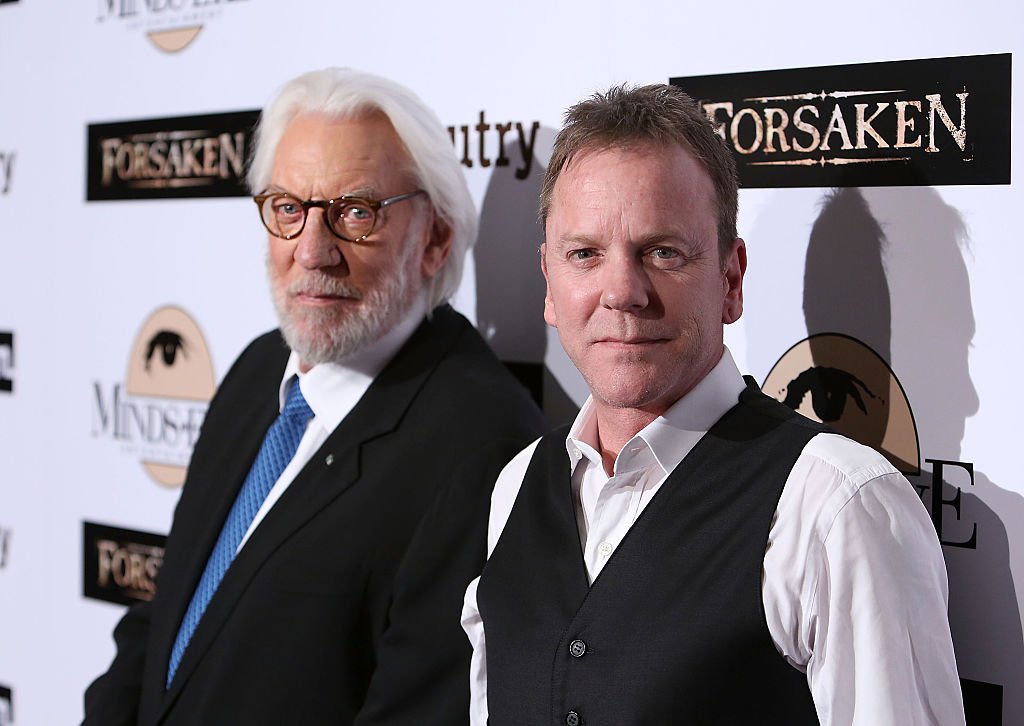 Following his divorce from Douglas in 1970, the Hollywood veteran married his current wife, actress Francine Racette, with whom he shares three sons.
Two of their sons, Rossif Sutherland and Angus Redford, grew into successful actors like their father, while the third, Roeg Sutherland, is not as famous as his brothers.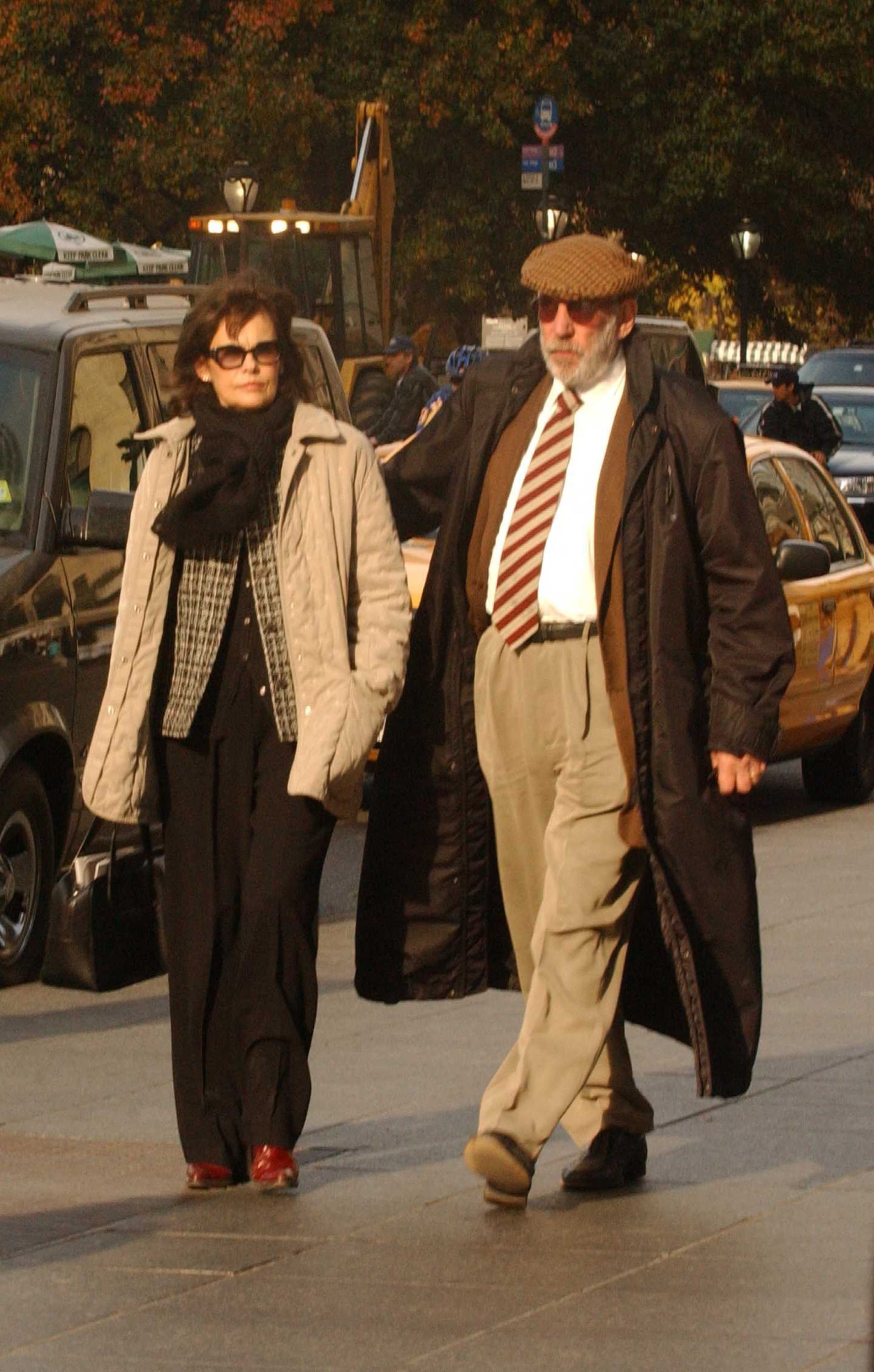 KIEFER SUTHERLAND'S CAREER
Kiefer Sutherland made his screen debut in the movie, "Max returns," which also starred Donald Sutherland. He landed another role in "The Bay Boy," which earned him critical acclaim, after which he moved to Hollywood to facilitate his career breakthrough.
The move was daunting at first, but it soon paid off. He snagged starring roles in movies like "Stand By Me," "The Lost Boys," "Promised Land," "Young Guns," "Batman," "Renegades," and "Flatliners," paving his way to stardom.
In 2001, Kiefer landed the role of Jack Bauer in the renowned television series, "24," which remains his most notable role to date.
He has since starred in "Taking Lives," "Melancholia," "The Confession," "Pompeii," "Touch," and "The Black List," among others.
With his numerous movie roles and awards over the years, Kiefer Sutherland is undoubtedly living up to his father's reputation, making him prouder than ever.