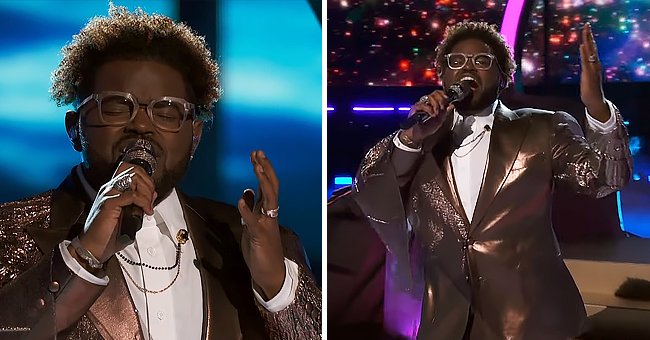 Getty Images
'The Voice' Finalist John Holiday Lights up the Stage with Powerful Cover of Beyoncé's 'Halo'

"The Voice" finalist John Holiday shined on stage in his powerful performance of a cover of Beyonce's "Halo" in this week's finale episode on Monday.
Coach John Legend was wowed by his team member, John Holiday's powerful singing during his cover of Beyonce's "Halo" during the finale episode on Monday.
It is finale time for the 19th season of The Voice. The competitors are down to the final 5. This week the singers had to perform two songs, a cover and their own original song.
John Holiday was has been wowing the judges and viewers with his covers of jazzy songs continued to show off his vocal range on Monday's episode with his cover of "Halo" by Queen Bey.
The judges paid Holiday many compliments including his coach Legend, who said he had a magical voice and was glad that American shown new sides of Holiday each time performed, he continued and said,
"You put your heart out there every single week. You have an out of this world gift."
In his original song "Where Do We Go?" he paid tribute to his fans, the "Holibaes" and his experiences on the show. Pop music hitmaker, Justin Tranter helped him create the song for the show.
Holiday has had some memorable performances on the show, starting with his cover of Ella Fitzgerald's "Misty" during his blind audition, to his covers of Coldplay's "Fix You".
The show has had to film with the conditions of the coronavirus pandemic, including social distancing.
Only time will tell if he had performed his way to a win for himself and performed well enough to bring a second-ever "The Voice" win for the judge and his Coach "All of You" singer, John Legend.
Kelly Clackson, another coach on the show, expressed after his performance that she had never heard a voice like his before, and that is range was incredible, she went on to describe Holiday's sound,
"Your range is incredible...but it still felt very pop and what you might make a record like."
The final 5 of "The Voice" including Holiday, Carter Rubin, Desz, Flanigan, John Holiday, and Jim Ranger. Each judge is represented in this year's finale with Blake Shelton at an advantage as two finalists are apart of his team.
The show has had to film with the conditions of the coronavirus pandemic, including social distancing. Shelton remarked that he was a little sad that the season is coming to an end and he has not been able to hug the contestants.
"The Voice" debut in 2011, and the first judges of the show had been Blake Shelton, CeeLo Green, Christina Aguilera, and Maroon Five's Adam Levine.
The contestants have all been shining this season, with Carter Rubin stunning audiences with his cover of Miley Cyrus's "The Climb" during Monday's performance.
Please fill in your e-mail so we can share with you our top stories!