Russell Wilson's Daughter Sienna Wears Her Dad's Accessories & Sunglasses in a Cute Video
Russell Wilson and Ciara's 3-year-old daughter, Sienna, recently sent her parents' fans into a laughing fit with the most adorable video of her dressed up in her dad's accessories.
Russell Wilson and Ciara's young daughter, Sienna, is quickly growing up to be a cute diva. In a recent post shared on Wilson's Instagram, the proud dad posted a video of his little girl dressed up in his accessories. Wilson captioned the post:
"When baby girl gets dressed in the AM when I'm at work...just like daddy! #Baller @Ciara."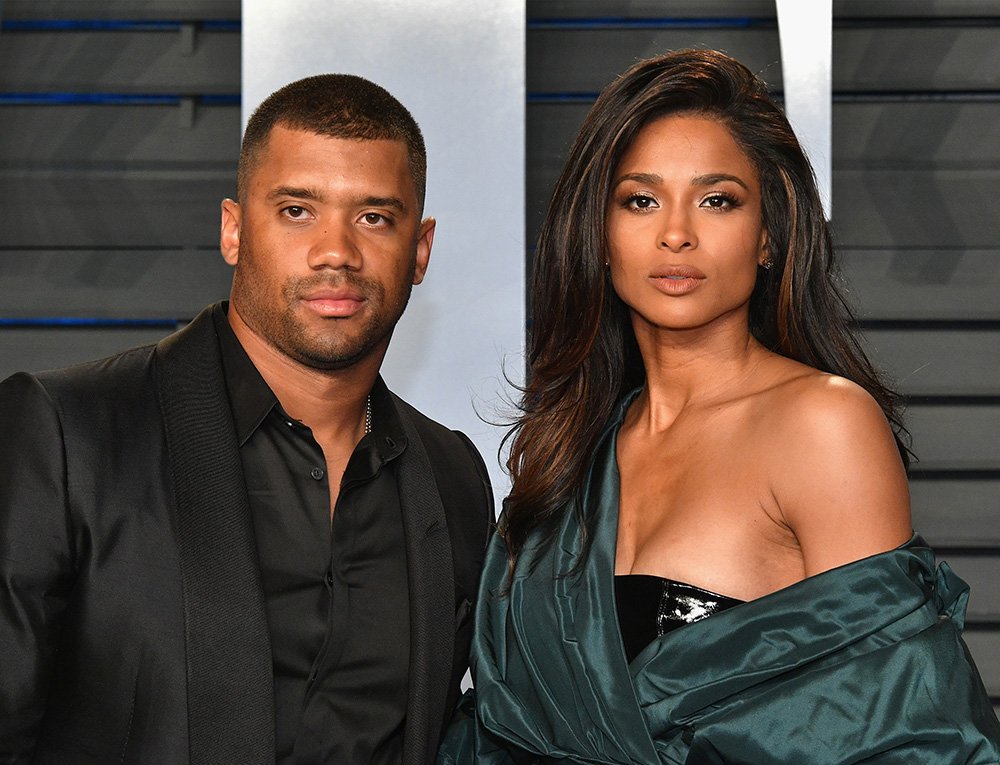 The video which Wilson posted was recorded by his wife, Ciara. The recording began with a stylish looking Sienna fixing up her outfit while her amused mom asked her to tell the audience who she was dressed up as.
Sienna proudly told the camera that she was wearing her dad's stuff. She was dressed in an all-black outfit of black leggings and a black T-shirt with Nike boldly written on it.
Although she had no shoes on, she made up for that with her dad's white NFL towel firmly tucked in her waistband. Such an effortless style!
On both wrists, the three-year-old had NFL wristbands on, and she completed the look with a pair of cool sunglasses. After introducing her look to the audience, the sassy little lady sashayed off as her giggling camerawoman, Ciara, followed her.
Until July, the beautiful Sienna enjoyed all the luxuries of being the baby of the house before a new member joined.
Wilson's fans and followers were more than amused by the cute video of his little girl repping him. In just hours, there were almost two thousand comments of fans laughing uncontrollably. Sienna sure is a funny one!
Although she is quite young, Sienna has quickly become a fan favorite with her cute and clever ways. Her Russel Wilson-impression video is not the first time that she would make her dad and mom's fans and followers smile in adoration.
Sienna, the fashion queen, only just turned three years old on April 28. The family rang in her new age in grand style — as grand as it could be in quarantine — with a "Frozen"-inspired celebration.
Wilson took to Instagram to openly celebrate his little girl. He wrote: "THANKFUL. Since Day 1. You have been a true beaming light in our lives, Sienna. We love you! All the way to the moon and back! Daddy's girl."
The sweet caption accompanied the most heartwarming picture of the father and daughter years ago when Sienna was still an infant.
The Seahawks player went on to share more photos of their celebrations, showing fans that the birthday girl had a lot of fun. Ciara also shared celebratory posts on her own Instagram.
She posted a video of Sienna adorably telling her that she feels happy as they watched "The Lion King." In June, the three-year-old once again melted hearts in a video shared by her singer mom.
The clip showed the most precious daddy-daughter moment in which Wilson was doing his daughter's hair. Fans fell in love all over again.
Until July, the beautiful Sienna enjoyed all the luxuries of being the baby of the house before a new member joined. On July 23, Ciara and Wilson welcomed their second child together, Win.
As they often do, the parents shared glimpses of their youngest child on social media. Several times, fans marveled at how much Win looks like Wilson.
Apart from Siena and Win, Ciara and Wilson are also the proud parents to the oldest child in the family, Future. Although Ciara had Future with her ex, rapper Future, Wilson has taken to raising him like his own.
In 2019, the football player opened up about how much he loves his stepson. Owing to the nature of their jobs, both Ciara and her husband are busy people.
However, in 2017, the NFL star admitted that finding a balance between work and family improved his perspective greatly. This family is a beautiful working team, and fans are definitely here for it.