Jennifer Lopez Shows off Her Swag in a Glossy Gold Tracksuit — Check Out Her Look
Jennifer Lopez recently took to her social media with gorgeous photos of herself exuding confident and relaxed vibes in a glossy gold Tracksuit from her friend's clothing range. 
Famous singer Jennifer Lopez recently served her fans with some hot looks when she shared two gorgeous pictures of herself exuding positive vibes dressed in a magnificent outfit. 
The clothes she had on were pieces from Beyonce's clothing line, "Ivy Park." Lopez shared the photos with her 135 million followers on Instagram.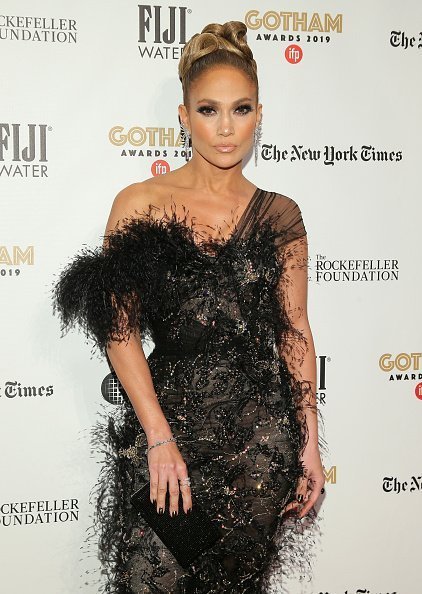 She partially reclined on a couch dressed in a glossy gold tracksuit hoodie complete with timberland boots in the pictures. Lopez had her hair styled in a tight bun at the top of her head.
For accessories, she opted for gold-tinted shades and large hoop earrings. She captioned the post, "Swaggy Saturday," before adding that her fiancé Alex Rodriguez was the genius behind the shots. 
In the comments section, fans gushed over Lopez's look. They were all stunned by how snug the outfit looked on her fit body. One fan crowned Lopez the "Boujee Queen," while another declared that nobody else could "do it as she does it." 
Her fiancé revealed that they would be keeping the celebrations on a low this year.
Lopez's Instagram is a fan favorite because of her numerous photo uploads, most of which feature her dressed fabulously while posing up a storm. 
One such example is the photo the beautiful superstar shared several days ago via Instagram. The image captured her dressed in a long fleece coat sporting an open collar and wide lapels draped off one shoulder. 
The chocolate top Jennifer wore under the coat was unbuttoned past her bust, giving a glimpse of cleavage. She stood facing with one leg on a chair while her face was turned towards the camera. 
The pose bared her legs from her thighs down to the pair of suede and fur knee-high boots with stiletto heels. Her fans could not get enough of the shot, and they littered the comments section with praises and compliments. 
As Christmas pushes closer, fans have been wondering how Jennifer would spend the holiday, and earlier this month, her fiancé revealed that they would be keeping the celebrations on a low this year because of the COVID-19. 
He stated that it would be just good food and good company ( family only). Alex and Jennifer currently have no kids together; however, they are both parents to kids from their previous relationships.  
Alex has Natasha, 16, and Ella, 12, while Jennifer is a mother to twins Max and Emme, 12. Some fans are holding out for another baby, but only time will tell.