Alfonso Ribeiro's 2 Sons and Baby Daughter Pose in Matching Christmas Sweaters in New Photos
Alfonso Ribeiro's wife, Angela, recently made fans smile hard and laugh even harder with photos of her kids posing with Santa and a hilarious back story behind the snaps.
Christmas is almost here, and taking photos with Santa has become high on the list for many except Ava Sue Ribeiro, the daughter of actor Alfonso Ribeiro.
In a recent post shared on Alfonso's wife, Angela's Instagram, she shared some photos of their kids and wrote: "These three were bursting with excitement to see Santa today. Ava, however, was NOT a fan of him upon arriving."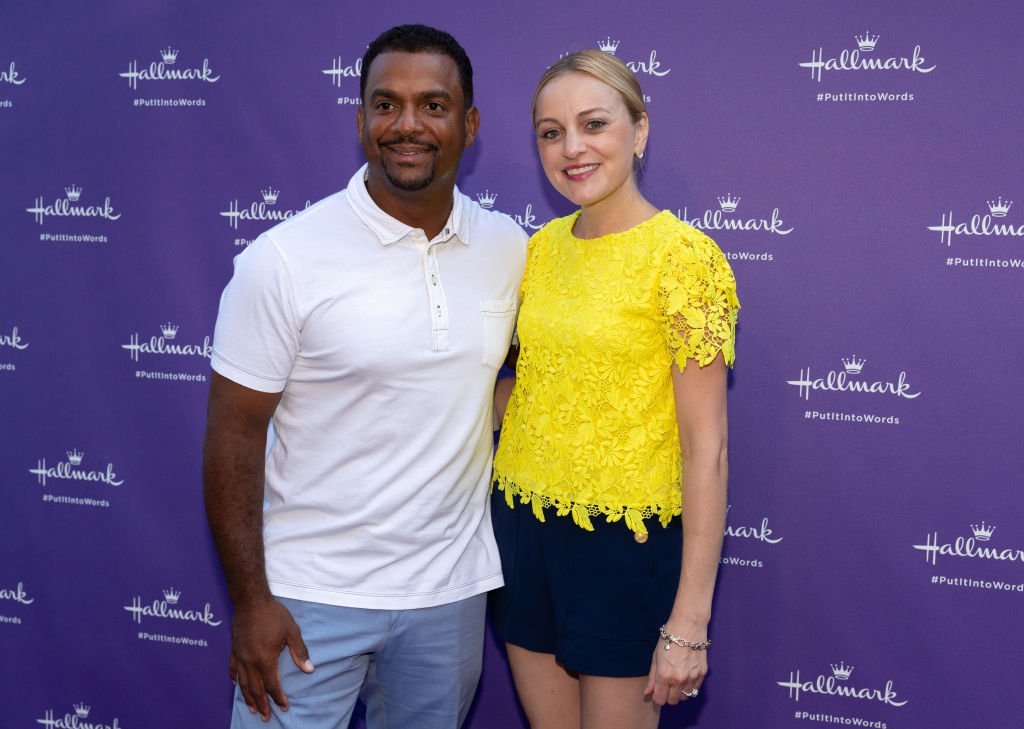 Angela's caption revealed that their youngest child, Ava, refused to take close-up photos with Santa and would only agree to them if they were far away from the jolly bearded man.
In the first picture, fans saw Alfonso and Angela's adorable kids, Alfonso Jr., 7, Anders, 5, and the formidable Ava, 1, who also happens to be the youngest. The three charming kids were all dressed in festive red reindeer sweaters.
The next picture, true to Angela's narration, featured Ava and her brothers huddled together for the shot with Santa standing far behind them, waving at the camera. The look on Ava's face was priceless.
Angela's followers melted at the adorable photos of the children in their festive outfits and laughed even harder at little Ava's pickiness with Santa and his presence in their photos. She might be the youngest, but fans certainly know who runs things in the Ribeiro household. 
Ava arrived as the third of Angela's children with Alfonso, but she is also the actor's fourth child.
Alfonso and Angela might have a cheeky one on their hands when it comes to their sassy little lady, Ava. However, neither they nor their doting fans complain as she is simply too adorable.
The husband and wife welcomed their beautiful princess in May 2019. As expected, Ava decided to come into the world with a bang and sent her mom into labor on Mother's Day. After the little angel was born, Ribeiro introduced her to the world. He shared on Instagram:
"Ava Sue Ribeiro finally decided to send @mrsangelaribeiro1 to the hospital on Mother's Day and came into our world."
The introductory post featured a picture of the precious infant snoozing adorably in a white baby blanket and a striped baby beanie on her tiny head.
Ava arrived as the third of Angela's children with Alfonso, but she is also the actor's fourth child. He shares his oldest daughter, Sienna, with a previous partner. The husband and wife have been married for eight years since their October 2012 wedding.
With life in quarantine still in swing, the beautiful family has been having a great time bonding with each other and spending quality time together. In October, Alfonso recounted a hilarious experience in which he almost burned down their RV while making toast.
Well, the Ribeiros are a weird lot — some are terrible at making toast, and others don't fancy Santa. This makes them even more lovable to fans!