Miranda Lambert Reveals Her 3 Favorite Things While Showing off Toned Legs in Gold Booties
Country singer Miranda Lambert recently took to social media to share three of her favorite things while flaunting her beautiful legs in gold booties.
As shown on her Idyllwind clothing brand's official Instagram account, Miranda Lambert wore a short dress that had slinky spaghetti straps. She matched the ensemble with a pair of gold booties. 
Opting for minimal makeup, the 37-year-old styled her blond tresses down in loose, natural-looking waves. In the photo, Lambert is seen posing on a chair. A beautiful smile lit up her face.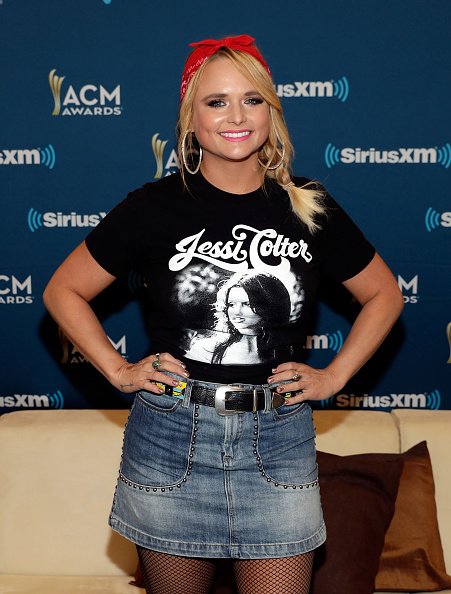 The charming snap also shows her husband, former NYPD officer Brandon McLoughlin. For the photoshoot, McLoughlin wore a basic white T-shirt, a pair of blue jeans, and cowboy boots.
McLoughlin is seen in the picture standing beside Miranda's beloved Gypsy Vanners. The adorable horse inside a stall received a forehead scratch from McLoughlin.
"My three favorite things. #hubby #gypsyvanner #goldbooties," Lambert, who has been awarded more Academy of Country Music Awards than any artist in history, captioned the photo.
The fitted garment also highlighted the singer's enviable figure.
Lambert also recently sent her fans into a frenzy after sharing a photo of herself donning a fitted dress while holding a bouquet. The fabulous outfit came from her Idyllwind clothing line.
The star's dress was a chic black color with a green floral pattern. It featured a low scooped neckline, accentuating her collarbone. The fitted garment also highlighted the singer's enviable figure.
As for her blond locks, Lamber styled it into a trendy center part and allowed her waves to cascade down past her shoulders. The "Heart Like Mine" singer also wore a pink manicure.
As she angled her body slightly away from the camera, Lambert gave her legion of followers a small smile. Her one arm held a large bouquet while her other arm rested against her waist.
Lambert tied the knot with McLoughlin in January 2019. Their wedding day was held in Davidson County, Tennessee. The singer was previously married to Blake Shelton from 2011 to 2015.
In October, the Grammy Awards winner premiered the new music video for her song called "Settling Down," which was released in 2019. The video also features McLoughlin.