Rachel Zoe Scarred for Life after Witnessing Her Son Fall 40 Feet from a Ski Lift — Is He Okay?
Renowned fashion designer Rachel Zoe opened up about the emotional trauma she endured after seeing her 9-year-old son fall 40 feet from a ski lift. The entrepreneur confessed to being mortified by the experience. 
Rachel Zoe suffered a devastating family accident over the weekend and opened up about it in a series of emotional posts on social media. On Monday, the elite designer took to her Instagram story to share a photo of her son, Skyler, in a hospital bed.
In the caption, Zoe explained that she usually doesn't share such personal posts but wanted to remind her fans of how fragile life is. She wrote that her young son was in the ER on Sunday and promised to give fans an update of what happened.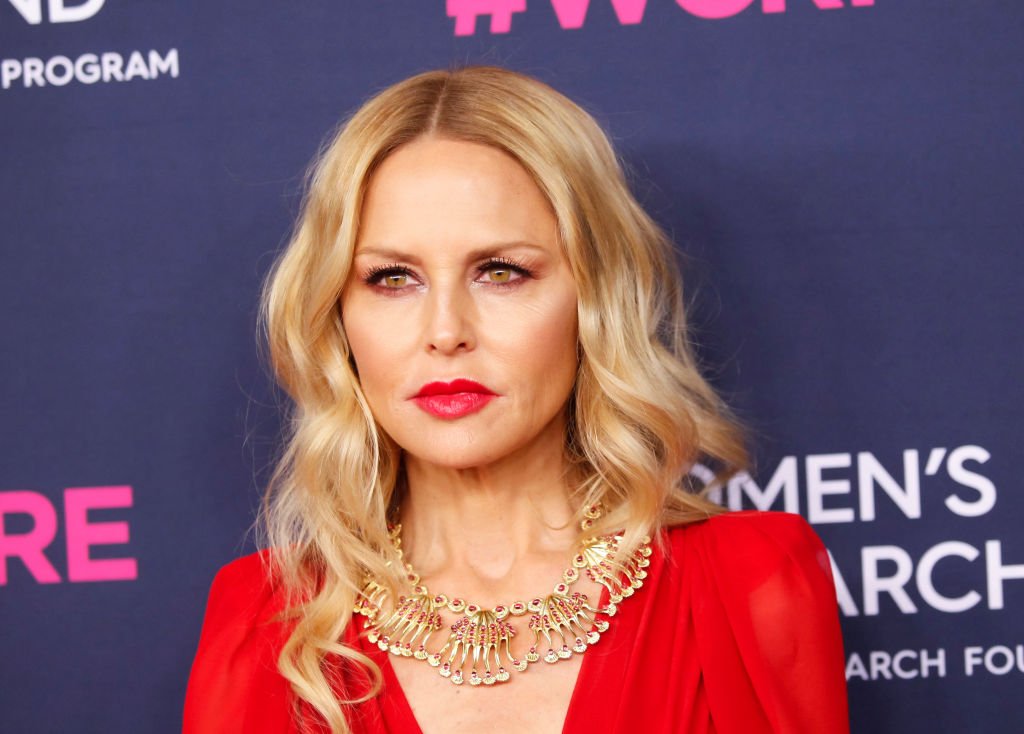 The 52-year-old assured fans that Skyler was doing great and praised him for his impressive courage. She then got candid about how she and her husband, Rodger Berman, felt about the experience. In her words:
"@rbermanus and I are shattered and numb but woke up today with gratitude for a miracle that Ski is safe and Ok."
In a follow-up post, Zoe detailed what happened, writing, her 9-year-old son fell 40 feet from a ski lift. According to her, the mishap could have been prevented if the operator had stopped the lift when he noticed that Skyler wasn't on from the start.
The update was followed by a video of a recovering Skyler in his pajamas as he waved.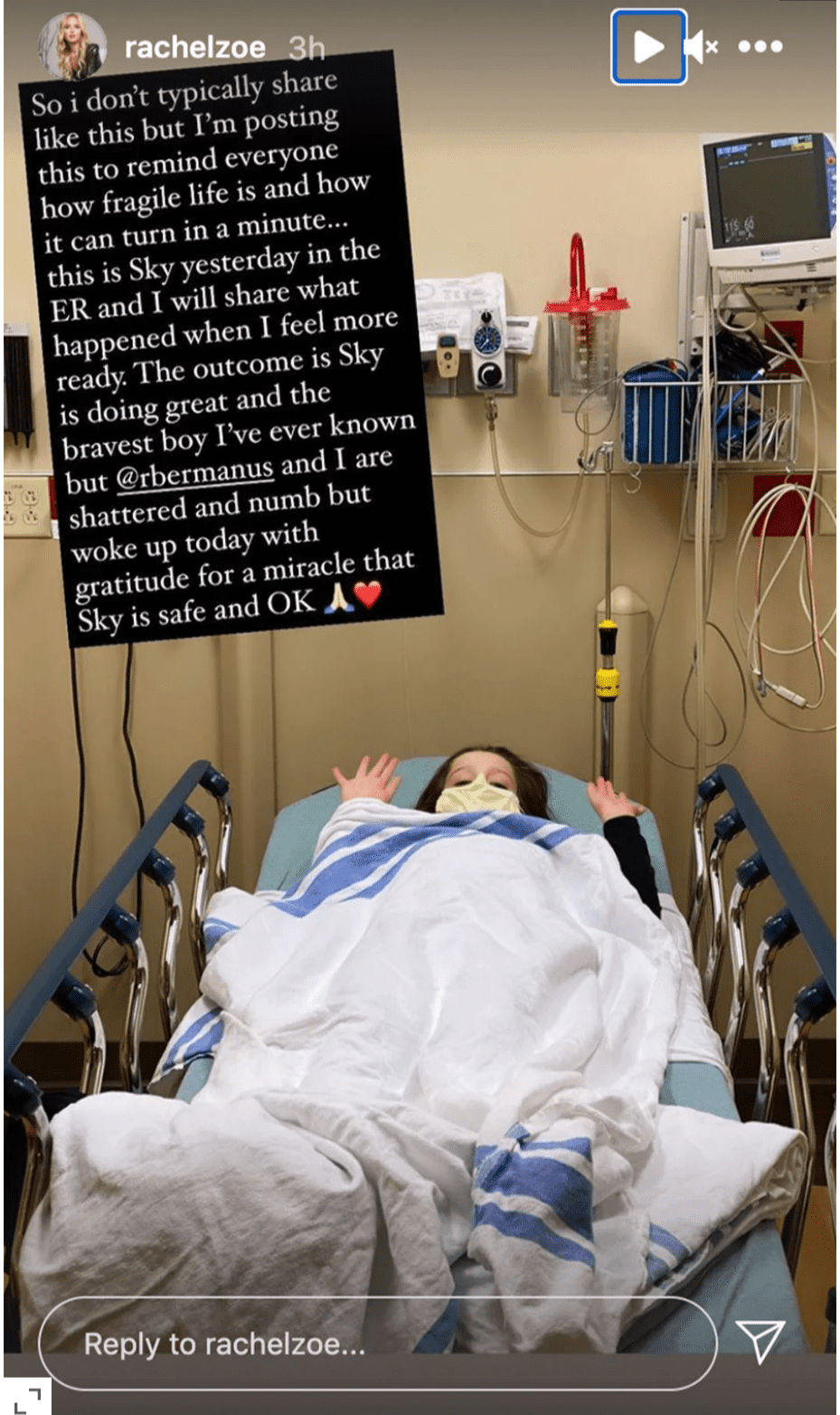 She wrote that Berman was screaming for the lift to be stopped, but that didn't get the operator's attention. Luckily, the doting parents witnessed their son experienced a miracle.
She wrote that the ski patrols quickly placed a mat where they believed Skyler would fall to, and that was the gesture that saved her son from what could have happened. She concluded:
"Sky is in great spirits but sore and banged up a bit but otherwise a brave champion, Mom and Dad [are] scarred for life."
The update was followed by a video of a recovering Skyler in his pajamas as he waved and assured his mother's fans that he was in good spirits. The adorable boy told fans that he was okay but just feeling sore.
He then stood from his bed to prove that all was indeed well. Zoe, who also shares 7-year-old Kaius Jagger with Berman, an investment banker, concluded her post on her grateful note.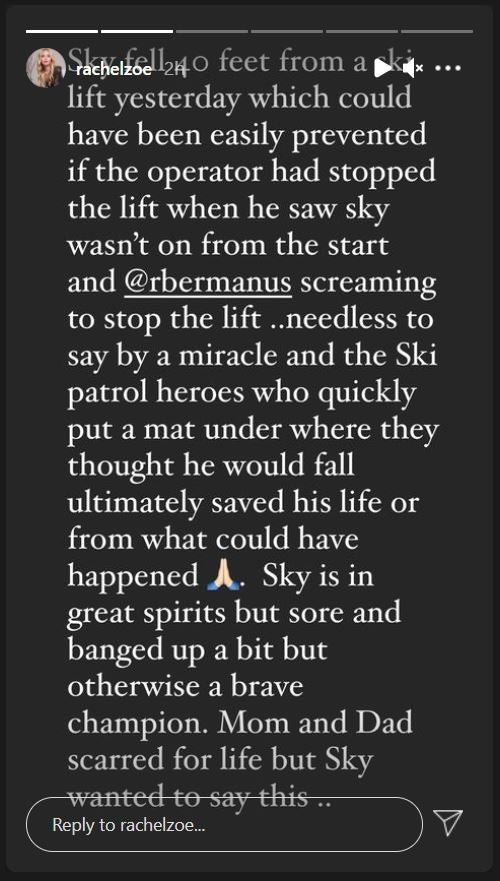 She wrote that she and her husband of 29 years were glad to see their son doing basic walking and talking tasks. "The Rachel Zoe Project" star rose from being a celebrity stylist to becoming a fashion brand all by herself.
According to reports, as of 2011, the beauty powerhouse earned as much as $10,000 styling celebrities and magazine covers. Some of her star clients include Anne Hathaway, Jennifer Garner, Kate Hudson, Jessica Simpson, and Britney Spears.