Joan Collins Wows Fans with Her Christmas Look in Sequin Trousers — Check It Out
87-year-old superstar Joan Collins looked incredibly dashing as she stunned in pink sequin trousers while posing in front of a nicely decorated Christmas tree in a throwback image.
Superstar actress and "Dynasty" star Joan Collins shared a throwback image of herself from last year's Christmas celebration, and she looked incredibly gorgeous.
In the shared image, Collins was standing in front of a nicely decorated Christmas tree while holding a glass of Champagne in one hand with the other hand resting on her waist.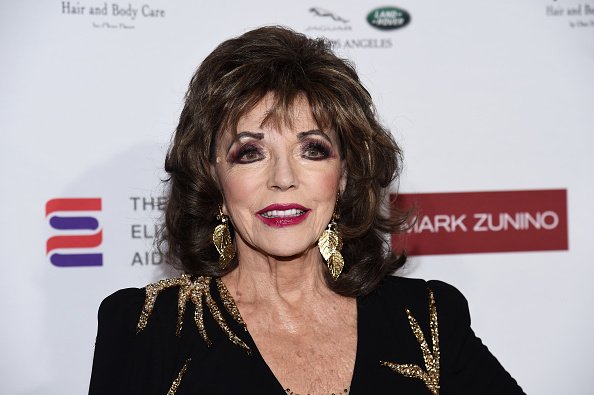 She looked gorgeous in a dark long-sleeved top. The top, which was an off-shoulder cut, also had large floral sleeves. She paired the outfit with a pink sequin trousers that complimented the top.
Collins opted for a gold and red beaded necklace and a gold ring on her finger to round off her look. She also painted her nails a light gold color to match the entire look. Captioning the post, she wrote:
"With #nothingtowear to celebrate the #wintersolstice I #flashback to last year's  #christmasparty in #losangeles for #outift 6 of my modified..."
One of the other highlights of the picture was Collins' hair. Her hair was delicately styled with some bangs falling across her forehead. The rest of the hair was neatly curled and fell to her shoulders.
Fans and lovers of Collins took to the comments section to share their thoughts on how beautiful the 87-year-old fashion goddess looked, and most could not deny the radiance and regal beauty she exuded.
She has proven to know what suits her body.

Someone commented that Collins was "Love, classy and elegant always." In comparison, another person commented that she looked fabulous as always.
Some other fans wanted to know what skincare and beauty routine Collins used since she did not look a day above fifty years. Someone complimented her age-defying beauty, saying:
"Even with the world turned upside down, you are still glamorous!"

For this year's Christmas, Collins began decorating her tree in November due to the second wave of lockdown, which kept her indoors. She admitted that the lockdown allowed her to have enough time to go all out for Christmas planning.
One fantastic thing about Collins is that she has proven to know what suits her body and has embodied the fashion style fitting for her over the years. Be it a hangout with friends or a date with her husband, Percy Gibson, she has the right fashion item for each outing.
Although she once admitted that she felt a lot of people were not spending enough money on clothes these days and would prefer to wear jeans, Collins believes that fashion does not have to be overly expensive.