Check Out Madonna's Gorgeous Pink Hair in a Latest Instagram Upload
Madonna's latest fashion show off came with a swanky display of her pink tresses and a regal dress that accentuated her flawless skin. The star also accompanied her post with a funny caption.
Music icon Madonna's new fashion statement of her look book included a show-off of her shoulder-length pink tresses and a dress spiced with fashion accessories. 
In the two-photo post, Madonna looked like she was posing indoors in her long print dress spattered with blue and green colors. The star singer's waist was cinched with a belt that showed off her curves.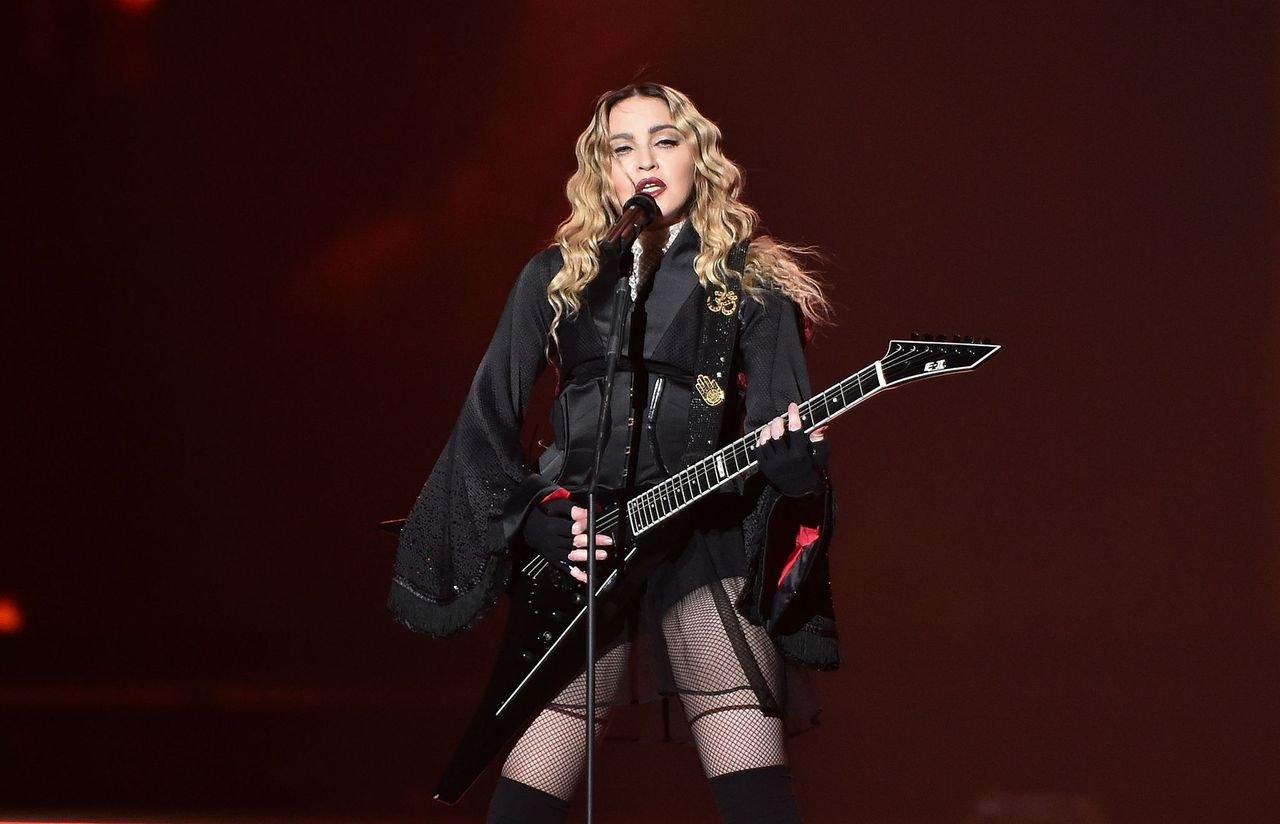 The 62-year-old who rocks her age-defying looks perked up her glam with her well-groomed pink tresses and a black hat worn over it. She sported a slew of gold bracelets and knuckle rings while holding a walking stick in one hand.
Whether or not she showed off her scars or flaunted her classic beauty, Madonna is an inspiration to many.
In the first photo, the "La Isla Bonita" crooner gave a piercing gaze at the camera as the next slide showed her seemingly pondering on something as she kept her hand on her forehead. Madonna hilariously captioned her post with:  
"Indecision… should I stand on inside of the door, and go nowhere or outside of the door and go nowhere… (not tears of joy.)"
Although there were no hints as to why the "La Isla Bonita" singer was using a walking stick, this could be her walking aid because she reportedly recently underwent hip surgery.
After undergoing the operation, the "Desperately Seeking Susan" actress has been quite expressive and candid about embracing the scars that came with her hip surgery. 
In one of her Instagram story updates, the "Vogue" singer shared a slew of photographs giving fans glimpses at the scars around her hips and legs which she got from cupping therapy.
In the pictures, Madonna rocked a vibrant short pink hair in a side-swept style while baring her banging body in a black crop  paired with sarong-style underwear. She posed seductively close to a white sink with body products.
Whether or not she showed off her scars or flaunted her classic beauty, Madonna is an inspiration to many. Such was the case with fellow music icon, Jennifer Lopez who channeled some of the "Express Yourself" singer's energy for Halloween. 
Lopez rocked one of Madonna's looks from the 1980s as she donned a Lacy white ensemble that bore a sheer skirt and lingerie-inspired bodice, all similar to the "Frozen" singer's classic look.
These days, Madonna is working on an autobiographical film about her life and all that transpired on her way to the limelight. The star shared in an interview that she felt the need to share that part of her story with the world.