Magic Johnson & Wife of 29 Years Slammed for Flaunting Matching Lakers Rings — See Reactions
Basketball legend Magic Johnson and his wife faced intense criticism from fans for flaunting their matching Lakers rings after leaving the disharmony team.
Magic Johnson might have been one of the biggest names in the history of basketball, but his tenure as the team's president did not do so much to increase his popularity with Lakers fans.
Magic was the team's president from 2017 and resigned in 2019 after his commitment to the team was called into question.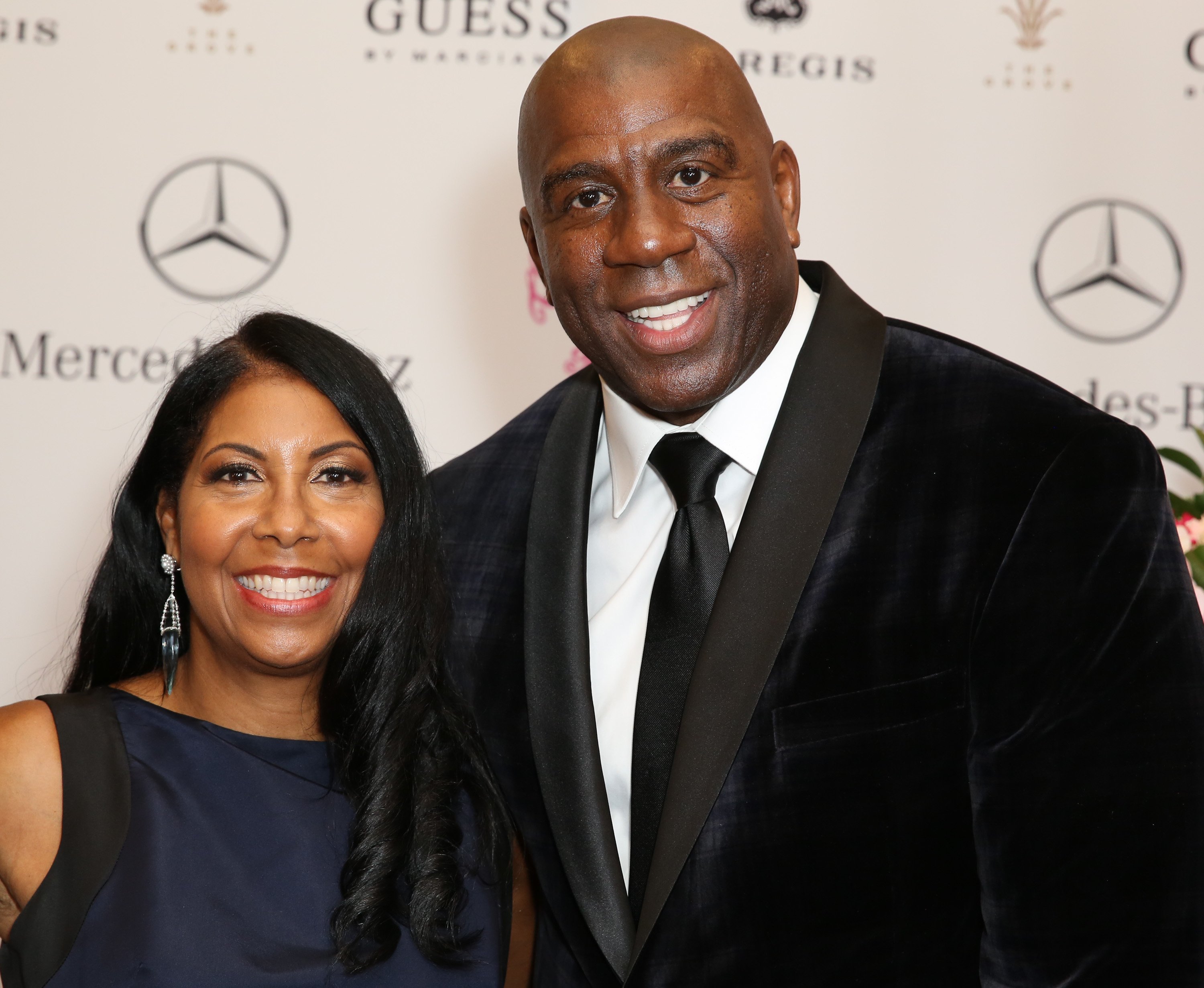 Magic's time as team president did not prove successful for the Lakers who missed the playoffs. Following his resignation, the Lakers seem to have found their rhythm again and clinched the championship.
Earlier this week, they gave out their championship rings and included Magic Johnson and his wife Cookie. Magic shared a picture to flaunt his and Cookie's matching championship ring. He wrote: 
"Cookie and I are so blessed to receive our championship rings! Thank you to Laker owner @JeanieBuss, the Laker players, and especially @KingJames..."
Magic's tweet left some fans feeling irritated by his boldness after his poor contribution to the success the team is celebrating.
Some fans took to Twitter to vent their disappointment at Magic getting a Lakers Championship ring, which they felt he did nothing to deserve.
One irritated fan remarked that if any wife was to get a ring, it should be Vanessa Bryant, whose husband, Kobe, led the Lakers to their successful history.
Her decision not to leave him was a reason he stayed alive.
Cookie and I are so blessed to receive our championship rings! Thank you to Laker owner @JeanieBuss, the Laker players and especially @KingJames because he told me he was going to bring a championship to Laker Nation. This is my 11th NBA Championship ring! pic.twitter.com/R5n7foBPuR

— Earvin Magic Johnson (@MagicJohnson) December 26, 2020
A second fan tweeted, "perhaps lakers give rings to all famous people who attend games." A third fan wrote," I don't understand why you got a ring or cookie?"
A fourth fan further questioned why the couple got a ring, while a fifth fan commented that Magic stepped away from his post and did not deserve a ring. Another fan wrote, "Wait why'd he get a ring when he quit?"
Well deserved? Is Cookie the Team Mom? This is laughable. If any wife gets a ring it should have been Vanessa Bryant. Kobe made the Lakers what are they are today. Keep it real, and Im not even a Lakers fan.

— Christine Mitchell (@courtneyschick2) December 27, 2020
According to reports, Magic was not fully invested in the team's day to day running, and his absence has allowed the team to add some fresh talents to help the Lakers compete at the front of the championship.
LeBron James' arrival in 2018 is credited to have been the factor responsible for the Lakers' resurgence. The Lakers, according to reports, had not won more than 35 games in any of its previous five seasons before James' arrival.
Magic's obviously the man, but he stepped away from his post...Idk how Him and Cookie get a ring 🤷‍♂️

— Brendan Cronin (@Cronin617) December 26, 2020
Many felt that Magic getting a ring was an insult to James' contribution, and how Magic left his role without informing his superiors left fans with bitter memories.
Fans might not support Magic or Cookie getting a ring, but for the basketball star, Cookie deserves anything she gets. The couple celebrated their 29th anniversary in a touching style on social media.
I get we are amidst a rising of consciousness and respect for women ... but would it not be respectful to all to have a job w/ a team to get a ring? Or perhaps lakers give rings to all famous ppl who attend games 🤔😳🙈

— Shawn B. Phillips (@Shawn_Phillips) December 26, 2020
Magic called Cookie a gift from God and said in a post that their bond had grown stronger after 42 years of knowing each other and 29 years of being married.
Magic has never been shy of his admiration and awe for his wife, whom he credits for helping him overcome the dark days of his life after he was diagnosed with HIV.
Magic recalled telling Cookie, who was pregnant at the time of his diagnosis, and said that her decision not to leave him was a reason he stayed alive.
The couple has been waxing strong together and has gone on to celebrate their 60th birthday together. Despite all the challenges they have had to overcome, their love seems to be getting stronger.