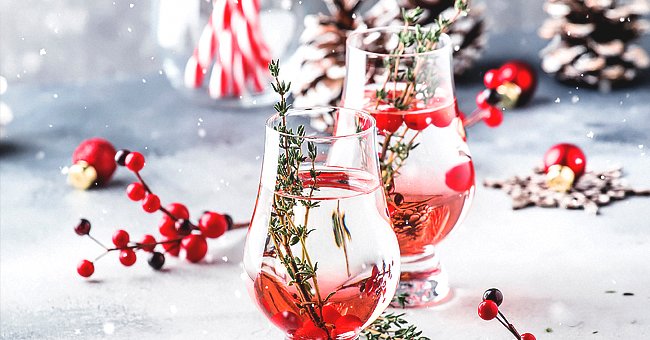 Shutterstock.com
Check Out These Recipes for Festive New Year Cocktails for a Big Gathering

Check out these recipes for festive New Year cocktails to add to your list for your New Year's party this year.
Stuck with the same boring cocktails, like mojitos or margaritas? Check out these recipes for inspiration for a new New Year's cocktail to bring out at your party this year.
If you like fruity and playfully cocktails that pack a punch, then here are a few recipes to whip up or shake up for any event or big gathering.
THE GINGER-PEACH MULE
For New Year's Eve this year, why not try out this Ginger-Peach Mule, which happens to be one of Kate Hudson's go-to's. Hudson described the drink as:
"The sweet peach flavor combined with the refreshing lemon and ginger is always a winner."
The recipe sounds seriously thirst-quenching. It calls for 2 cups of non-alcoholic ginger beer, 1 cup of peach nectar/juice, 1/4 of lemon juice, and 3/4 cup of your choice of vodka. Leave the vodka out for a non-alcoholic version!
FRUITY WINE SLUSHIES
Lynn Calvo has created three different wine slushie cocktails that would be perfect for a New Year's Eve celebration. She has a recipe for your favorite red, white, or rose wine, so there is one to suit everyone!
Why not warm up with Tom Sandoval's hot toddy, which is flavored with plenty of cinnamon and chai.
Her recipes call for the wine to be frozen, then mixed and blended with various fruits and liqueurs to create a totally delicious and refreshing frozen drink. Click here for detailed instructions.
ESPRESSO MARTINI
How about something a little less fruity and sweet? Maybe something for the coffee lovers out there? Kate Hudson, an apparent cocktail queen, has a tasty espresso martini and said this about it:
"It's my go-to for cocktails with a friend or even when relaxing at home."
The recipe instructs to shake 1/4 cup brewed espresso, 3 tablespoons coffee liqueur, 6 tablespoons vodka, and a pinch of salt in a cocktail shaker with lots of ice. Pour into a martini glass and decorate with coffee beans if you have!
A HOT TODDY
Facing a cold New Year's Eve this season? Why not warm up with Tom Sandoval's hot toddy, which is flavored with plenty of cinnamon and chai.
Take a look here for a detailed recipe of the warm and creamy drink that is perfect for a night in, with your favorite movie and snacks.
No matter what your plans are for New Year's Eve, whether it's a large party of family and friends, an intimate gathering of close friends, or even just being with your partner, a delicious cocktail should always be on the menu.
What is New Year's Eve without a toast to the new year? And to do so, you might want to use one of the cocktails listed above.
Please fill in your e-mail so we can share with you our top stories!