Older Sister Hires a Nanny to Babysit Her Siblings without Telling Her Mother
In today's story of the day, a 16-year-old girl reneges on her duties to babysit her younger siblings after falling too ill to complete the task and hires their old babysitter to step in for her instead, while she ends up in the emergency room. 
On Sunday, 20 December 2020, a 16-year old asked whether she was wrong for calling her younger siblings' previous babysitter to fill in for her after feeling too sick to do it. 
It all began when the teenager explained that she is sometimes left to mind her 2-year-old sister and 3-year-old brother by her mother when she is not around. 
This time around, the teen began feeling ill. She waited for a while, hoping the discomfort would pass, but it didn't. She said she wasn't unable to look after the toddlers. 
She panicked when she wasn't able to reach her mom after calling her several times. Not knowing what to do, she then remembered the nanny who had babysat her siblings for a while and decided she would call her to come to help out. 
As if getting sick wasn't enough, the teenager said her mom proceeded to punish her, which left her feeling bad.
Hoping her mom wouldn't find out, the teenager paid the nanny from her own pocket and felt comfortable enough letting the nanny in with the knowledge that she had been following the Covid-19 pandemic rules properly. 
A few hours later, the 16-year-old was awakened in her bedroom by her infuriated mother, who had arrived to find the babysitter looking after the two kids. 
The teen said she tried to explain to her mom that she had been in pain, but all her mom could do was accuse her of being lazy and irresponsible. She was not interested in hearing any explanations on the matter. 
As if getting sick wasn't enough, the teenager said her mom proceeded to punish her, which left her feeling bad. She agrees that it was her job to take care of her siblings but wants to know if calling the nanny was wrong since she wasn't up to it. 
However, there was more to come. One of the Reddit members advised her to seek medical help. After calling someone for help, she found herself in the emergency room at 3 am undergoing appendix surgery.  
Luckily, all ended well, with the teenager updating everyone that even though she was still feeling exhausted, she was on the mend and making a good recovery. 
Most people sided with the teen, saying she wasn't in the wrong. They chastised her mother for leaving her in charge of her siblings at the age of 16, took pity on her being sick, adding that the nanny was already known to the toddlers.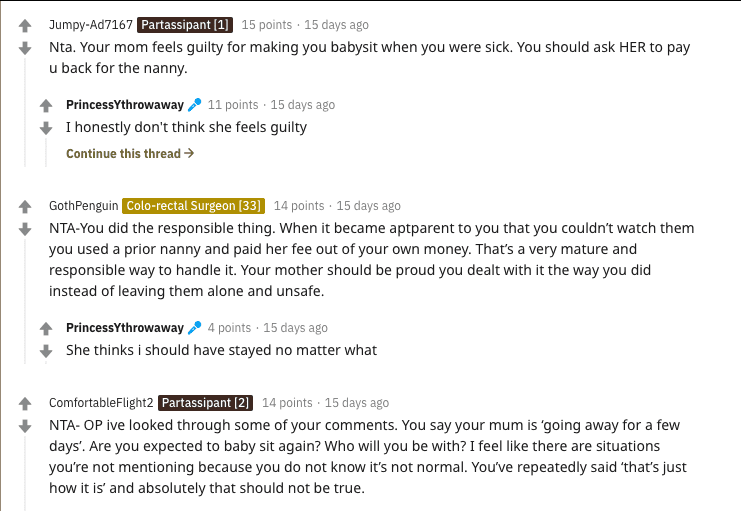 This reminds us of a similar story involving a woman who refused to babysit her new boyfriend's 12-year-old son after being reprimanded by the boyfriend for forgetting to feed the teen. 
She had been in a relationship with her boyfriend for seven months when he assumed custody of the 12-year-old. After months of doing him a favor and looking after the boy, she reached her breaking point and refused to continue doing so.