Check Out This New Family Photo of Chrissy Teigen and John Legend with Their Kids to Welcome the New Year
Model and TV personality Chrissy Teigen, who has been married to singer and producer John Legend since 2013, shared their first family photo of 2021 on social media.
On January 4, Chrissy Teigen treated her over 33 million Instagram followers with a very cute picture portraying all four members of the Legend-Teigen family during their vacation.
John Legend, wearing a mainly black shirt with a floral design, was smiling for the image while his daughter, Luna, was sitting on his lap. The girl put on a cute sleeveless top and was staring at the camera.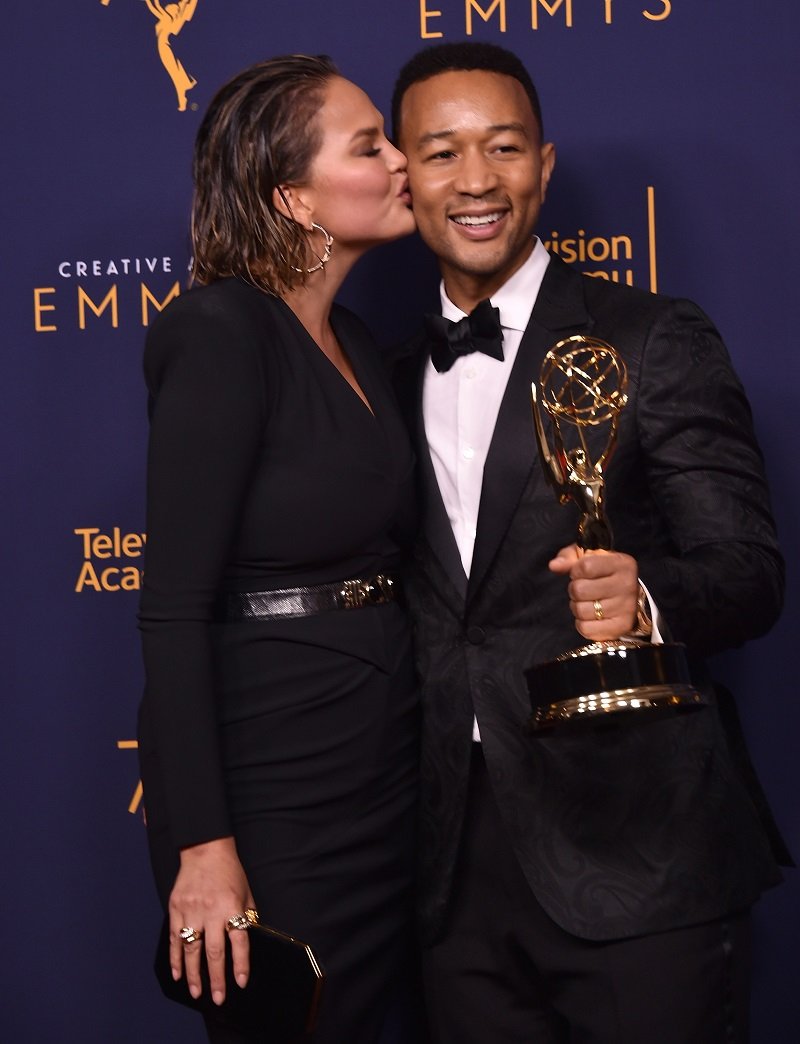 FIRST FAMILY PHOTO OF 2021
Teigen, sitting right next to her husband, opted for a beige top and had her black facial mask on. Apart from that, she had a Bindi stick on her forehead and a nose strip just above her mask.
As for Teigen and Legend's son, Miles, he was wearing a dark grey shirt with big green dots. It is important to point out that this post was the first family photo of 2021 that Teigen has shared online.
In the caption, she shared a "life hack," placing a nose strip under her mask to help stay safe and get rid of those "rent-free blackheads." Her followers quickly took to the comment section to share their thoughts.
One of them remarked the similarities between the kids and their parents by writing that it was "so cute" that Teigen and Legend had their own "little 'Mini Me.'" Other netizens simply admitted it was a "beautiful picture."
She has her husband and two children to lean on during such a challenging time.
TEIGEN QUIT DRINKING
In December 2020, Teigen made headlines after opening up on her decision to quit drinking, and it was all thanks to Holly Whitaker's book "Quit Like a Woman: The Radical Choice to Not Drink in a Culture Obsessed with Alcohol."
The model confessed that her doctor and friend gave her the book on her 35th birthday (November 30) and that she was tired of embarrassing herself in front of other people due to her drinking.
Teigen pointed out that ever since receiving her gift, she has been sober. Also in December, the model attracted some attention after revealing she would never get pregnant again.
Unfortunately, she lost her son, whose name would have been Jack, in September 2020 due to complications and bleeding during pregnancy. Teigen wrote on Instagram that she loved being pregnant, though.
Legend's wife, who still had a visible baby bump when uploading the post, didn't clarify if it was a personal decision, a medical problem that prevented her from getting pregnant, or her doctors' advice.
She has her husband and two children to lean on during such a challenging time, fortunately, and judging by her Instagram posts, she is good at knowing when to give her kids their moments. Way to go, Teigen!