Lady Gaga Stuns in Schiaparelli Couture Dress at the Presidential Inauguration — See Details of Her Outfit
Grammy-Award and Oscar-winner, Lady Gaga, made heads turn with her outfit at the 2021 Presidential inauguration this Wednesday, January 20, as she joined the ceremony to perform the National Anthem.
Lady Gaga looked stunning as she belted the notes of "The Star-Spangled Banner" at the Biden-Harris inauguration. She wore a custom Schiaparelli Haute Couture, designed by Daniel Roseberry.
The outfit consisted of a cashmere fitted blue jacket, a red skirt made of silk faille, and a gilded brooch in the form of a dove to symbolize peace. She also added black gloves to the ensemble and wore her blonde hair in a braided crown.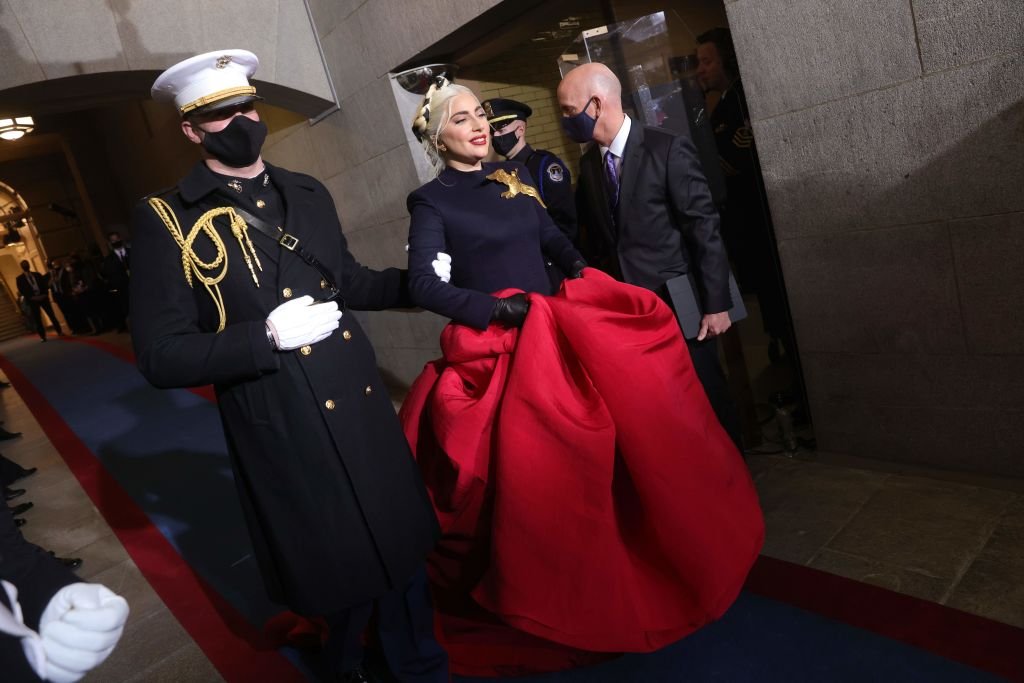 Daniel Roseberry, creative director of Schiaparelli, said in a press release: "As an American living in Paris, this ensemble is a love letter to the country I miss so dearly and to a performer whose artistry I have so long admired."
Fans had a lot to say about Gaga's gown, with many joking that it resembles the outfits worn by people from the Capitol in the "Hunger Games" film series.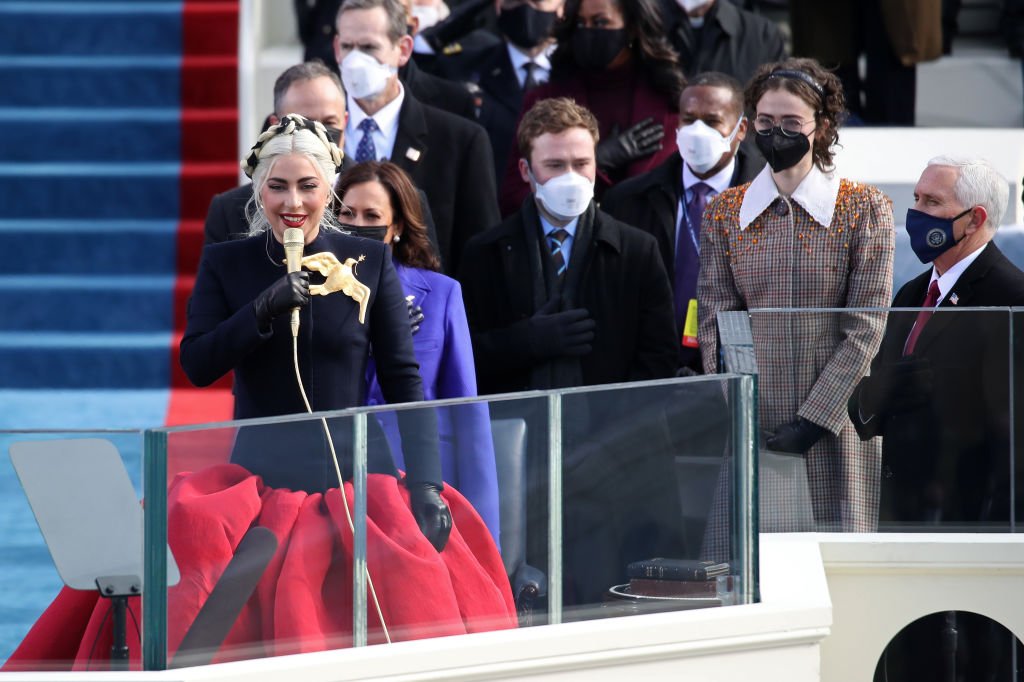 "Giving off Hunger Games vibes," said one user, while another added, "If Lady Gaga didn't have such an amazing voice I would think she's introducing the Hunger Games."
On Monday, Gaga arrived in Washington D.C wearing all white with a cape dress by Givenchy.
Huge hunger games energy from Lady Gaga pic.twitter.com/FQv5VzYzSz

— B.W. Carlin (@BaileyCarlin) January 20, 2021
On Monday, Gaga arrived in Washington D.C wearing all white with a cape dress by Givenchy. She later took to Instagram to share a photo inside the Capitol as she showed off the magnificent ceiling of the building and her outfit.
She added in the caption of her post a prayer, wishing Wednesday to be "a day of peace for all Americans." Gaga also wished for love and acceptance to reign over hatred and fear, and seemed optimistic on dreaming about "our future joy as a country."
Gaga's performance at the inauguration was followed by Jennifer Lopez's rendition of "This Land is Your Land," and "America, the Beautiful," and Garth Brooks' performance of "Amazing Grace," among others.