Vice President Kamala Harris Sends Powerful Message With Royal Purple Inauguration Day Outfit
Vice President Kamala Harris' royal purple Inauguration Day outfit sent a powerful message about representation and inclusivity. 
Vice President Kamala Harris's Inauguration Day outfit made headlines as the purple ensemble sent a powerful message about representation and inclusivity.  
An African-American designer made the purple coat and matching dress. The outfit makes a strong statement about how she will honor her community, country, and herself during the office.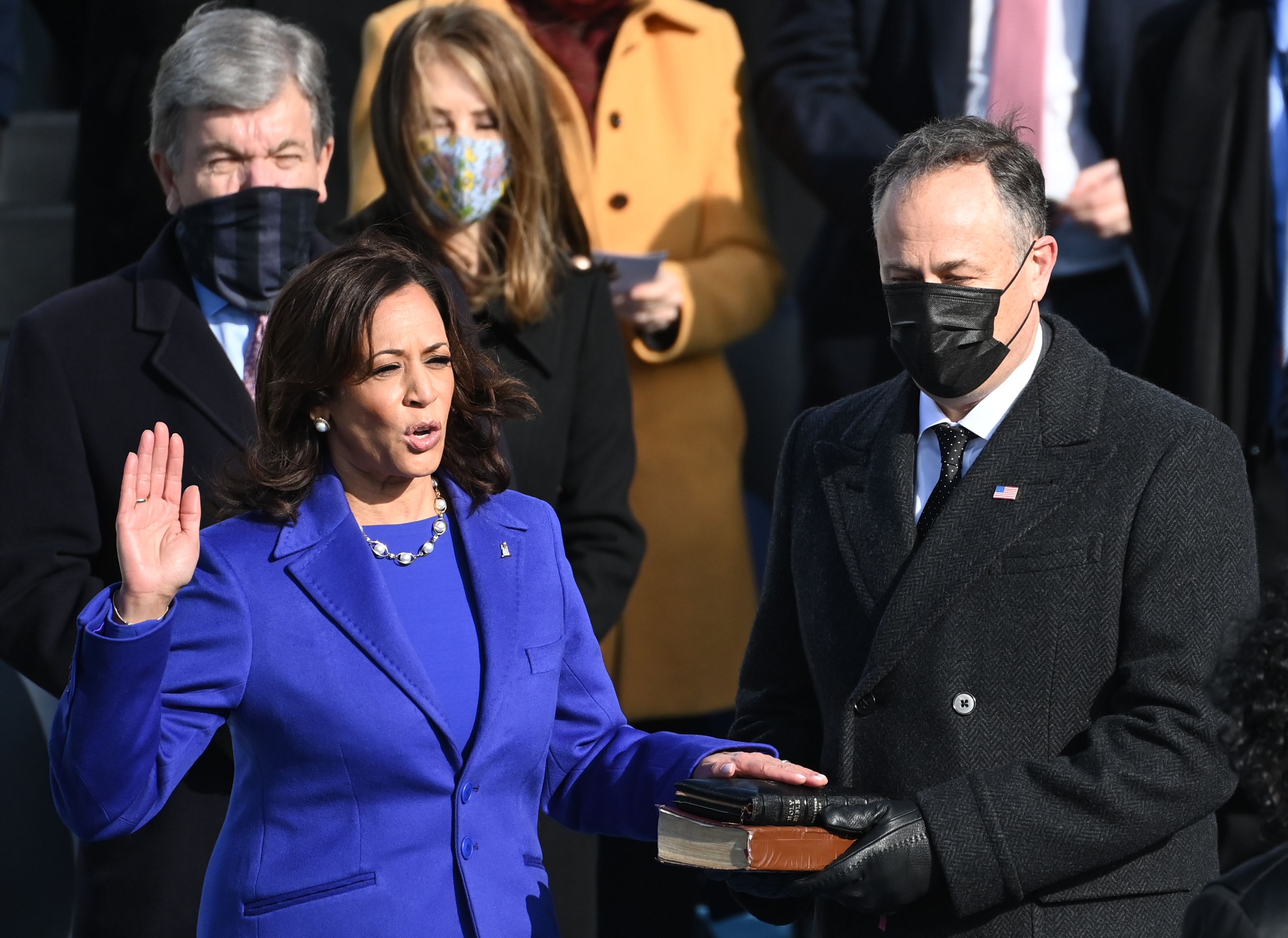 The double-breasted coat was made by the Brooklyn-based designer Christopher John Rogers. He has dressed and designed outfits for congresswoman Alexandria Ocasio-Cortez and Beyoncé. 
The designer shared a photo of Harris in the dress to his Instagram and shared that they were honored to play a small part in the historic moment. The caption read:
"? Thank you, Madam Vice President. We are so honored and humbled to have played a small part in this historic moment. ?"
The color purple holds some significance, too, as it is the literally mixing of the red for the Republicans and the blue of the Democrats to show a coming together of both sides. 
The color holds personal significance to the first woman vice president. It nods to Shirley Chisholm, the first black woman elected to congress who inspired Harris's own political career. 
A Facebook group was created to encourage women to wear pearls on January 20th, 2021.
.@POTUS Joe Biden, @FLOTUS Dr. Jill Biden, @VP Kamala Harris, and @SecondGentleman Douglas Emhoff take their place on the East Front steps to review the troops. pic.twitter.com/Wp4RU9rhV0

— JCCIC (@JCCIC) January 20, 2021
The purple dress is not the only fashion piece to hold importance as her pearls have come to mean something much more than a glamorous necklace to other black women in America. 
Harris has worn pearls at every major life event since her days at University. Other women are drawing inspiration and power from this accessory as Today reported, one woman shared that pearls conjure up the idea of:
"Unity, so many small pieces adding up to one elegant, amazing thing."
A Facebook group was created to encourage women to wear pearls on January 20, 2021, as a way to support Harris on Inauguration Day. It will be exciting to see what other fashion choices she will make in the future. 
The pearls represent her loyalty to her sorority sisters from the Howard University sorority Alpha Kappa Alpha, the first African-American Greek-letter sorority. 
Harris and First Lady Jill Biden has supported American designers with their fashion choices, which has not been seen since Michelle Obama's time at the White House. 
For the Biden-Harris win, she wore a white suit from the designer Carolina Herrera. At a recent candle night visual at Lincoln Memorial Reflecting Pool, she wore a Pyer Moss outfit by Kerby Jean-Raymon.