Regina King Rocks Braids as She Shows off Her Long Legs in Blue Pants & Chic Matching Top
Award-winning actress and director Regina King's stylists Wayman Bannerman and Micah McDonald posted new sizzling photos of the actress on their social media page.
When it comes to style and panache, American actress Regina King always delivers. The 50-year-old never fails to wow her fans and followers on social media.
King's stylists, Wayman Bannerman and Micah McDonald, recently took to their Instagram to dazzle their followers with the actress' photos.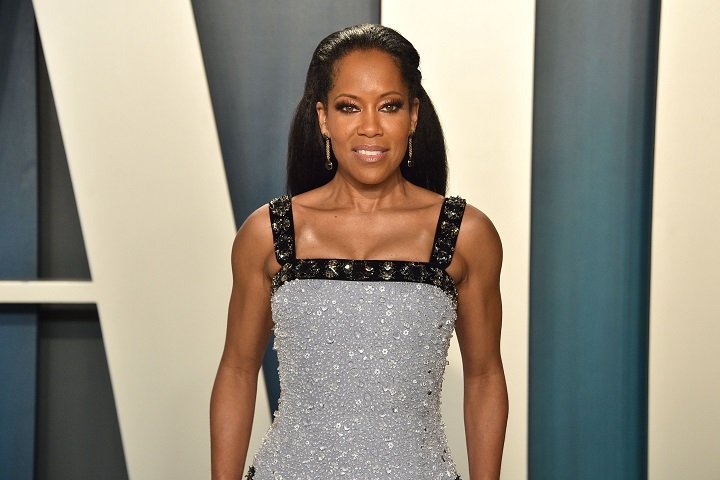 King's photos on Wayman's page were captioned: "#reginaking @onimfilm press wearing @alietteny and @proenzaschouler streaming now on @amazonprimevideo ✌?" 
The first picture captured the actress indoors wearing a beautiful silk blue top with matching high-waist pants. King looked elegant in the second photo with her light-blue gown.
This time, the image was taken outdoors, and the actress leaned one hand on the wall and the other on her hips as she posed for the camera.
One follower said that both dresses looked good on the actress. Another fan teased about King's stylist. He asked if they were married because they were also around her. Other followers commented with emojis showing love to Wayman and Micah as well.
King talked about her latest endeavor as a director in the movie "One Night in Miami."
King knows how to make fashion statements, and she does it effortlessly. The actress dazzled the paparazzi and fans at the 2020 Oscar awards in a stunning pink Versace gown.
Even when she is off the red carpet, King's impact is felt in her community. In collaboration with Couture House Schiaparelli, King auctioned the dress she wore to the 72nd Emmy Awards to benefit the Obama Foundation's Girls Opportunity Alliance.
The actress doesn't only slay on the red carpet. King has also conquered Hollywood with exceptional talent. The actor-director has been in the movie scene for over three decades and has no plans of stopping.  
BuzzFeed recently interviewed the actress and King talked about her latest endeavor as a director in the movie "One Night in Miami."
The movie is a fictional retelling of a meeting in February 1964 in Miami. The meeting featured Malcolm X, Muhammad Ali, Sam Cooke, and Jim Brown.
King worked with Kemp Powers, who wrote the original play, to bring the story to the big screen. "One Night in Miami" is available in theaters around America. The movie is also streaming now on Amazon Prime.