Kirk Franklin & His Wife Tammy Stun Dressed in Chic Matching Outfits on Their 25th Anniversary
Kirk Franklin and his wife Tammy recently celebrated their 25 years of being married to each other with adorable images of themselves and sweet messages.
Love is a beautiful thing when shared with one's best friend. Kirk Franklin and his wife Tammy proved that being in love is a wonderful feeling as they have experienced it for 25 years.
The couple who recently celebrated their silver jubilee anniversary took to their various Instagram accounts to share images from their dinner, which featured them and those who came to celebrate with them.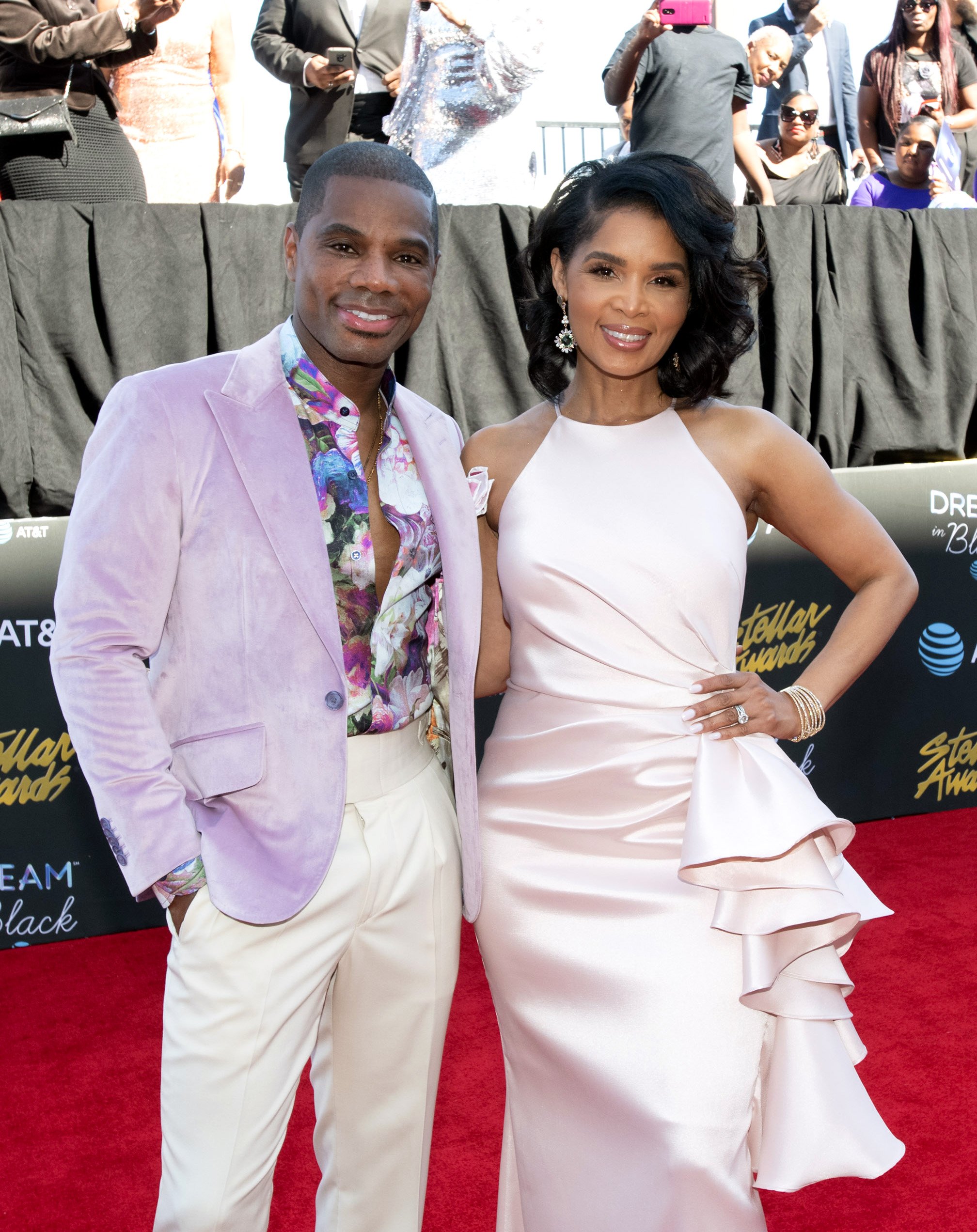 Kirk and Tammy opted for a small dinner party, and in gracing the event, the couple dressed in matching outfits. The gospel singer looked dapper in his cream-colored trousers and white turtle neck, which he paired with a metallic white blazer.
On the other hand, Tammy looked gorgeous in floor-length cream trousers that were baggy at the ankle region. She paired the trousers with a long-sleeved blouse with a high collar and big buttons. Tammy's post had the caption:
"Last night's anniversary dinner was all that I prayed it would be. Small and intimate, yet full of laughter and love! God is indeed so good? ..."
In Tammy's post, other images showed the dinner set up, which was done in a dimly lit room with sparkly light flashing the words "Crazy In Love" in the background.
Another image showed some friends who came to celebrate with them, and the last shot was that of the menu, which had funny but cute names for the dishes to be served.
They do not allow parenting to get in the way of their relationship.
Kirk also shared a picture of himself and Tammy with his 2.2 million followers. The picture showed the lovebirds leaning into each other as they stood on a staircase and looked into each other's eyes.
Like Tammy, Kirk had a beautiful message alongside his post. He explained that the weekend of their anniversary was a life-changing moment. He continued by saying that their 25 years have been filled with surrendering, dying to self, and living for each other.
Kirk concluded by saying: "I hate the luggage I brought. I would've lived differently if I knew what was waiting for me. What a blessing to find my medicine in loving you... Happy Anniversary to the undefeated champion of my ❤️."
Some days before their anniversary, Kirk had shared videos of himself and Tammy talking about what it was like to be married for 25 years. They touched on how being friends was essential and necessary to embrace each other's imperfections.
Throughout their marriage, Kirk and Tammy have always supported each other's careers and dreams publicly. From encouraging him about his album drop to boosting his confidence, the pair never fail to stand by one another.
The couple who have four children and one grandchild enjoy loving up on each other, and on their 23rd anniversary, Kirk showed how much of a sweetheart he was by gifting Tammy with 23 dozen roses.
Aside from loving each other and being supportive, Kirk and Tammy also enjoy being parents to their kids: Carrington, Kerrion, Kennedy, and Caziah. However, they do not allow parenting to get in the way of their relationship.