See Tiny Harris' Daughter Zonnique's Post-baby Body & Curly Hair Posing in Tight Pink Jumpsuit
Tameka Dianne "Tiny" Harris' daughter Zonnique Pullins showed off her fabulous curls and post-baby body in a figure-hugging neon pink jumpsuit in an Instagram post a few days ago.
Zonnique Pullins looks svelte and sexy in a bright pink one-piece with two black stripes in the front on her Instagram. Her natural locks are piled casually on top of her head.
Tiny Harris's daughter and T.I.'s stepdaughter, Zonnique's, heart-shaped face is framed perfectly by her hair. She is dressed in an outfit from a brand called Fashion Nova.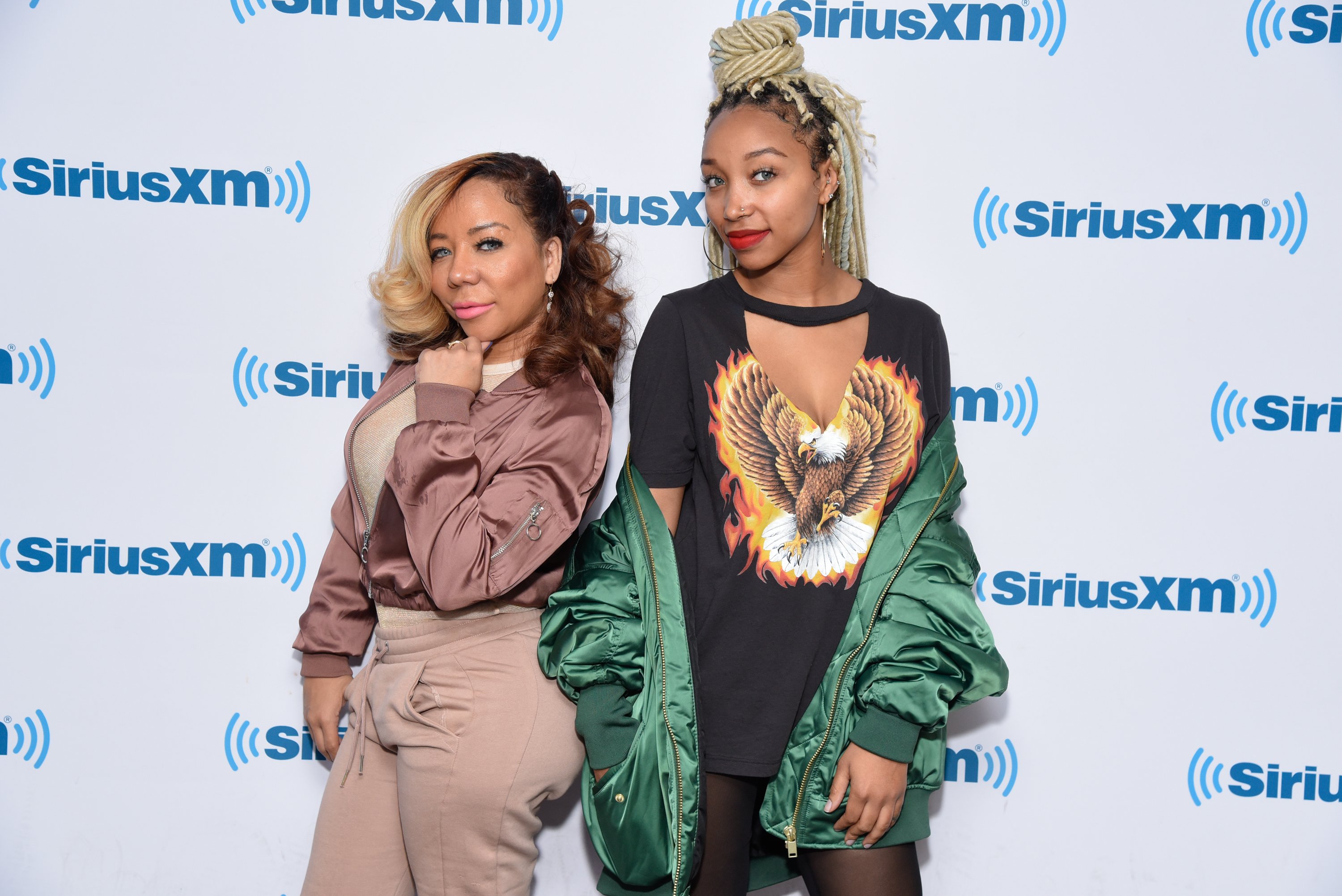 It's difficult to believe that 24-year-old Zonnique became a mother just a few months ago when looking at her toned body and curvy figure in the bodysuit.
Zonnique and her boyfriend Bandhunta Izzy (Israel James) had a baby girl together in December last year. At first, Zonnique was uncertain about having a child because she had grown up with several brothers and sisters. She said:
"I was kind of sad at first, and my boyfriend was really excited from the jump. He was like, 'You know it's whatever you want to do.'"
Zonnique slowly adjusted to the idea of having a child and realized that she could succeed. She was also fortunate to have an easy start to her pregnancy and did not even experience any morning sickness. 
Zonnique's parents were ecstatic about being grandparents and shared their support for their daughter on their social media feeds. Tiny, in particular, could not wait for her grandbaby's arrival. 
Heiress Harris, Zonnique's younger sibling, seems to be quite jealous of her new niece.
Tiny had planned two options, albeit unconventional ones, for her grandchild to call her. Tiny said that she would prefer either "ZaZa" or "Honey" while T.I. insisted that it might be better for the child to choose what to call him instead.
Both Zonnique's parents approve of her baby daddy. T.I. spoke about Izzy's pedigree on his podcast "expediTIously". The rapper said that he had done background checks on Izzy and that his record was clean. Tiny shared her excitement on her Instagram saying,
"My Gbaby will be so Blessed to have u as a mother. Now walk that baby down chile [sic]."
Heiress Harris, Zonnique's younger sibling, seems to be quite jealous of her new niece, and illustrated this envy at a sleepover earlier in January, no thanks to her mother's fussing.
In an adorable video shared by Tiny on her Instagram, fans see that Tiny's daughter Heiress is quite unimpressed by their family's new addition. She sulks and ignores her mother's questions by scrolling on her phone.
Heiress dismissively tells her mother that the baby can sleep on the floor or wherever she likes or next to her stuff. She points to the heap of things that Tiny has bought for her new grandchild.
Heiress is jealous that she is no longer the youngest family member, but she might eventually warm up to her niece, even if it takes a few years!