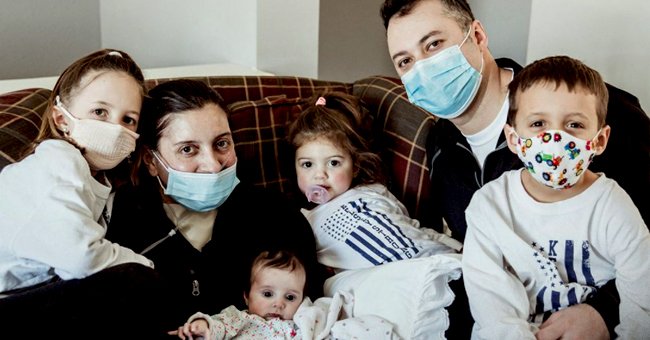 instagram.com/todayshow
Mother Who Contacted COVID-19 Meets Her Newborn for the First Time 3 Months after Delivery
Kelsey Townsend was eight months pregnant when she was diagnosed with COVID-19. After battling the virus, the mother of four has recovered and met her newborn three months after her delivery.
Kelsey Townsend has finally met her newborn daughter, Lucy, three months after being diagnosed with COVID-19. This situation saw the mother of four almost die from health complications related to the virus.
Townsend went to the St. Mary's Hospital in Madison, Wisconsin, after falling ill and was quickly diagnosed with the virus. Doctors put the mother under a medically induced coma and performed an emergency c-section.
Before the hospital trip, Townsend, her husband, and their eldest daughter had fallen in. While Townsend's husband got better in 48 hours, Townsend did not, and after two days, she was rushed to the hospital.
Doctors noted the blue and grey tinge on Townsend's skin, adding that her oxygen saturation levels were so low it would damage the baby's brains and internal organs. Doctors decided to deliver the baby. Derek feared the worst.
"There were many times that we thought we were going to lose her."
Derek was confirmed to have suffered COVID-19 and was mandated to be in isolation. He left without his family members, and at the end of the isolation, Derek took his daughter home but was not allowed to see his wife.
Townsend fell critically ill and was transferred to the already full ICU at University Hospital in Madison, where she was put on life and lung support and a ventilator. Townsend spent 75 days on the machines.
People have a wide range of mild to severe symptoms of COVID-19.
The virus ravaged Townsend's lungs, and her husband was given special permission to see his wife and inform her of the doctors' decision to put her down for a double lung transplant.
Townsend was to spend time with rehab therapists to get strong enough for the transplant. However, Townsend, who was bedridden and heavily medicated, stunned doctors with her recovery. Townsend said of her resilience:
"I have so much to live for all right here in front of me."
Derek praised his wife for extending herself with the recovery. Townsend left the hospital without the transplant and was removed from the transplant waiting list. However, Townsend still needs her oxygen tank.
On meeting her baby, Townsend intimated she felt nothing but joy as there was an instant connection explaining that her daughter looked at her directly and gave her a big smile, hinting that the baby knew its mother.
The Townsends still maintain they have no inkling of how they contracted the virus. The new father explains they were wearing masks, isolating themselves, and having food delivered. With the virus, symptoms may vary.
According to the
CDC
, people have a wide range of mild to severe symptoms of COVID-19. Symptoms of the virus may occur 2-14 after exposure. However, the CDC has stated they are still learning about the virus.
Please fill in your e-mail so we can share with you our top stories!