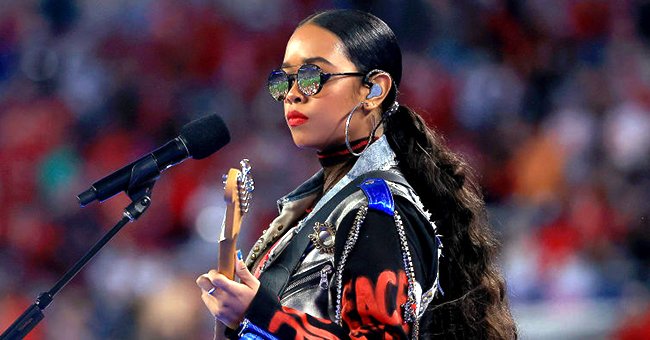 GettyImages
HER Kicks off Super Bowl LV with a Bone-Chilling Rendition of 'America the Beautiful'
H.E.R.'s goosebumps-inducing Super Bowl LV performance was electrifying, to say the least. Her rendition of "America the Beautiful" moved players and fans to tears.
H.E.R. is a force to reckon with, and she has proved it again with her powerful rendition of "America the Beautiful" on Sunday during the Super Bowl LV kickoff. The ferocity of her voice moved every soul.
The singer's stellar vocals and galvanizing guitar solo captivated the Tampa stadium that was united for the love of the game. H.E.R. belted out the rendition so powerfully that at that moment, people were truly one.
Tears streamed from the fans' and players' eyes as the singer hit the high notes and delivered a captivating and unique version of the beloved classic. She was a total rock star on stage.
H.E.R., née Gabi Wilson, rocked sparkly denim jeans and a matching blue jacket. As always, she wore shades and red lips. She tied her long mane back into a tight low ponytail.
In an exclusive chat with Entertainment Tonight, the songstress shared what it was like to be performing at the Super Bowl. She described the feeling as surreal and crazy.
Artists like Janet Jackson and Rihanna have lauded H.E.R.'s musical talents...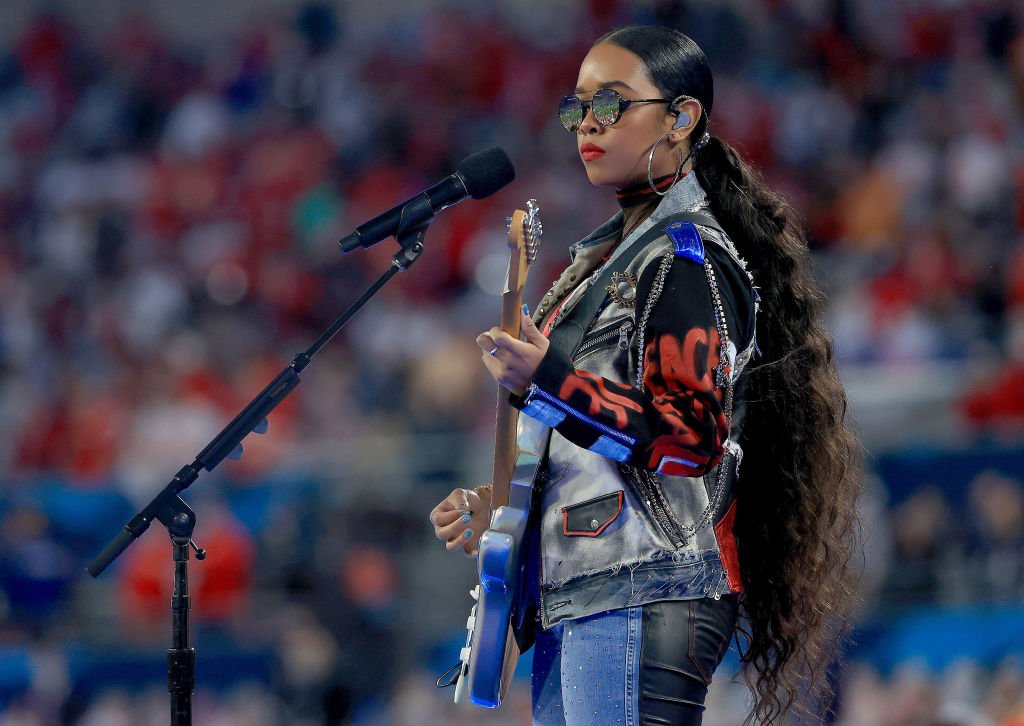 H.E.R. performs "America The Beautiful" before Super Bowl LV on February 07, 2021 in Tampa, Florida. | Source: Getty Images
It meant the world for the singer to receive such a prestigious honor. She said it does not get any bigger than that, but her goal was to make the song her own.
"I'm a huge fan of the different versions of 'America the Beautiful,' but I really want to bring different elements in there... make it H.E.R."
The singer's original song "Fight For You" was recently nominated for a Golden Globe. She spoke to Entertainment Tonight about how she could not even imagine being recognized for a song she already enjoyed making.
"My phone was just blowing up with 'Congratulations' [this morning], and I was so confused."
Artists like Janet Jackson and Rihanna have lauded H.E.R.'s musical talents, but the singer prefers to keep her identity low profile. She prefers anonymity so her music can speak for itself.
According to the singer, music is the outlet for her to reveal who she is and her story. Her stage name is an acronym that stands for "Having Everything Revealed." Pretty ironic.
Please fill in your e-mail so we can share with you our top stories!