Chip and Joanna Gaines Give a Tour of Their Farmhouse Right in the Middle of Repairs
Chip and Joanna Gaines gave a tour of their farmhouse while in the middle of renovating in a short YouTube clip on their channel. 
Chip and Joanna Gaines shared a glimpse into their farmhouse, sharing some of the changes that had been done to their home. 
The couple is adding a large extension to their Waco Farmhouse. Joanna shared that she has wanted to renovate the house for over five years.
In a clip on their YouTube channel, Chip held the camera while his wife showed viewers what changes had been made, including painting their kitchen cabinets to a lovely forest green shade. 
The clip starts with Chip sharing that Joanna had roped him into renovating the house. He then turns the camera on to Joanna, who discusses the renovation. At the beginning of the clip, he shared: 
"A couple months back, Jojo wanted to 'add on' to the farmhouse — and of course I, like an idiot, agreed, but now look what she's gotten us into."
Joanna walks around the construction site that their house has become and shared what changes are being made. She started in the plastic taped-up kitchen. The previous white cabinetry has been painted a forest green shade. 
She shows that their youngest child, Crew's room, is taped up and, as a result, that he is not living in his room at the moment. The parents and their five kids are all living upstairs to hide from the construction. 
The Gaines also have successful product lines and business projects.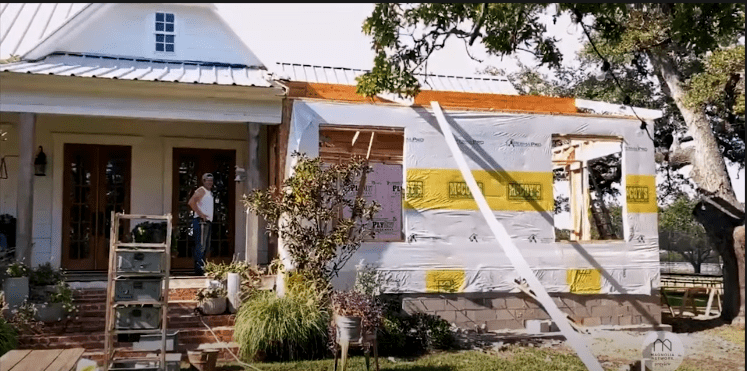 Joanna then showed their new extension, which was created to add more living space for the family of 7. The home renovator explains how the opening of the new space use to be a large window. 
Of course, it must be very stressful to live in their home while the renovation is happening. Chip shared that they are breaking the most significant rule of home renovation: 
"There's a golden rule in the renovation business that goes, 'Don't ever live in a house that's being renovated.' But here we go."
The couple is busy with their own space and runs their TV network, Magnolia Network, which launched in 2021, and their TV shows. 
The Gaines also have successful product lines and business projects, including their ongoing collaboration with Target, their design business, the Magnolia Market at the Silos, and a forthcoming hotel. 
They spent some downtime together as Joanna shared photos of Crew picking up a new hobby. She shared an adorable photo of Chip and Crew fishing. 
The Gaines's other children are Duke, Drake, Emmie, and Ella. The family's renovation journey of their own home can be watched on their show "Fixer Upper: Welcome Home."